RSS to hold mega rally in Assam tomorrow: Over 35,000 to attend as Sangh showcases strength ahead of polls in four northeastern states
To help the BJP make inroads in the four northeastern states that will go to polls this year — Tripura, Meghalaya, Nagaland and Mizoram — the RSS is set to hold a massive rally in Guwahati on Sunday
Guwahati: To help the Bharatiya Janata Party (BJP) make inroads in the four northeastern states that will go to polls this year — Tripura, Meghalaya, Nagaland and Mizoram — the party's ideological parent Rashtriya Swayamsevak Sangh (RSS) is set to hold a massive rally in Guwahati on Sunday.
About 35,000 swayamsevaks (volunteers) from across the North East will converge in Guwahati for the programme. It's for the first time that the Hindu nationalist body is organising an event of this magnitude in the North East. Since 1994, the region has seen RSS gatherings in smaller cities like Dibrugarh and Shillong, but these never witnessed crowds of over 3,000 to 4,000.
Sunday's rally, being organised in coordination with Luitporiya Hindu Sammelan, is an ambitious programme which was being planned since two years. RSS chief Mohan Bhagwat and senior leaders such as joint general secretary V Bhagaiah, Krishna Gopal Sharma and Dattatreya Hosabole will speak at the rally. Other national leaders such as Akhil Bharatiya Sharirik Pramukh in-charge Sunil Kulkarni and Saha Sampark Pramukh (public relations chief) Sunil Deshpandey will also be present. The programme is scheduled to begin with the 35,000-strong volunteer force singing 'Ami Luit Poriya Hindu' (we're Hindus of Brahmaputra valley).
Briefing the media, RSS spokesperson for Assam, Sankar Das, said the purpose of this rally is to convey the Sangh's ideology and vision to the people of the North East. He said people harbour misconceptions about the RSS and the organisation wants to dispel these notions. He added that they want to make the Uttar Assam Pranth (a local division of the RSS) stronger.
Eminent politicians, heads of village bodies, 20 titular tribal kings — from the Karbi, Naga, Khasi, Hajong, Tiwa, Garo, Jayantiya, Mising and Hajong communities — and more than 10 chiefs of different satras of Assam will be among the dignitaries attending the rally. (Satras stand for institutional centres associated with Vaishnavism, a sect in Hinduism)
Hailing the record gathering expected, Das said the success of the event would boost the morale of the swayamsevaks and encourage others to join the organisation. He said 12,000 swayamsevaks would arrive in the morning by trains and about 23,000 would be brought by other means of transport.
To arrange food for these volunteers, 300-odd RSS workers visited more than 30,000 households in Guwahati over three months, requesting them to donate food packets. About 25,000 households agreed to provide five packets each, amounting to a total of 1.25 lakh food packets. On Sunday, these packets will be collected between 7 am and 10 am from 300 pockets of Guwahati.
Sangh's first foray in North East
The RSS became operational in the country's North East in the mid-1940s when it set up its first base in undivided Assam, which then comprised the present-day states of Mizoram, Nagaland and Meghalaya. For administrative purposes, the Sangh's northeastern arm is divided into two parts: Arunachal Pradesh and Manipur, along with the southern parts of Assam, fall under the Dakshin Assam division. Northern parts of the state, along with Meghalaya and Nagaland, make up the Uttar Assam division.
This became deeper in 1994, when Radhika Mohan Goswami, a prolific writer from Assam, met Keshav Baliram Hedgewar, popularly known as 'Doctorji', in Varanasi and evinced an interest in working for the organisation. Following that meeting, other locals from Assam such as Prafulla Bora, Keshav Deo Baawri, Shankarlal Tiwari and Girish Kalita also became associated with the Sangh.
The RSS currently has 903 divisions running in 730 different places.
Despite its presence in the region for more than 70 years, it wasn't until the recent Assembly elections that the Sangh's political unit BJP came to power in Assam, Arunachal Pradesh and Manipur. With elections in Meghalaya, Nagaland, Mizoram and Tripura round the corner, the party is going all-out to woo voters.
The author is a Guwahati based freelance writer and a member of 101Reporters.com, a pan-India network of grassroots reporters
Explainers
Wrestling Federation of India chief Brij Bhushan Sharan Singh has been accused of sexually harassing female wrestlers, mental torture and not paying wrestlers. The BJP MP from Kaiserganj has denied all the charges
Opinion
While India is broadly in favour of globalisation and free trade, the Modi government has placed the national self-interest stage centre in the mix. It wants reciprocity and mutual advantage, or it tends to lean towards Aatmanirbharta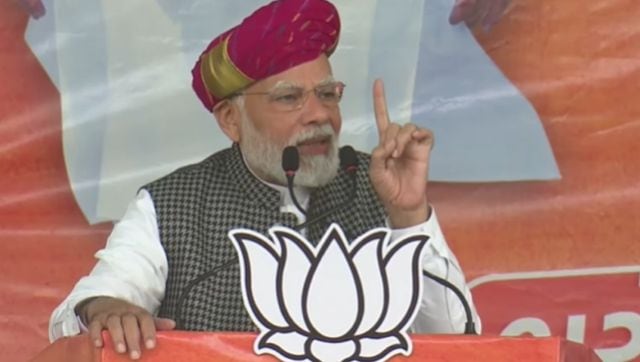 Opinion
In every way, Narendra Modi gains from this needless controversy before the nine state elections this year and the general election next year. And a master politician like him will not let this opportunity for his opponents to malign themselves go waste