RSS demands CPM-led Kerala govt to investigate Rajesh's murder, end 'state sponsored violence'
Addressing the media, RSS joint general secretary Dattatreya Hosabale accused the Communist Party of India - Marxist (CPM) of intolerance and political killings in the state.
Following the killing of 34-year-old RSS worker Rajesh in Thiruvananthapuram, Kerala on 29 July, the Rashtriya Swayamsevak Sangh (RSS) on Friday held a press conference in New Delhi urging the CPM-led state government to open an investigation and end the 'state-sponsored violence'.
Addressing the media, RSS joint general secretary Dattatreya Hosabale accused the Communist Party of India - Marxist (CPM) of intolerance and political killings in the state.
The RSS demanded a judicial probe into the "political killings" of its workers in Kerala, alleging that CPM cadre were involved in the violence which was aimed at checking its expanding base in the state.
We requested state govt to take strict action towards bringing this series of murders to an end: Dattatreya Hosabale, RSS Joint General Secy pic.twitter.com/nZ6saD3kw4

— ANI (@ANI_news) August 4, 2017
"The violence in Kerala is unending. Our worker, Rajesh, was attacked brutally. The gory details of bloodthirsty violence and gruesome murders makes our blood curdle," Hosabale said.
The RSS leader continued and said they had no grudge against the CPM. "What's happening isn't between just the RSS and CPM," he said. He went on to claim that the CPM has murdered Congress, Muslim League members in the state as well.
Hosabale lashed out against the state government and alleged "unionism" of marxists perpetuated even in the police department and did not allow free and fair investigation in any of these conspiracies. He said: "Will the Kerala government end this violence or not? The CPM use muscle power to force police officers to drop any charges against them," further claiming that CPM workers surround the police station to destroy records.
"Despite being at the receiving end, the RSS has always tried to get into a dialogue process, at least three times in the past. Each time, they responded by either ridiculing or backstabbing by killing another of our workers," he added.
The RSS leader also claimed that people from the Scheduled Caste (SC) and Other Backward Classes (OBCs) are frightened in Kerala.
He also said the RSS has written to the President and met Union Home Minister Rajnath Singh and "appealed to stop these killings".
Hosabale urged the Kerala government to change their attitude and start an investigation into the matter, "We condemn the incident but condemning it will not bring back the dead. We want this political violence to end. There should be a judicial inquiry by either a judge of High court or the Supreme Court in the murders of RSS workers in the state," Hosabale told reporters in New Delhi.
"Our workers are targeted as more commoners and poor people are joining the RSS which is not going well with the ruling CPM, which is why they are killing our workers," he further alleged.
He also alleged that Chief Minister Pinarayi Vijayan, who hails from Kannur, the epicentre of political violence, "was an accused in one of such political murders".
Meanwhile, the slain RSS worker Rajesh's mother held Pinarayi Vijayan responsible for her son's death. "Pinarayi Vijayan must explain how such a brutal killing took place without his consent?" CNN-News18 reported.
Political murders in Kerala in Kannur, Thiruvananthapuram and other districts have been prevalent since the first half of the 20th century. Between 2000 and 2016 alone, 69 political murders were reported in Kannur district, with RSS losing as many workers as CPM, according to The Hindustan Times.
Until 31 July, 11 arrests were made in connection with Rajesh's murder.
A gang led by a history sheeter had attacked 34-year-old RSS 'karyavahak' Rajesh and hacked him to death. His left arm was chopped off and there were several injuries all over his body.
With inputs from PTI
Find latest and upcoming tech gadgets online on Tech2 Gadgets. Get technology news, gadgets reviews & ratings. Popular gadgets including laptop, tablet and mobile specifications, features, prices, comparison.
India
Prime Minister Narendra Modi, Kerala governor Arif Mohammed Khan, Home Minister Amit Shah and Congress leader Rahul Gandhi among others expressed anguish at the loss of lives in the landslide
India
Incessant rains, landslides and opening of shutters of dams across rivers have led to rise in water levels in rivers and streams in central Kerala, aggravating the flood situation.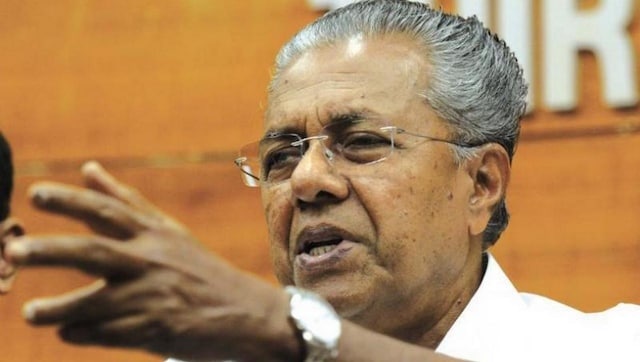 India
Chief Minister Pinarayi VIjayan has urged citizens to remain vigilant after the IMD issued orange alerts for Malappuram, Kozhikode, Wayanad, Kannur, Kasaragod, and Idukki districts from 4 to 8 August