Rs 500, Rs 1,000 notes ban: Modi govt's demonetisation move will put poor into trouble
PM Narendra Modi should beware that his moves of banning Rs 500 and Rs 1,000 notes for the greater good may end up putting poor into trouble.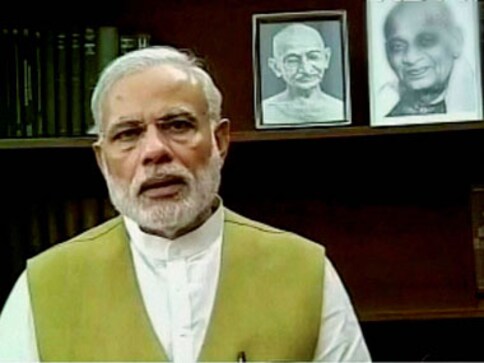 They are supposed to be very alike, The Don and NaMo. They both bucked the media and the elite and won big; or so pundits like Shekhar Gupta and Chetan Bhagat and Ram Madhav are telling us on Twitter.
Yet, on the same day, while one was promising that "the forgotten men and women of our country will be forgotten no longer," the other was running the risk of turning parts of his population into the "forgotten people".
It was amazing to watch BJP spokespersons and besotted TV anchors dismiss the hardships faced by ordinary people at the abrupt and swift withdrawal of big notes from circulation by blithely referring them to credit cards, debit cards, and cheques. As if that is how most Indians live and conduct their financial transactions. As if ours is a cashless society, the whole country has long been demonetised and bank accounts are common to every household.
On television, smartly-dressed yuppies were full-throatedly welcoming "the historic move" outside ATMs or driving into petrol pumps with their sedans or SUVs. In short, these people are those who are well on the way to arriving. Ordinary people are either clueless or in a tizzy.
Maybe, it's because I live in Kolkata, in one of the poorer parts of the country, that I can see firsthand the trials being faced by maidservants, drivers, small shopkeepers, construction workers, electricians, plumbers and other independent service providers. Their only option is to request people like me to relieve them of their "riches" to meet their basic needs.
Maybe, that is why the chief minister of West Bengal was one of the first to point out the trouble this would put the poor into. "I want to know from PM," she tweeted soon after Narendra Modi finished his speech to the nation on Tuesday evening,"How my poorest brothers, sisters, who've received their week's hard earned wage in one 500 re note will buy, ata, chal, tomo?"
Heartless and ill- conceived blow on the common people and the middle class in the fake name of anti-corruption

— Mamata Banerjee (@MamataOfficial) November 8, 2016
Mamata Banerjee, whose political instincts have seldom let her down, has kept up the refrain with tweet after tweet demanding this "heartless and ill-conceived blow on common people and middle class" be stopped immediately. "Please save people from this disaster. Roads are closed, markets shut, patients not being admitted to private hospitals, millions affected."
Please save people from this disaster. Roads are closed,markets shut, patients not being admitted to private hospitals,millions affected 1/4

— Mamata Banerjee (@MamataOfficial) November 9, 2016
One Bengali tweet doing the rounds that Didi cannot lay claim to says, "Why are our businessmen brothers so happy? Since last night? Because they have no black money? And why are we middle-class so apprehensive? Because we have stashes of black money?"
The ruling party is already dismissing all such reservations as politically motivated and mean-spirited. "Politicians are having doubts but ordinary people are having no doubts," was how Union Minister Venkaiah Naidu responded to reservations brought to his notice by the press.
But even economists are not unanimous whether such moves to "check corruption, black money and fake currency rackets that slow our progress" really work. It's been tried before and not been that successful but maybe it'll be better this time round. At least let us hope so.
The prime minister has also conceded that we would face some inconvenience in the beginning and he was sure that we would put up with it for the greater good. Maybe
Maybe the country will grin and bear it but it would do him no harm if his party appeared to be more sympathetic to the common man's woes instead of the usual chest-thumping that seems to be their reflex response to any act of the government.
Especially since such moves have a tendency of turning on their heads and biting their initiators in the back.
It was only the other day that outsourcing was seen as the answer to all ills that plagued the American economy. American companies would be able to make goods cheaper, hence make greater profits and thereby contribute to the strengthening of the country's economy. Ditto: free trade. Moves that were mostly put into place when Hillary Clinton was the First Lady of America.
Today, it is the army of aggrieved people "left behind" by these very acts of globalisation that marched to the voting booths and put a man with no experience in governance into power. In their light, those acts of greater good only helped the rich to get richer and left them with nothing.
It took several decades for people in America to come to this realisation and rise in revolt. It may happen quicker in a country like India. Narendra Modi should beware that his moves for the greater good may end up alienating the greater numbers.
also read
World
Modi reached Australia on Monday for a three-day visit to strengthen bilateral relations between Sydney and New Delhi. This is the last leg of his three-nation visit. Before this, he went to Japan and Papua New Guinea
India
Crores of BJP workers, over 300 MPs and more than 1400 MLAs will vigorously participate in this program to take the public welfare policies and achievements of the Modi government to the public. The achievements of the BJP government will reach everyone.
India
Rajya Sabha Deputy Chairman Harivansh added that the 'day is an important milestone as it will prove to be a source of inspiration in the Amritkaal'