Rs 500, Rs 1,000 notes ban: 5 things to watch out for after Modi's big-bang currency switch
Prime Minister Narendra Modi's decision to demonetise Rs 500 and Rs 1,000 notes is striking deep not just into the black economy of India but also day-to-day economics.
You could call it a double whammy that is going to shake the world for a while. While the outcome of the US elections seems likely to create one kind of uncertainty, Prime Minister Narendra Modi's decision to demonetise Rs 500 and Rs 1,000 notes is striking deep not just into the black economy of India but also day-to-day economics.
White is the new black in India. And this time, it is different. When India demonetised large notes in 1946 and 1978, the denominations in question were not small enough to touch commoners. We now live in times when rickshaw pullers and crony capitalists alike will be touched by the monetary coup that hit India on the night of Tuesday, November 8.
Here are five things Indians need to watch out for in the coming days after a move that has social, political and economic implications.
1. Impact on banks and their balance sheets: India's banks may suddenly have more cash deposits, as those with currency bundles walk into deposit their money. This might be a short-term boost for banks groaning under the impact of bad loans, or non-performing assets (NPAs), as they are called in market jargon. More deposits in an atmosphere of decreasing inflation and interest rates mean lower cost of borrowings for banks. The more the deposits, the easier it is for them, though they will have to cope with a logistical nightmare as queues of currency-seekers with ID cars lengthen outside counters. At the end of June, NPAs as a share of gross loans for Indian banks stood at 8.6% -- and in currency terms Rs 650,000 crore.
2. Money-laundering innovations to beat December 30 deadline: India is the land of Jugaad, or improvised innovation. Those stuck with piles of cash that they do not want to be investigated by the taxman may find "benami" ways to minimise the impact of the demonetisation on their lives. This may involve discounting mechanisms, a new kind of middlemen or new types of financial buffers. Keep your ears to the ground as black money tries to get Fair & Lovely, to borrow an expression from Rahul Gandhi. Gold may see interesting movements, as it is a common black economy substitute for cash.
3. Real estate market behaviour: Expect realtors and developers used to dealing in piles of cash with lower-than-market registration values to find new ways to deal with customers. They may, for instance, find new ways to invoice deals so that they get more white money in while they find sponges to absorb their black money. Or they may lobby with the government for leniency or raise impediments to the implementation of the demonetisation scheme.
4. Arun Jaitley's future: Modi is the man who is in charge, but Finance Minister Arun Jaitley will come under a lens as his role in the coming months may need to shift from policy-making to nitty-gritty administration. As opposition parties mount pressure on how the common people are inconvenienced, day-to-day measures to clarify doubts and lower the pain points for industries, depositors, consumers and citizens in general will become important. There is a lobby within the BJP-RSS "Sangh parivar" that has been suspicious of Jaitley. They may turn hawkish.
5. Impact on Modi's home base: Small traders and medium-sized business enterprises buzzing in the prime minister's home state, Gujarat, are an integral part of India's black economy. For some, it is an inevitability of dealing with partners and cash-rich customers. For others it is a way to avoid taxes. Brokers, developers and financial intermediaries who have traditionally been Modi supporters because of their conservative cultural leanings or market orientation may be inconvenienced by the demonetisation. Will this sour a cosy political equation for the BJP in a stronghold?
(The writer is a senior editor and journalist who has worked for Reuters, Economic Times, Hindustan Times and Business Standard. He tweets as @madversity)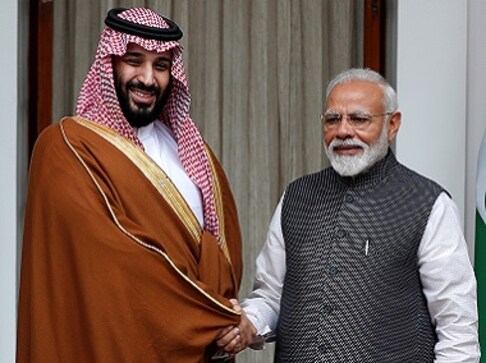 World
India's ties with Saudi Arabia, one of the world's leading oil producers and host to nearly three million Indians, have generally been on an upswing
India
As part of the celebrations, Union Health Minister Mansukh Mandaviya requested people to get themselves vaccinated and also help others to receive their jab
India
Foreign Secretary Harsh Vardhan Shringla said that Modi specifically thanked Suga for successfully hosting Tokyo Olympics and Paralympics in midst of global pandemic.