RK Nagar bypoll: 77 percent voters cast ballot amid EVM malfunctioning, TTV Dhinakaran video controversy
The by-election for the RK Nagar constituency, left vacant after the death of former chief minister J Jayalalithaa in December last year, saw a voter turnout of 77.7 percent.
By Ayswarya Murthy
Chennai: The by-election for the RK Nagar constituency, left vacant after the death of former chief minister J Jayalalithaa in December last year, saw a voter turnout of 77.7 percent. Fifty-nine candidates are in the fray for the constituency.  The results will be out on 24 December.
D Karthikeyan, Chennai district election officer, said that 75.92 percent men, 79.21 percent women and 17.17 percent identified as 'others' cast their votes. RK Nagar had witnessed 67.69 percent polling in 2016 and 72.72 percent polling in 2011 Assembly elections. In 2017, the constituency had an electorate strength of 2,28,234,  comprising 1,10,903 men, 1,17,232 women and 99 transgenders.
The voting began at 8 am across 256 polling stations and 2 auxiliary polling stations*. While the polling percentage was 11 percent at 10 a.m, it soon picked up pace to reach 24 percent an hour later. At 3 p.m, 59.24 percent polling was recorded from all booths.
Some raise issues on EVMs
BJP candidate K Nagarajan, who alleged that his name was pushed to the end in the EVM, said he has filed a complaint with the Election Commission. Nagarajan further alleged that 178 machines were not blinking and beeping after pressing of buttons. The state election commission, however, refuted the allegations, barring two incidents.
AIADMK leader and independent candidate TTV Dhinakaran (also spelt as Dinakaran) too found an EVM malfunctioning at a booth in Kasimedu, it was reported.
2G verdict breather
The day brought good news for the DMK as all the accused in the 2G scam, including main accused former Union minister A Raja and DMK chief M Karunanidhi's daughter MP Kanimozhi, were acquitted by a special court. The CBI plans to challenge the verdict in the Delhi High Court.
Madhavaram S Sudharsanam, the DMK's secretary for Chennai North district, said, "We are all very happy about the 2G verdict. I cannot say how much, but I am sure it would have impacted the voting on Thursday. We always had a good chance of winning the seat, which has now increased."
Meanwhile, speaking to 101 Reporters, AIADMK candidate E Madhusudhanan said that his party had an edge over others due to the welfare schemes initiated by the late chief minister J Jayalalithaa. "I believe that people have voted for us and trusted the party. While I do not wish to comment on the 2G verdict, I am hopeful this may not have changed their voting preference (within a day)."
I don't respond to clown, says Dhinakaran
Sudharsanam also alleged that Dhinakaran's minions tried to coerce voters by giving them Rs 20 and a coupon. "They said that if their candidate won, the coupon can be reimbursed for Rs 10,000." He also alleged that this was happening across the constituency and they have filed a complaint with the Election Commission.
Dhinakaran's election agent and disqualified MLA, P Vetrivel, who on Wednesday had released a video clip of Jayalalithaa on a hospital bed, has a complaint registered against him for violating the Model Code of Conduct.
Dhinakaran said he doesn't condone Vetrivel's actions, but as a friend he can understand the motivations for them. Dhinakaran also said he doesn't fear action from the Election Commission because he had nothing to do with the video's release, as Vetrivel had said.
Moreover, Dhinakaran was of the opinion that neither the video nor the 2G verdict would have any impact on the results. He also said at a press conference that he won't respond to the allegations of "clowns" who alleged his followers had been distributing money.
*When the number of voters exceeds 1,400 (urban areas) in any polling stations, auxiliary polling stations are set up.
(Ayswarya Murthy is a Bangalore-based journalist and a member of 101Reporters.com, a pan-India network of grassroots reporters.)
Politics
In the polls held for the 234-member Assembly, DMK swept past the majority mark to garner 133 seats, while Congress won in 18 constituencies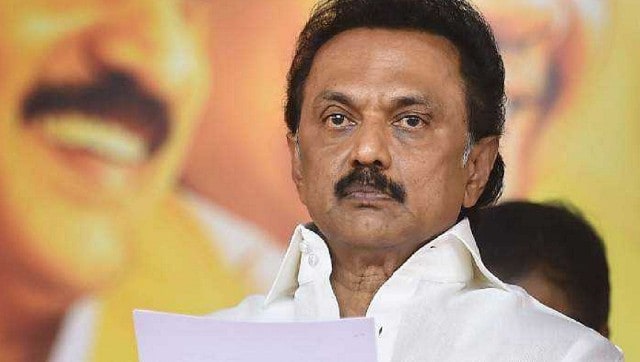 Politics
The DMK top leader is expected to call on Governor Banwarilal Purohit and stake a claim to form the government in the southern state
Politics
The DMK chief will hold Home and other portfolios including PWD, general administration, All India Services, Special Programme Implementation and Welfare of Differently-abled Persons