Coming soon from Modi sarkar: RSS takeover of top research, cultural bodies
Rao's elevation is the first of the many NDA decisions that will determine who will lead India's top research, educational and cultural institutions.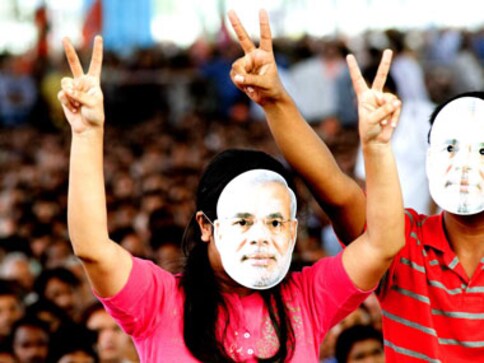 The new chairperson of the Indian Council of Historical Research, Yellapragada Sudershan Rao, has an interesting blog post from 2013, about 'Ayodhya and History'.
"All thinking men -- religious activists, intellectuals, politicians, professional historians and archaeologists- are divided into at least three groups; a) those who stand for the Hindu cause, b) those who stand for the Mosque and c) the majority of others who support an amicable settlement of the controversy. In influencing the public opinion in favour of Muslim community, the 'secular' historians and 'progressive' intelligentsia make concerted endeavor in support of the Muslim cause. They further condemn all those who sympathize the Hindu cause as Hindu fundamentalists and 'saffron brigade'."
Rao goes on to argue that modern history -- which he claims has received disproportionate attention and legitimacy -- will be unable to provide answers to the Ayodhya issue since "Ayodhya stood even before the modern genre of history was born."
A retired history professor, Rao has penned several articles arguing that stories from the Ramayana and the Mahabharata are truthful accounts of history. According to his blog page, he has interests in Indian mythology, Vedic literature, Sanatana Dharma, 'Bharatiya Sanskriti', among other subjects. Rao reportedly told The Telegraph that he hopes to push projects to rewrite ancient history to document the "continuous Indian civilisation", including the period of the two epics.
"The stories of the Ramayana and the Mahabharata cannot be termed a-historical just because there is not enough archaeological hard evidence," Rao said, adding,"A lot of historical material has come through cultural, anthropological, archaeological and ethnographic studies in the last 60 years about the continuous Indian civilisation. The findings can be compiled by researchers. I think the ICHR should support historians interested in doing work on these aspects."
Rao's elevation is the first of the many NDA decisions that will determine who will lead India's top research, educational and cultural institutions. Asked if he foresees a flood of RSS-sympathetic appointments to these institutions, former ICHR chairperson and historian S Settar retorts, "Do you doubt it? I don't."
Settar was ICHR chairman from 1996 to 1999, and was witness to a gradual Hindutva takeover of socio-cultural research organisations in the late 1990s. After the UPA assumed office in 2004, Settar was also on a review committee that examined NCERT books published by the BJP government. The committee discussed the safronisation of the texts at length and recommended replacing them.
Speaking to Firstpost, Settar says, "There are many rightist corners hungry to get into the ICHR. But in any case, it is such an incompetent organisation -- the Leftists have used it as a platform for their ideology and friends, and now the rightists will want to use it for their ideology and friends."
ICHR will hardly be the only institution to see top-level changes given the BJP's track record in power. In 1999, not long after the NDA government was sworn in, a slew of appointments were made, including some on the very first day after then HRD minister Murli Manohar Joshi assumed office.
The Indian Council of Historical Research (ICHR) got a new chairman, Prof B R Grover who soon became notorious for punishing any historical research project or institution perceived as "hostile" to the ruling government or its saffron view of history.
The new Indian Council for Social Science Research (ICSSR) head at the time was M L Sondhi, a Rajya Sabha MP from the BJP who would later, ironically, be summarily replaced after he complained repeatedly and publicly of pressure from an RSS cabal within the ICSSR. Sondhi, considered close to then PM Atal Behari Vajpayee, famously complained that the RSS faction in the institution, led by Devendera Swaroop, a former editor of RSSmouthpiece Panchajanya, was hindering a proposed Indo-Pak social scientists' meet ahead of the Vajpayee-Musharraf summit in Agra.
Also among MM Joshi's early appointees was RSS sympathiser G C Pande, a Sanskrit scholar and ancient India historian, who became head of the Indian Institute of Advanced Studies (IIAS) in Shimla . The University Grants Commission (UGC) top job was handed to Dr Hari Gautam, who soon after introduced courses in Jyotir Vigyan or 'Vedic astrology' and Hindu karmakand or rituals. The move raked up a debate on whether the UGC, the institution that controls higher education institutes across the country, was legitimising superstition.
And it is these institutions and their impending appointments that will be closely tracked by activists and academicians who will be keeping a close eye on the research projects they undertake, and changes they institute in curriculum and historiography.
One of the many who has long opposed political intervention in historiography is Fr Cedric Prakash of NGO Prashant in Ahmedabad. Prakash and fellow activists in Gujarat have for some years now campaigned against communalisation of textbooks, including approaching the courts against a slanted view of history.
"Fascist and fundamentalist forces have consistently tampered with the educational system of their country when in power; propagating a particular ideology through school text books is a very easy way to manipulate receptive minds.The Gujarat Government led by the BJP has done this systematically during the past many years: minorities have been demonised, patriarchy is eulogized and history is conveniently tampered with. Hindu mythology is called history," says Fr Prakash who says He says there are several instances of inaccuracies and omission of important events. The saffron takeover of major institutions is part of the RSS-BJP design, says Prakash.
How exactly does it matter who heads the ICHR, ICSSR, UGC or other government bodies involved in research and advanced studies?
Settar says much of the research work emerging from the ICHR lacks interpretation. It is merely an exercise of judgment in selecting documents -- those averse to Gandhi could suppress documents about the father of the nation or those averse to Ambedkar could suppress critical documentation about that leader, Settar offers as an example. What is selected, prioritised for publication, what is omitted, all of this impacts the setting of the agenda and socio-political discourse that follows. Some projects in ICHR have been dragging for nearly 25 years.
In other institutions, as well,, from priority funding for projects, granting of fellowships, getting publications out on time, aiding other institutions' and universities' research work, the decisions taken by the chairpersons of these organisations have wide-ranging impact.
One example to cite would be the scuttling of two volumes of the 'Towards Freedom' project of ICHR in 1999, following insistence by the RSS caucus within the committee that the texts, both by renowned historians, KN Panikkar and Sumit Sarkar, be reviewed.
Activist Teesta Setalvad, who founded Communalism Combat, which has also taken up cudgels against intellectual fascism and politically-motivated historiography, says the fear is of a vision of history that is narrow and exclusivist. "We could see a repeat of the first NDA government-led RSS assault on independent historical research," she says. "This is part of an intractable political project, lacking rigour of historical research, that wants to decide how we view India."
The appointment of Y Sudershan Rao to the ICHR is only the first of more appointments to follow. Apart from the ICHR, ICSSR, the NIAS in Shimla, the UGC, here are other institutions to watch closely in coming months: The Indira Gandhi National Centre for the Arts (IGNCA), the National Book Trust, NCERT, Films Development Corporation, Censor Board, Sangeet Natak Akademi, Lalit Kala Akademi, to name a few. Also to watch: Likely expansion plans for the network of Shishu Mandir schools and Vidya Bharati schools, and funding patterns for other schools including those run by the VHP.
In his blog post about Ayodhya, Rao bemoans the politicisation of history, writing "Revisiting the past with preconceived notions and vested interests leads to misinterpretation of historical facts. Since independence, volumes are written by the teams of scholars owing allegiance to either side of the issue. In this milieu, the worst sufferer could be history as a scientific discipline and historiography as a technical craft."
If history is any indication, these words may soon prove to be ironic, indeed.
India
Raees Ahmed Sheikh Asadulla Sheikh had allegedly conducted a partial recce of the Hedgewar Smriti Bhavan in Reshimbaug area of Nagpur and managed to send a video to his handler in Pakistan
India
UGC, which regulates higher education in India, had sought a detailed action-taken report from the Greater Noida-located private university over the last week's issue
India
The party accused the BJP-RSS of spreading communal divide in the country and said the Congress rejects the politics of garnering votes by targeting minorities