Research parks, web portal for teaching: What we can expect in the new education policy
Union Human Resource Development (HRD) Minister Smriti Irani on 16 May had announced that the Narendra Modi government would bring about such a policy change by 26 May which hopes to bring about an impetus to the education system in India.
The Modi-led government is all set to bring in reforms in the education sector, even as his end of two years of governance comes to an end. The Union Human Resource Development (HRD) Minister Smriti Irani had announced on 16 May that the Narendra Modi government would bring about such a policy change by 26 May, which hopes to bring a much-needed impetus to India's education system.
Smriti Irani has, on various occasions, shared details of this new policy. Here is what we know.
"Under the new education policy, the National Council of Education Research and Training (NCERT) will address all those challenges facing the education system, as even students tell me, we know more about Renaissance but not about Maharana Pratap," Irani had said while speaking at the 'Samvaad' Conclave, organised by India TV to assess the performance of two years of Modi government.
She then further added, in an interview to All India Radio, that "We have received suggestions from people living in 1.10 lakh villages and over 1,500 municipal bodies... we have prepared a document with the help of experts, including advice by education councils, to improve our education system. It will be unveiled in 15-20 days."
Irani was proud to state that the National Education Policy was being prepared after consulting people living in villages and far-flung areas.
The Modi government plans on taking the Right to Education Act (RTE), passed by the earlier UPA government, towards its real objective.
"The previous government passed the RTE but failed to make any provision for fees of 25 percent students whom they have provided seat reservation in private schools. We made the required arrangements and have paid for the education of 18 lakh students after checking their records through state governments," she said.
Crediting Prime Minister Modi for the endeavour, Irani had spoken about the human resource development ministry digitising NCERT books from Class IX to XII, saying, "All these books are available free of cost in English, Hindi and Urdu through a mobile app."
As part of the new education policy, Irani has also spoken about the launch of a web portal, Bharatvani, which would teach various subjects in 22 Indian languages.
The ministry has promised 16 research parks through the Indian Institute of Technology (IIT), which would be five times those built from 2004 to 2014.
"Work has already started on six parks. These institutions will impart vocational and technological skills to students through diploma and certificate courses. We will involve IIT faculty to teach the students," Irani had said.
The government has invited industry leaders to partner with these institutes and private players have already invested over Rs 140 crore in setting them up.
The HRD ministry has also indicated that various Indian institutions would be collaborating with foreign universities under the University Grants Commission (UGC) norms so that Indian students can get the best education.
With inputs from IANS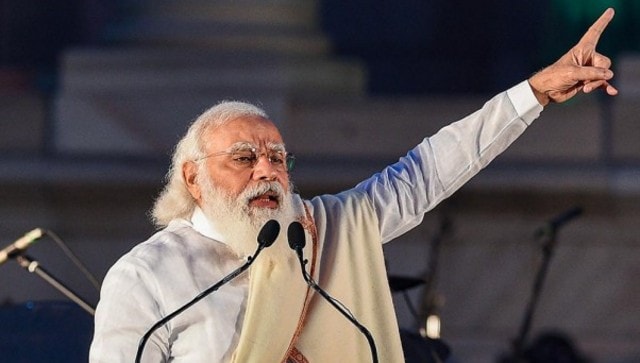 India
This visit comes at a time when the BJP is all set to kickstart its Assembly election campaign as Modi is expected to address a public meeting after the inaugurations of the projects
Politics
More than 40 leaders from 33 parties attended the all-party meeting on Sunday and discussed which subjects should be brought up during the Monsoon session of the Parliament scheduled to begin on Monday
India
The reaction tweet of Modi has been liked over 62,000 times, with thousands of people commenting on it