Remembering VP Singh on his 86th birthday: A grandson reminds us why India needs its political Siddharth
Corporations were handled with a heavy hand and eradication of corruption was VP Singh's goal.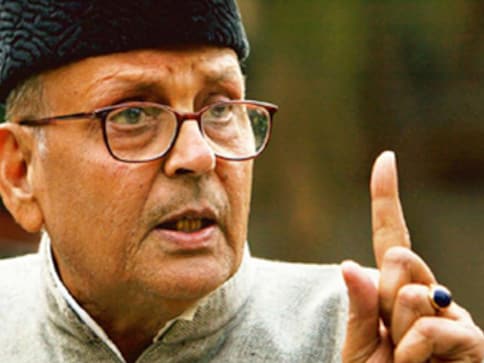 With the Congress in retreat and the steamrolling BJP wagon set to capture India, the era of coalition politics seems to be ending. But perhaps history is to set repeat itself.
As the call for for the Third Front reverberates in all corridors of power, let me take you back to the 1980s when it was high noon for the Congress in India. Indira Gandhi had just been murdered, the Sikh pogroms had erupted in India and the country was on the verge of a drought. I speak of 1984, a year that saw Vishwanath Pratap Singh rise to become the Finance Minister of India. This was the beginning of a new era of Indian politics marked by idealism, honesty and renunciation.
He was born on 25 June, 1931 — the third child to be born in the royal household of Daiya on the banks of the ancient Belan river in Allahabad. But fate had different plans for him. He was soon to be adopted by Raja Gopal Singh of Manda (from the Gaharvar clan), and at the tender age of 10 ascended the Manda throne in 1941. At the age of 26, Acharya Bhave called him a modern-day, "Siddharth". This came nearly 1,000 years after another descendant of Jaichand (Kannauj) made his mark on history.
Corporations were handled with a heavy hand and eradication of corruption was Singh's goal. Socialism 2.0 was taking root in India and it had one crusader, VP Singh. Many of you may recall how the finance ministry dealt with defaulters including Tata, Reliance, Birla etc. He bravely attacked the defaulting corporate houses of India that had connections in the corridors of power, and was rewarded with a transfer to the Ministry of Defence.
But when a door closes, a window opens, and the Bofors scandal was that window for Singh. His relentless pursuits to end corruption exposed for the first time the defence kickbacks and exposed how the highest levels of government were complicit. This is the wave Singh created to become the India's eight prime minister, who was remembered most for his social justice programme of affirmative action and further for stopping the Babri Masjid demolition on 30 October, 1990.
Today, almost three decades on, when India is in the grasp of right-wing corporate forces, no one appears to be putting forward a strong challenge to majoritarian rule. Even during Singh's tenure, many detested him, disagreed with him, but when the history of the Modern India is written, the name of my grandfather cannot be ignored. Blessed with a socialist heart, his pragmatism and coalition building, he laid the foundation for the Third Front. While millions have benefited from his affirmative action programme, his methods and skill still guide us.
'What kind of India do you want?'
Most people who witnessed the demolition of the Babri Masjid would mistakenly think that 6 December was the planned date of the destruction. But that is not true. The planned date was 30 October, 1990 and one man prevented it. He had to prevent the lynching of the Hindu ethos and notion of secularism by protecting the Babri Masjid. After the Mandal Commission, communal forces embarked on a rath yatra to round up Karsevaks with the intention to build the Ram Mandir upon the destruction of the Babri Masjid.
Countless peoples had died in communal pogroms, millions of rupees had been swindled in the name of Ram, as the Babri Masjid demolition squad inched closer to Ayodhya. But Singh dared and LK Advani's 'Chariot of Fire' was extinguished on 23 October, 1990 with Advani's arrest. He knew communal political forces would abandon his government, but the Babri Masjid would stand.
The Babri Masjid 'Camandal'
Maybe the soul of Bharat mourns the 25th anniversary year of the demolition of the Babri Masjid. Memories and the aftermath of the triumph of mindless violence and death after the attack on the Babri Masjid disgusted many and nauseated patriots, but it gave direction to Singh. He knew, that his life was now dedicated to to deracinating this saffron lotus stem. He was to fight the communal forces.
"What would have Ram done?" he asked us, "Allowed thousands to be killed for votes, allow corporate forces to tear India, like they did to Germany — Christians against Jews and now in India, allow Hindus to murder Muslims? Sell our ancient religion, our honour for greed?" Not for a moment did he doubt the saffron intentions. He saw Ram Mandir mission, for what it was: A political manoeuvre.
There was no doubt in his mind, that the Babri Masjid was a symbol of India's diversity; it was a reflection of the best traditions of the Bharatiya Hindu ethos, which taught all Hindus tolerance.
"Muslims and Hindus here have prayed together in harmony. I could not have let our civilisation die on my watch. I sacrificed everything to keep India alive, our Constitution alive, but unfortunately I couldn't do enough," said an evocative Singh, recounting his experience after the fall of the Babri Masjid.
Singh was a pious man, his political conscience was guided by his deep sense of ethics rooted in religion. He knew well that the use of violence, fear and hatred to plunder and kill, was not religion or Ramrajya but simply greed. "The system of greed and violence, can only beget more hate and death. Remember, they used it to kill the Muslims; tomorrow it will be the Dalits, the farmers and underprivileged people. It is our duty to stop them, it is our dharma," he said to me.
Singh, was shocked when the masjid was besieged and pulverised with heavy hammers of hate on national television. The then prime minister PV Narasimha Rao was "unavailable", despite Singh's calls. Worse, the police and paramilitary abandoned their posts to join the mass revelry. This outraged Singh, who asked, "Who have we become? A people who destroy the sacred places of our brothers?" The Babri Masjid, from then had become a relic of hatred and of Hindu shame.
In 1990, Singh had told Advani in Parliament that that Babri Masjid issue can "only be settled via the court or by mutual agreement of two communities" and other way would lead to a catastrophe. But his advice fell on deaf ears. Singh's advice was rooted in his deep understanding of India and his mission to promote secularism in India.
Why VP Singh?
Whether it was giving Dr BR Ambedkar the Bharat Ratna or stopping the rath yatra, Singh was driven by ideals and honesty, and not the greed for power. In a time when minorities are threatened, farmers are shot and the government's policies seem restricted to photo-ops, we need an individual to fight, not for party or position, but for India.
Singh was a different man. He sacrificed his health to bring communal harmony to the country after the 1993 riots. He sat on a hunger strike that resulted in kidney failure. But that did not stop him. His sense of duty pushed him on. When farmers' land was being taken in Dadri for an SEZ, Singh, despite poor health, marched forward. He rallied thousands for the cause of the Indian farmers and their rights over their land.
In Singh, many saw a leader, a champion for the poor and marginalised. We need him today to restore dialogue and debate, to restore the faith of minorities in our constitution and in our country. We need a person, who can perform political miracles yet be grounded, honest and fair. We need our political Siddharth to help our society reform again, before the forces of destruction lynch all that is sacred and holy within us.
We need a VP Singh in these times of fear and greed, to help us walk the middle path.
The author is the grandson of VP Singh
India
Keeping the upcoming Gujarat Assembly elections in mind, Arvind Kejriwal on Sunday made a bunch of promises ranging from providing a free electricity supply to improving the healthcare services in the state
India
A new idea of India is reflected in the fearless teenagers at the Chess Olympiad in Chennai, the sports heroes at the Commonwealth Games in Birmingham, and innovative startup entrepreneurs in tech hubs around the country
India
Parmar was a Rajya Sabha member from Gujarat for three terms, while Raval was a three-term MLA representing Vijapur Assembly seat in Mehsana