Remembering Kalam: Greatly beloved, but he maybe missed being truly great
One of the reasons that Kalam's appeal cut across class and creed was the man radiated a sort of innate gentleness.
I have been to the Jaipur Literature Festival when it was in lockdown for Oprah Winfrey. I have seen the Dalai Lama address a packed front lawn there. But the only time I have been afraid of being trampled to death was when APJ Abdul Kalam came to speak. A sea of of school children, mostly in their uniforms, filled every nook and cranny, shrieking and roaring, according the ex-President a raucous welcome that's usually reserved for pop stars and matinee idols. The children might have been bused in to see Kalam but their enthusiasm was not fake. These youngsters, mostly in their early to mid teens, were genuinely over the moon at the prospect of listening to an octogenarian former President. "Who is he? What's so special about him?" asked a bemused foreign guest trying to thread his way upstream through the jostling swarms.
To say he was the former President, or the first scientist to be occupy Rashtrapati Bhavan, or a man with an inspiring life story and indomitable optimism would have all been true. But they would ultimately be incomplete descriptions of the enduring appeal of APJ Abdul Kalam. He was a rare president whose high office actually brought him closer to ordinary people rather than shutting him off from them. And the expressions of sadness on Facebook and Twitter, not just in the pro forma tributes of parliamentarians, prove that many ordinary Indians feel the same way as Mamata Banerjee who said "Very very sad news. I had a special bond with Kalam ji. He was one of India's favorite sons and one of my favorite people."
One of the reasons that Kalam's appeal cut across class and creed was the man radiated a sort of innate gentleness. Only scientists can gauge his scientific record but for most Indians, raised with an automatic admiration for scholarship, just the idea of a scientist-President was awe-inspiring especially in a country where not many of us could name a great living Indian scientist off the top of our heads. Few countries can boast a scientist president. That India could do so restored lustre to the office of the president which had increasingly started to feel like the retirement home for the old faithful party loyalist. He was a President to be proud of even though we were hazy about his actual scientific achievements.
That notion of a President who rose above politics as usual is one that comes through over and over again in the tributes that have poured in about Kalam. But Kalam did not just straddle a political divide, he also in his very Kalam way elided over a vexing religious divide in our country. In the spreadsheet of identity politics he was a Muslim president in a country in the way we count others as a Sikh prime minister or a Dalit president or a woman president. Reductive as those labels are, they are inescapable in India.
The choice of a President sends a message. And the NDA government that nominated APJ Abdul Kalam wanted to send a message that India was not inhospitable to Muslims especially after the bloodbath of Gujarat. Kalam was the perfect man for the job – impeccable intellectual credentials, inspiring life story from humble origins and a man who wore his faith lightly. He seemed to be energized by the richness that Hindu civilization had to offer him instead of being intimidated by it. He played the veena. He went to temples and could recite the Tamil classic Thirukkural. His obituary in The Telegraph says "To the RSS, Kalam was its idea of a 'good Muslim'." A less cynical perspective would be that Kalam embodied a Gandhian view of secularism that was very much comfortable with all religions as opposed to the more western view that saw secularism as being removed or at least equidistant from all religions.
Dr Kalam wore his religion lightly and that helped the rest of India feel more at ease around him. But that also meant some in his community were skeptical about his faith. In an essay in The Asian Age Dr. Rafiq Zakaria said that unlike Dr. Zakir Husain and Fakhruddin Ali Ahmad, who were "deeply involved in the hopes and aspirations of Indian Muslims", Dr. Kalam "has kept himself completely away from Muslims." Zakaria says Dr. Kalam "never reads the Quran but every morning he goes through the Gita and is enchanted by it". He is quick to add that he is indeed in every respect a Bharat Ratna, and "most worthy to be President" but "(i)n fact Dr. Kalam himself would be happy if he is not described as Muslim president." However as Varsha Bhosle pointed out on Rediff other Muslims like Saeed Naqvi disagreed saying Kalam as the Muslim from Rameswaram who knew no Urdu broke "monochromatic" media stereotypes of Muslims as Urdu-speaking qasais or the hubble-bubble smoking nawab listening to B-grade Urdu poetry or an Osama bin Laden plotting against the state.
Kalam himself said little about this debate in effect upsetting no one with his words. He seemed to have no quarrel with anyone about how they saw him. That easy-going demeanour and simple lifestyle is what made him acceptable across the board and accounted for his thumping victory over INA hero Lakshmi Sehgal in the presidential election. According to Kalam's obituary, Vajpayee was alerted to Kalam by none other than Mulayam Singh Yadav. Years later Mulayam Singh Yadav pulled the rug out from under him after proposing his name for a second term along with Mamata Banerjee. Kalam true to form maintained a dignified silence but it also goes to show how easily he broke bread across political lines.
Whatever he thought privately, he was a man who avoided public confrontation. That has helped make him a man for all seasons. Like Gandhi he too was a person of simple Spartan tastes despite his great stature. We learn about the one-and-a-half room house he moved into after Rashtrapati Bhavan and we admire him for it just as we admired Gandhi for traveling third class on the train. But the greatness of Gandhi was not just his austerity. He was a man not afraid to take unpopular stances, sometimes going against his own party, on a matter of dogged principle. And that is where Kalam was never tested. Once asked by M J Akbar about a visit to Gujarat after the riots he merely said "When I visited Gujarat, I did not go to investigate what happened and whether Modi was right or wrong, but to remove the pain and accelerate relief work."
It was a tactful answer of a man who projected a "can't-we-all-get-along" spirit which made him so attractive to the aam aadmi and the khaas aadmi. His wings of fire ignited our minds but without making us uncomfortably hot.
But it also means that our Missile Man was never truly tested by a decision that could have cost him all that goodwill. Fakruddin Ali Ahmad signed Indira Gandhi's proclamation of an Emergency and irreversibly stained his record. But it is only in a moment of crisis of conscience that great leaders have their greatness tested. Some are found wanting. Some triumph. APJ Abdul Kalam did not have quite such a moment. That might be his fortune or his misfortune for when it comes to legacy, once the sorrow of his passing fades, that could just mark the difference between being greatly-beloved and truly great for the ages. But perhaps in this polarized time a genuinely good man, whatever his shortcomings, is a rare thing worth cherishing.
Find latest and upcoming tech gadgets online on Tech2 Gadgets. Get technology news, gadgets reviews & ratings. Popular gadgets including laptop, tablet and mobile specifications, features, prices, comparison.
First Cricket News
Ganguly complained of chest pain following a workout session on Friday evening and family members took him to the hospital this afternoon when the problem recurred.
World
In the House, the number three Republican Liz Cheney said she would be voting to impeach, and called Trump's actions "a betrayal" of his office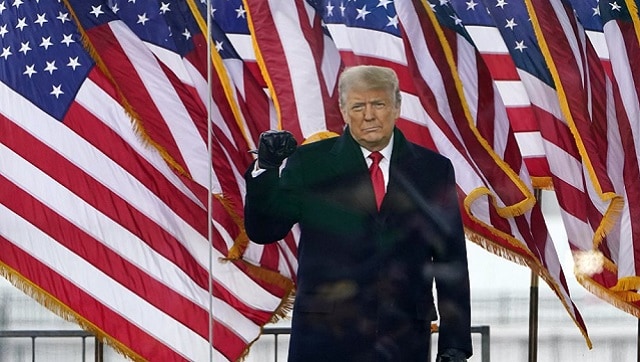 World
The outgoing president described his scheduled impeachment in the House of Representatives on Wednesday a "continuation of the greatest witch hunt in the history of politics"