Real estate, liquor left out of GST as 'influential people' run them: Manish Sisodia
Delhi deputy CM Manish Sisodia raised concerns over real estate and liquor industry being left out of the the GST ambit and suggested it was done as they were being run by 'influential people'.
New Delhi: Delhi deputy Chief Minister Manish Sisodia on Monday raised concerns over real estate and liquor industry being left out of the the GST ambit and suggested it was done because they were being run by "influential people".
"Liquor and real estate lobbies have succeeded to intervene in the GST. Without any hesitation, I can say that these two sectors have been kept out of the GST because political leadership and influential people are conventionally indulged in real estate," Sisodia said.
He said many politicians "invest their black money" in real estate business.
"We are the only country in the world which has kept land and liquor out of the GST ambit. Even a child knows black money is invested in real estate sector," he said
"I also wrote to all finance ministers on this issue, but my opinion was actually rejected by Council meeting of GST," Sisodia said.
Meanwhile, addressing MLAs on the premises of the Delhi Assembly on the GST, Chief Economic Advisor Arvind Subramanian said he completely agreed on the principle of bringing liquor and land under the GST and all states should come together to make it happen.
Sisodia also said the national capital will benefit after the GST is implemented.
A senior government official said that as per rough estimate, there will be an increase of Rs 5,000 crore in tax collection by the city administration once the new tax regime is in place.
The deputy chief minister said there were still a lot of problems in the GST implementation, but not in its concept.
On his part, the chief economic advisor also supported the views of Delhi Assembly Speaker Ram Niwas Goel who expressed apprehension of "conspiracy" by keeping liquor and real estate sectors out of GST and said it will only lead to huge corruption in the country.
"There has been some improvement in real estate sector...you (states) have the power to change it. All states should come together. The power is with you, but I completely agree on this issue in-principle," chief economic adviser Subramanian said.
Subramanian said that when implemented, the tax collection of states will be increased significantly as the compliance rate will rise.
He also ruled out any burden on manufacturers due to GST and said that there will be no increase in the existing tax rates.
Find latest and upcoming tech gadgets online on Tech2 Gadgets. Get technology news, gadgets reviews & ratings. Popular gadgets including laptop, tablet and mobile specifications, features, prices, comparison.
India
The Delhi government has kick-started its 'Red Light On, Gaadi Off' campaign for which it has deployed 2,500 environment marshals at 100 traffic signals
science
The object appears to be an old rocket from a failed moon-landing mission decades ago, finally making its way back to Earth.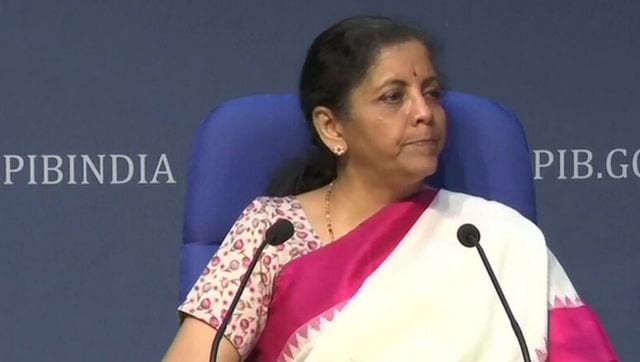 Business
With many of the states already facing a fund crunch, they are going to be in more difficulty to match the Centre's largesse.