Swamy's wrong quarrel with Rajan could ultimately become a thorn in PM Modi's side
Swamy is doing more harm to self and his party with the latest fight he has picked up with a reputed economist and central banker with a clean professional record.
Subramanian Swamy, the BJP's maverick leader and Hinduvta icon, has fired a fresh salvo at the God on Mint Street, the Reserve Bank of India (RBI) governor Raghuram Rajan, whom Swamy has discredited as 'mentally not fully Indian'. This time, Swamy's charges are far more serious than Rajan's mental allegiance with India and monetary policy impact on economy.
On Friday, Prime Minister Narendra Modi broke his silence on the issue, stating, "I don't think this administrative subject should be an issue of interest to the media."
In his second letter to Modi within a fortnight against Rajan, Swamy's allegations are broadly the following:
Rajan made mandatory trips to the US to renew his Green Card despite holding a sensitive and very high government post, sent "confidential and sensitive" financial information to various persons around the world on his Chicago University unsecured personal email address and held the BJP-government responsible for climate of intolerance in the country.
Swamy is picking a wrong fight with someone on the wrong topics. His earlier allegations (directed to the policy of a keeping interest rate high impacting the economy and small industries) at least deserved a debate. After all, Swamy himself is an economist and an academic of international repute, besides being a former Union minister.
Swamy's latest, now more direct and personal attack on the former IMF chief economist, have the signs of potential political trouble and pain for Modi if it escalates beyond this point. Modi has so far maintained silence on Swamy's rants on Rajan.
There are five reasons why Swamy's rant will foment trouble for PM Modi:
First, Swamy, now an MP backed by the BJP and a senior leader in the party has levelled a serious accusation against Rajan for possibly leaking sensitive RBI information he is privy to as RBI governor using unsecured email ids.
If Swamy has evidence of Rajan risking the leak of RBI information to outsiders, he should move the court of law to initiate action against Rajan.
Second, when Swamy accuses Rajan of holding the BJP-government responsible for the intolerance climate in the country, he is actually giving room to the anti-intolerance lobby to mount another attack on BJP leadership.
This is because when Swamy accuses Rajan for speaking on intolerance, he is questioning the freedom of expression of the respected economist-turned-central banker.
Third, Swamy's allegation on Rajan travelling to US to renew  his Green Card is absolute nonsense. There is no rule that prohibits Rajan, who is a professor on leave from Chicago University, and holds a Green Card in the US from renewing it to safeguard his career interests.
Rajan's Green Card status is something which Swamy had used earlier also to dub him as 'mentally not fully Indian'. If Rajan is violating a rule by doing so, why didn't Swamy raise this issue when Rajan took over as the RBI governor or any time in the last two years? Why now?
Fourth, in another letter dated January 5, 2015, Swamy alleged that Rajan, in his capacity as RBI governor, favored former finance minister, P Chidambaram's son, Karti P Chidambaram, in the Aircel-Maxis case. Swamy alleges that the RBI 'hasn't yet' responded to the Enforcement Directorate (ED) which was investigating the case.
Swamy is on a weak case here too, given that he has no business to question RBI in an affair between an investigative agency and a statutory regulatory body. If there were serious lapses on RBI's part in this case, it is the ED who should have taken action and not Swamy.
Fifth, as Firstpost has mentioned earlier  Swamy is shooting in the foot when he says 'all the industries have collapsed and, as a result, unemployment has increased'.
This statement of Swamy's directly contradicts with the claims of Finance Minister Arun Jaitley and Modi that Indian economy has indeed turned the corner, things have improved and India is now a super-growing economy even beating China. In other words, when Swamy blames the RBI for India's poor economic picture and unemployment, he is indirectly (may be inadvertently)  highlighting the flaws of the Modi-government too.
The short point here is that Swamy is doing more harm to self and his party with the latest fight he has picked up with a reputed economist and central banker with a clean professional record.
No one wants to be on the wrong side of Swamy.
But, this time, Swamy has surely picked a wrong quarrel. He should leave it right here and focus on what is his familiar turf -- the Gandhis and Agustas of the world.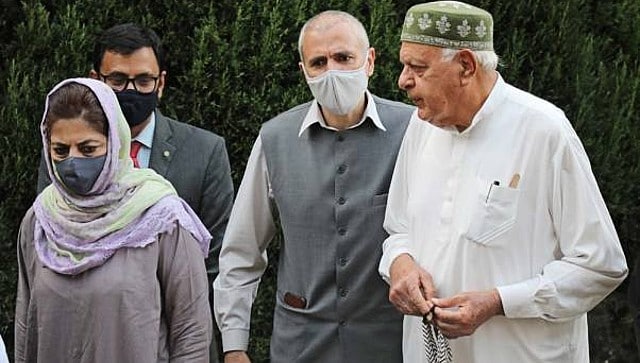 India
The meeting, which is the first such exercise since abrogation of Article 370 in August 2019, is likely to be chaired by Prime Minister Narendra Modi
India
PM Modi speech Updates: The prime minister announced that the Centre will now be responsible for procuring COVID-19 vaccines starting from next two weeks. Vaccines will be available free of cost for all above 18 years, while, those who want to pay, can get it at private centres, he said
India
Meanwhile, a slew of BJP leaders including JP Nadda, Rajnath Singh and Smriti Irani praised the prime minister's announcements and said the decisions showed the government's committment to the public