Ramjas College: Student clash is part of a larger conspiracy, but ABVP will save the day
The recent clash between the Left and the Akhil Bharatiya Vidyarthi Parishad (ABVP) should not be seen as simply a clash of ideologies. Rather it's a war of tactics.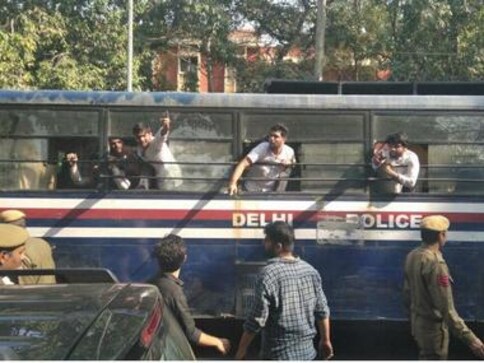 The recent clash between the Left and the Akhil Bharatiya Vidyarthi Parishad (ABVP) should not be seen as simply a clash of ideologies. Rather it's a war of tactics.
A question must be raised regarding the level of planning that the Left has already in place before finding an opportunity to execute it. No sooner than the scuffle at Delhi University occurred, did the news spread all over that the ABVP was full of "hooligans" and "thugs". Were they just waiting for an opportunity to malign the image of ABVP? The ABVP is an organisation with over four million activists and 5,000 units. Is it just hooliganism that has attracted such wide mass appeal for the ABVP? Not at all even.
Those who constantly pray and work for the disintegration and destruction of India are bound to enter into conflict with an organisation that has toiled hard to build and maintain the great nation called India. Some of the tactics employed by these allegedly anti-India groups have now been repeated and rendered obsolete; still a lot of people get entangled in their bizarre logic. False reports and propaganda on social media with fake pictures showing children of army martyrs standing against the ABVP reminds one of the kinds of propaganda to which the SDS took recourse in the 1960s. There were movies such as Operation Abolition made in order to show how strong the students' movement in favour of the New Left was.
It's worth reflecting on the 9 February incident and the events that followed. It was followed by something of a similar nature in Jadavpur University and then at a programme organised by Amnesty International in Bengaluru. One thing that was common to these gatherings was the sloganeering in favour of Kashmir's secession. Interestingly, on none of these occasions did the mainstream Left openly come out in support of the separatists. But it has not opposed it either. Thus, inaction seems to be their mode of action in this case. We again find similarities between leftist American leaders of the 1960s such as Archie Brown and some of the top leftist leaders in India. They play a tried-and-tested game of hiding behind the scenes. Why have they never been accountable to the violence perpetrated by their student cadres in places such as Kerala and West Bengal?
It's part of a bigger conspiracy all of which is hard to fathom, although it's clear to me that the Left in India has nothing to do with India. It's now unambiguously established that these students and their mentors have actually nothing to debate upon. They have already spread much venom with their cadres occupying key positions in all sectors, most notably in the media, bureaucracy and judiciary. That, in my view, is a threat to anyone who still believes that there is a democratically-elected government at the Centre with a nationalist agenda on board.
The Left has evolved a set of terminologies such as "human rights", "liberalism", "witch hunts", "free speech" etc. All these terms seemingly point towards higher human ideals and progressive thought.
But in actuality, these are nothing but tools to destabilise an elected government in India. Again, it's a tactic that was borrowed from American soil. They never talk about human rights in places such as West Bengal, Kerala and Tripura. It's only in places where there are nationalist forces in large numbers that they take up the question of human rights and free speech.
All said and done, the very idea of freedom is seldom absolute. Free will itself is not free according to Immanuel Kant (see: A Critique of Practical Reason, 1787). Hence, any immunity accorded to those who raised slogans in JNU on 9 February is based on a partial understanding of what Freedom of Speech and Expression actually means. The very fact that these people could raise those slogans with complete impunity in the heart of India, in the capital itself is enough proof of India guaranteeing Freedom of Speech and Expression to all its citizens. Given that background, it's a dangerous sign that in the name of a university, some of them in the form of students have begun to raise voices against the sovereign right here in the capital. They have brought the war home (quite similar to the manner in which Vietnam War acted as an alibi for the American Communists to rebel against the government of the US in the late 1960s).
Are we really witnessing an era of "Red Scare" in India? Even if the media has not covered stories on these lines, we may soon be witnessing such a scenario. However, the only difference is the presence of the ABVP. While the American SDS had no opposition from any nationalist organisation, there is the ABVP in India that stands in the way of the conspiracy of a leftist sabotage.
The author is central working committee member of Akhil Bharatiya Vidyarthi Parishad (ABVP) and former joint secretary of Jawaharlal Nehru University Students' Union (JNUSU)
World
UN humanitarian chief Martin Griffith did not comment to reporters as he arrived for the talks at the Palais des Nations UN headquarters in Geneva, nor did Rebeca Grynspan, head of the UN's trade and development agency UNCTAD
World
It is worth noting that India launched the e-Visa service for Saudi nationals in 2019, however, it was suspended due to the Covid-19 pandemic, but it has now been reinstated, effective March 9, 2023.
World
UN rights chief Volker Turk branded it a 'betrayal' of the promises made when the foundations of universal human rights were laid down in the aftermath of World War II