Ram Navami celebrations in Bengal: TMC move to hijack BJP event shows changing definition of 'secularism'
If we look at the political discourse leading up to the 2016 Assembly elections, the focus was on unabashed minorityism and the TMC chief was quite explicit in wooing the 'votebank'.
West Bengal residents were treated to a curious sight on Sunday, the day Ram Navami was celebrated across the country. Both BJP and the ruling Trinamool Congress were trying to outdo each other in holding Ram Navami processions. In some rallies, TMC leaders reportedly even ditched the party flag in favour of saffron headband!
There are two ways of looking at the competitive celebrations of a Hindu festival that marked West Bengal's political landscape. One, though a nascent force in Bengal, BJP has already succeeded in triggering a fundamental shift in the state's political discourse. Two, Mamata Banerjee is trying to pro-actively nip in the bud BJP's attempts to consolidate the Hindu votes. These statements are not at variance with each other.
If we look at the political discourse leading up to the 2016 Assembly elections, the focus was on unabashed minorityism. At roughly 30 percent, Bengal has a sizeable Muslim population. Through her policies and politics, the Trinamool Congress chief was quite explicit in wooing the 'votebank'.
Soon after ending Left's three-decade stranglehold over Bengal and rising to power in 2011, Mamata had proposed a state-sponsored monthly stipend of Rs 2500 and "own land, own house" for each of the state's "30000 to 40000" imams. Over the years, she has enthusiastically pursued this strategy. The Bengal chief minister has set up Haj houses, new campus for Aliah University, sanctioned 400 madrasa hostels, and introduced scholarships for Muslim students, The Indian Express reported.
If any criticism for these policies came her way, Mamata showed a remarkable intolerance for dissent and an autocratic style of functioning, quite unlike the "liberal icon" image that she is of late trying to promote.
In September 2012, The New York Times reported how police tried to intimidate the publishers of a book written in Bengali by a senior police officer criticizing Banerjee's policies. The 102-page book Musalamander Koroniyo (What Muslims Should Do) written by Narzul Islam — then the additional director general of the West Bengal police — had criticized the chief minister's move to allow stipends for imams and plans to "recognize 10,000 madrasas".
According to The New York Times, "police raided the College Street office of the book's Kolkata publisher, Mitra & Ghosh". Publisher Indrani Roy told the US-based newspaper that "government has tried to intimidate us in different ways". The report further stated, "Roy said she believes the raid, the first in the publisher's 80-year history, stems from Banerjee's intolerance to criticism. 'It is rather unnerving,' she said. 'We are actually very scared. Our freedom is at stake and who knows what will happen tomorrow'."
These days, however, Mamata claims that "only West Bengal can fight against this communal politics and intolerance and save the country."
During the campaign stage for 2016 Assembly polls, huge cutouts of the chief minister — head covered in white chador and arms joined in prayers to the Almighty — were ubiquitous. Mamata also religiously attended iftaar parties.
As an India Today report from June 2016 notes, "Banerjee can be seen attending several fast-breaking ceremonies with her cabinet colleagues. With her head covered and her colleagues wearing skull caps. Banerjee can be even heard quoting Urdu couplets in a bid to display her skills with the language and familiarity with the community."
Mamata's campaign speeches in Muslim-majority areas ended with an invocation to Allah, as a report in The Hindu in April 2016 noted. "Allah ho Akbar,' she (Mamata) cries out, adding, 'La Ilah Ilalah Mohammad un Rasool Allah. Inshallah, paribartan hobe (God willing, there will be change).' For West Bengal Chief Minister Mamata Banerjee, no stump speech is complete without a string of invocations aimed at Muslims, who number close to 28 per cent of the State's population".
Her zeal often led to decisions that drew condemnation from the courts. The Bengal chief minister has been rebuked by Calcutta High Court for trying to "appease the minority section of the public at the cost of the majority section without there being any plausible justification". Her attempts to prevent the BJP from holding a rally in the state has been quashed. Mamata evidently believed that she can afford to pay a small cost for consolidation of Muslim votes.
Two things happened in 2016 Assembly polls. One, the Left and Congress were decimated despite forming an alliance. Two, BJP emerged as the chief Opposition. It didn't take long for Mamata to realise that the Left and the Congress are no longer a threat to TMC. She also realized the need now to focus her attention on BJP, a party that is cadre-based, organised and is adept at playing the waiting game.
Mamata drew some quick conclusions. If the Left and Congress are insignificant in Bengal, then there is no longer any need for TMC to attempt a Muslim consolidation. Conversely, she needed to quickly move and prevent BJP's attempts to consolidate the Hindu votes by portraying Mamata as "anti-Hindu".
Theoretically, even if Mamata succeeds in getting the backing of state's Muslim population, any consolidation of Hindu votes as a countermeasure would damage her politically.
The 2017 Ram Navami celebrations, organised by the RSS across Bengal, drew unprecedented response. It was enough to tell Mamata that she needs a quick resetting of her priorities. The zeal of TMC ministers in snatching Ram away from BJP during Sunday's celebrations was a culmination of this "reset" that Mamata has embarked on since last year.
Gone were the huge cutouts in strategic locations of the city. On April 2017, Mamata had tweeted:
Greetings to all on Hanuman Jayanti. Jai Bajrangbali

— Mamata Banerjee (@MamataOfficial) April 11, 2017
Around this time, Anubrata Mondal, a party leader and a Mamata loyalist, was quoted as saying in newspapers: "There are 127 Bajrangbali (other name for Hanuman) temples in Birbhum district. On Wednesday evening in each of the temples, puja will be held. All our legislators and other party leaders and workers will take part. We will worship Bajrangbali everywhere."
In January 2018, TMC organised a convention of Brahmins and Hindu priests in Bolpur town of Birbhum district where thousands of priests and attendees were given "a copy of the Bhagavad Gita, a shawl and pictures of Sarada Maa and Ramakrishna" ostensibly to teach them "real meaning of Hinduism".
Rahul Gandhi's temple run during last year's Gujarat elections seemed to have rubbed on to Mamata as well.
It is in this context that we must see TMC leaders' zeal in taking out Ram Navami processions and state food minister attending the rally armed with a mace. .
Livemint reported that Arup Roy, a state minister, has said "the chief minister had asked all key party functionaries to take out rallies every Sunday until the upcoming panchayat election."
The winds of change are evident. Trinamool's shift from blatant minorityism to soft Hindutva is in sync with similar attempts from the Congress at the national level. Notably, both parties are at pains to insist that they have been wrongly portrayed as "pro-Muslim" in the past, and their temple visits and taking up of Hindu causes are not examples of "soft Hindutva" but a move to deny BJP the chance to project itself as the sole savior of Hinduism. Both claim that doing so does not make them "any less secular".
It is here that BJP has scored a major victory. Under Narendra Modi, the party has reinvented "secularism", breaking its unanimity with "minorityism". What we are witnessing in Bengal is TMC's attempt to respond to this changed definition. The likely repercussions of this churning (disempowerment of Muslims, for one) will be evident over time. What is of immediate interest is how it affects voter behavior. By all purposes, we should get a definitive answer by 2019.
also read
Politics
Congress leaders have also said if the ordinance does not go through, Kejriwal would get a unique privilege that had been earlier denied to Delhi Chief Ministers like Sheila Dikshit, Madan Lal Khurana, Sahib Singh Verma, and Sushma Swaraj
India
On the day of the inauguration of the new Parliament building (28 May), Modi will be presented with the 'Sengol' by the 293rd head priest of Madurai Sri Harihara Desika Swamigal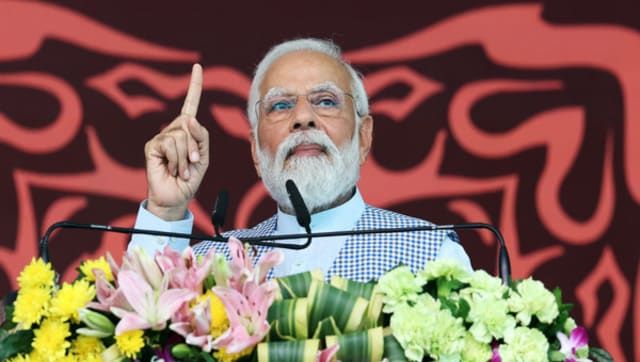 Politics
The rallies will be aimed at winning the 2024 general assembly elections from Uttarakhand by 51 per cent of votes