Ram Nath Kovind shares Narendra Modi's vision as Nehru, Narayanan find no place in his inaugural speech
The people Ram Nath Kovind didn't name in his speech indicates the political shift that Indian polity has taken in recent years.
President Ram Nath Kovind's swearing-in ceremony on Tuesday had all the grandeur associated with a change of guard at the Rashtrapati Bhavan, guardian of the Constitution of the largest democracy on Earth. However, for keen students of politics, the most noteworthy aspect of the ceremony lay elsewhere. This was perhaps the first time in living memory that an incoming president chose to make his inaugural speech immediately after taking oath of office.
Therefore, his first address to the nation was from the Central Hall of Parliament, in the presence of the Union Council of Ministers, members of both Houses of Parliament, governors, chief ministers, judges, former presidents and other invited dignitaries. That in itself was a novelty introduced by President Kovind.
And his inaugural speech was indeed well-crafted, striking all the right notes, mentioning plurality and togetherness of the nation, outlining his vision for India as a world leader in the 21st Century, and also reminiscing his own journey — from humble origins in a small Uttar Pradesh village to the Rashtrapati Bhavan.
However, there is another thing his speech would be remembered for — the illustrious people he named, and more importantly perhaps, the people he chose not to name. For, this indicates the political shift that Indian polity has taken in recent years. Take these words: "I bow to the 125 crore citizens of this great nation and promise to stay true to the trust they have bestowed on me. I am conscious I am following in the footsteps of stalwarts such as Dr Rajendra Prasad, Dr S Radhakrishnan, Dr APJ Abdul Kalam, and my immediate predecessor, Pranab Mukherjee, whom we address out of affection as 'Pranabda'."
Former president Pratibha Patil, who was sitting in the front row, didn't find a mention. Neither did KR Narayanan, the first Dalit to be elected President of India (Kovind is the second Dalit to occupy the august office). Diplomat-turned-politician Narayanan had the distinction of being nominated to the top post by a Congress-backed minority government under IK Gujral, but he secured support from almost all quarters, winning 95 percent votes in the presidential election.
However, he didn't have sweet relations with the BJP government of Atal Bihari Vajpayee that succeeded Gujral at the Centre. In 1998, when BJP emerged single largest party in the Lok Sabha with 182 seats, Narayanan asked its leader Vajpayee to produce signed letters of support from his alliance partners to prove that the BJP could muster enough majority support in a floor test. BJP leaders went through some anxious times, with AIADMK chief J Jayalalithaa taking her own sweet time in sending a letter to Vajpayee.
In April 1999, when Jayalalithaa withdrew her support and sent a letter to this effect to the president, Narayanan asked Vajpayee to undergo a vote of confidence in Lok Sabha instead of letting the Opposition move a no-confidence motion against the Centre. That small technicality ultimately made all the difference, as Vajpayee's government fell short by one vote.
Further, when the Centre wanted to dismiss Bihar's Rabri Devi-led RJD government, Narayanan was again not convinced about this move.
Throughout these years, Kovind had been a BJP leader. He must have remembered those developments and Narayanan's role in them before deciding that the former president wasn't among the list of "stalwarts" of Indian politics.
Moments later, he also chose not to name the first Prime Minister of India, Jawaharlal Nehru, instead praising Sardar Vallabhbhai Patel and BR Ambedkar for the evolution of the Indian Republic.
"Our Independence was the result of efforts by thousands of patriotic freedom fighters led by Mahatma Gandhi. Later, Sardar Patel integrated our nation. Principal architect of our Constitution, Babasaheb Ambedkar, instilled in us the value of human dignity and of the republican ethic. These leaders did not believe that simple political freedom was enough. For them, it was crucial to also achieve economic and social freedom for millions of our people," he said.
A conscious omission of Nehru's name and inclusion of Patel and Ambedkar as national icons is in sync with the thought process of the current BJP dispensation under Narendra Modi and Amit Shah.
Kovind stressed on nation building and spoke of India's aspirations of being viewed as a world leader, again in sync with what the prime minister conveys in his own public meetings. The new president also said, "Nations are not built by governments alone. The government can at best be a facilitator, and a trigger for society's innate entrepreneurial and creative instincts. Nation building requires national pride. India's voice counts in today's world. The entire planet is drawn to Indian culture and soft power. The global community looks to us for solutions to international problems — whether terrorism, money laundering or climate change. In a globalised world, our responsibilities are also global."
The concluding paragraph of President Kovind's speech was perhaps the most significant, where he spoke of Mahatma Gandhi and Deen Dayal Upadhyay in the same vein. "We need to sculpt a robust, high-growth economy, an educated, ethical and shared community, and an egalitarian society, as envisioned by Mahatma Gandhi and Deen Dayal Upadhyayji. These are integral to our sense of humanism," he said.
As per parliamentary tradition, the Vice-President reads the first and last paragraphs of the Hindi or English translations of the President's speech. Today, Hamid Ansari read the English version of Ram Nath Kovind's concluding paragraph, the one which placed the 'Father of the Nation' and the foremost ideologue of the Sangh Parivar on the same footing.
As the official function came to a close in the Central Hall of Parliament, back-benchers from the BJP gave an interesting closing touch, chanting "Bharat Mata Ki Jai" and "Jai Shri Ram".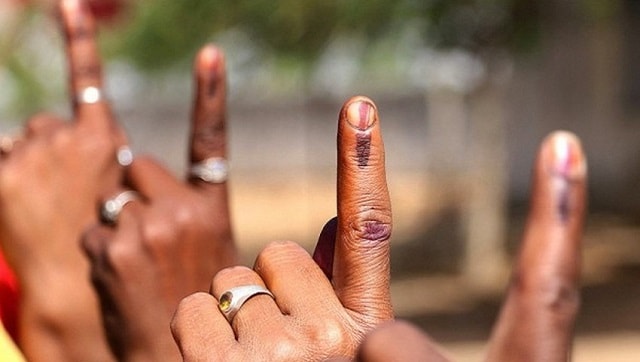 India
National Voters Day was first celebrated in 2011 and was initiated by then-President Pratibha Devi Patil on Election Commission's 61st foundation day.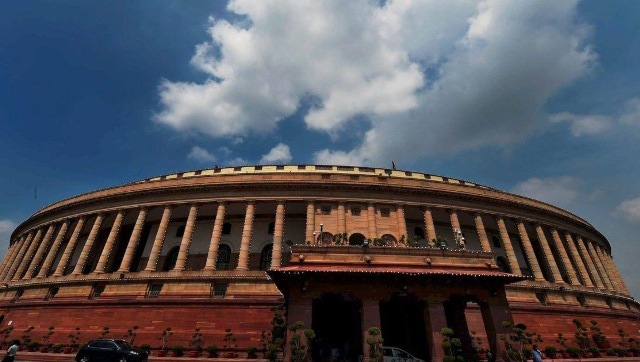 India
President Ram Nath Kovind will address the joint sitting of two Houses on 31 January and the union budget will be presented on 1 February
Politics
Why #FreeHinduTemples should not just be a poll-bound promise from the BJP