Ram Nath Kovind is NDA's presidential candidate: Modi-Shah masterstroke stumps Opposition
By announcing Ram Nath Kovind's name as NDA presidential candidate, Narendra Modi and Amit Shah have yet again reminded that they are a master of surprises.
Bihar Governor Ram Nath Kovind, a Dalit, is likely to be the next President of India.
He is the ruling NDA's candidate for the 17 July presidential election and will file his nomination by June 23. Since the ruling dispensation already has over 55 percent of the total votes of the Electoral College, Kovind's elevation as head of the state is a certainty.
Kovind's name has made fissures in the Congress-led Opposition ranks with BSP chief Mayawati and Bihar Chief Minister Nitish Kumar indicating that they would support Kovind's candidature.
By announcing Kovind's name as NDA presidential candidate, Narendra Modi and Amit Shah have yet again reminded that they are a master of surprises, expect the unexpected from them. They have proved that all the media speculations and the so called "informed" private talks among the senior leaders and ministers to be wrong after all Kovind's name was nowhere on the radar when speculations were rife.
Not just the name of the presidential candidate, the timing of the announcement too contained an element of surprise. Among the party circles, it was believed that the announcement would be made on 22 June, a day before the presidential candidate was expected to file nomination papers, as the prime minister is supposed to leave for his US trip on 24 June.
Modi-Shah advanced the date of parliamentary board meeting, the BJP's highest decision making body to make the final call.
Moreover, Kovind's proposed elevation to the Rashtrapati Bhawan reaffirms that unlike the dynastic parties, in BJP, anyone can rise to the highest position, irrespective of his/her social background. A chaiwala can become a prime minister, an ordinary worker can rise to the post of the party president and an unsung Dalit can be considered for the post of the president.
Until 16 August, 2015, when Kovind assumed office of the Bihar governor ahead of the Assembly election, it was seen as an attempt to tell the Bihar electorate that the BJP cared for the poor and the Dailts. He had kept a low profile while stationed at the BJP headquarters — 11 Ashoka Road in New Delhi. Kovind belongs to the Koli community, a Dalit sub-caste family, and was born in Paraunkha village in Derapur tehsil, in Uttar Pradesh's Kanpur district. He has risen through the ranks with hard work. He was a lawyer, BJP's Dalit morcha chief and two-term Rajya Sabha MP. He is well conversant with parliamentary and constitutional practices. As Bihar governor, Kovind has been non-controversial and has maintained a cordial relation with Bihar Chief Minister Nitish Kumar.
On 18 August, 2015, in Bihar's Ara, during a foundation-laying ceremony of a Rs 9,700-crore project for 11 National Highways, Kovind, the newly-appointed Bihar governor, shared the dais with the Bihar chief minister. Also present was Modi, who introduced Kovind in his characteristic eloquent style, heaping praises on him. "I felicitate, welcome new governor Ram Nath Kovind ji. He is one person who dedicated his entire life for the upliftment of the Dalit, the poor, the deprived and the backward people. Kovind ji is a kind of person who will always be available to serve the people of Bihar," he had said.
Nobody would have guessed that in less than two years, Kovind would be assigned a much bigger role.
Kovind filled the criteria on three counts — first, he is a grassroots party leader, actively associated with the BJP since 1977 when the then Jan Sangh (erstwhile avatar of the BJP) was a constituent of the Janata Party. With full majority in Parliament and ruling 17 Indian states (14 on its own and remaining in alliance), having already secured 55 percent of the Electoral College votes, Modi-Shah and the rest of the Sangh Parivar leadership were keen to have their own party leader as president. The BJP-RSS had someone from the party ranks as vice-president (Bhairon Singh Shekhawat) and twice as prime minister (Atal Bihari Vajpayee and Narendra Modi) but so far had not succeeded in getting its own president.
If Kovind succeeds Pranab Mukherjee as president, it will create a fresh chapter in the BJP-RSS history.
Kovind's choice as president is sure to break ranks of Opposition parties. The Opposition unity, as envisaged by Sonia Gandhi, is under serious threat of cracking. Nitish, who happens to be the most prominent leader in the Opposition, termed Kovind's proposed elevation as a matter of personal happiness and pride for Bihar.
Nitish had a telephonic conversation with Sonia and Lalu Prasad Yadav and he conveyed them of his personal satisfaction and happiness. It would be difficult for Sonia as the president of Congress party to oppose the candidature of a Dalit. Any move to oppose Kovind's candidature would not go down well with the community as the party's base among the Dalit voters might erode further. Lalu's RJD will be in no better position.
BSP chief Mayawati would also face a similar dilemma. Can she afford to oppose a Dalit, that too someone who is from UP, to occupy the highest constitutional post? The problem for her is that the BJP has already made inroads in the Dalit constituency and this latest move will further hit her position as the leader of the Dalits.
Mayawati though expressed some reservations on Kovind's nomination and extended conditional support to him, unless the Opposition puts up another Dalit candidate with better credentials than Kovind.
Samajwadi Party too has been put in a tight spot. Mulayam Singh Yadav or his son Akhilesh Yadav would think twice before opposing someone from their homestate.
K Chandrashekher Rao, chief minister of Telangana, has announced support of his party TRS after a telephonic conversation with Modi. YSR Congress chief Jagan Mohan Reddy has already pledged his support. Both factions of the AIADMK are expected to be on board. So is Naveen Patnaik's BJD.
The media conference addressed by Ghulam Nabi Azad clearly suggested that Congress has been stumped by the Modi-Shah googly called Ram Nath Kovind — UPA 3 already cracking on drawing board.
India
Senior BJP leader Ravi Shankar Prasad said the allegations made by the Opposition party were bereft of political propriety and a new low in political discourse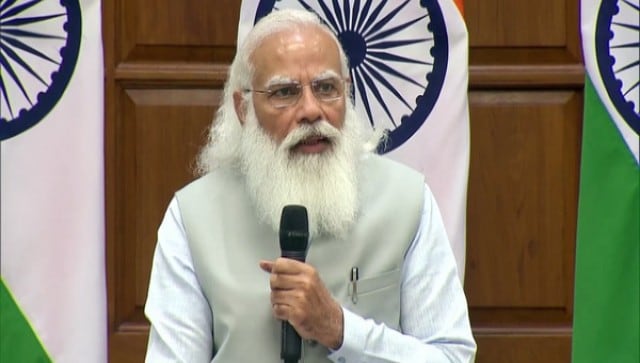 India
Leaders of several NDA constituent parties were in attendance. These included Apna Dal leader Anupriya Patel, JDU leader Ram Nath Thakur, AIADMK leader A Navaneethakrishnan, RPI leader Ramdas Athawale and LJP leader Pashupati Paras
India
One of the key mistakes that critics and Modi's political opponents make is to perceive his governance style as episodic