Ram Mandir-Babri Masjid row: Why Narendra Modi, Yogi Adityanath are unlikely to dive into the temple fracas
Narendra Modi and Yogi Adityanath are unlikely to do anything rash on the Ayodhya dispute as they wouldn't want to risk losing BJP's support base.
In fiction or real life, stories without villains are rare. The Krishnas, Arjunas, Bhimas and Yudhishthiras of the world must contend with the likes of Duryodhanas, Karnas, Shakunis and Dusshasanas. Every Hercules has to grapple with the villainy of a Hades.
Fiction writers take great care in characterising the bad guy, because it's the villain who often drives the plot. The hero merely reacts to what the villain does.
So who is Prime Minister Narendra Modi's villain in the current political scenario? None he should be really petrified of, right now. That's because he vanquished them all – well, almost – on 11 March, when the results of the Assembly elections in five states including Uttar Pradesh came out. He has given them a whipping they will take long to recover from.
In a way, the story of Modi has reached a sort of conclusion with what fiction editors call a HEA (happily ever after) ending. What is unfolding now is the sequel. But a sequel is a story in itself, and so who is the villain in the Modi saga part-2?
Modi's detractors hope that UP Chief Minister Yogi Adityanath will now be the bad guy within the ruling parivar, who will ensure the end of the prime minister's storm. Some believe that while Modi will continue to talk development, black money and jobs, he will let cronies like Yogi to harp on Hindutva and building of Ram temple at Ayodhya.
Anti-Modi armchair intellectuals expected the new UP chief minister, known to be a Hindu hothead for good reasons, to run riot against Muslims, spark off a communal apocalypse, tear India apart, slow down the BJP's galloping juggernaut and finally bring it to a screechy, violent halt. But Yogi is in no mood to oblige them. Even if he is, Modi won't let him.
During the three days since he took over as the CM, Yogi has done all the right things and made the right noises to make it clear that at the top of his to-do list are economic uplift of UP, improvement of law and order and communal harmony in the state.
If Yogi's anointment as UP chief minister has raised hopes among a section of Hindus that he would do just about anything to speed up the temple construction at Ayodhya, he has betrayed no hint that he would do anything of that sort anytime soon.
It is in this context that the Supreme Court's advice on Tuesday, that all those who are party to the Ayodhya dispute must resolve it through 'out-of-court mediation' comes in handy for the BJP to prevaricate over the matter for some more time and keep the pot boiling to its benefit without actually building the temple.
Yogi and his gurus at the Goraknath temple, of which he is the head priest, had been staunch votaries of the Ram temple for long. He had indeed told party workers in June 2016: "Is there any force that can stop the construction of the temple? When they could not stop demolition of Babri Masjid, how can they stop you on this?"
And during his campaign earlier this month, he threatened to consider "other options" to build the temple in case the Supreme Court delayed its verdict on the dispute. This, he said, would be done, taking into account the "widespread feelings of the people."
Talking about the Ram temple would do nicely at election rallies. But building it is encumbered by legal stumbling blocks and grave threats to peace.
Neither Modi nor Yogi can be expected to do anything to help build the temple anytime soon, if ever. For one thing, the matter is sub-judice. And if the pro-temple camp had expected the central and state governments, both now run by the BJP, to promulgate ordinances to override the judicial process, it is easier said than done. While the legality of such ordinances can be questioned, The Acquisition of Certain Area at Ayodhya Act of 1993 may come in the way of such a needless adventure.
Section nine of this Act says:
"Act to override all other enactments. The provisions of this Act shall have effect notwithstanding anything inconsistent therewith contained in any other law for the time being in force or any instrument having effect by virtue of any law other than this Act or any decree or order of any court, tribunal or other authority."
More importantly, Modi is unlikely to do anything rash on the Ayodhya dispute and run a possible risk of losing the support of a substantial section of people who voted for his development package and not Hindutva sloganeering.
It is incorrect and simplistic on the part of the supporters of the Congress and the Left to conclude that the voters as a whole across India, leave alone Uttar Pradesh, have been swayed entirely by Hindutva rabble-rousing, of which there was little during the latest Assembly election campaign. The Ram mandir issue was only a small part of the party's UP manifesto.
Fed up with scams, with joblessness, slow economic growth, with the perverse concept of secularism practised by the Congress and the Left, which sought to please minorities without actually improving their lives and which polarised the society on religious lines during elections, voters saw a new hope in Modi on account of his simplicity, scam-free reputation, his promise to create jobs and make India better.
Hindutva? Maybe, but it isn't the main course. It is development peppered with Hindutva, but not Hindutva seasoned with development.
For now, Modi may have no villain to grapple with. And he is not just about to allow Yogi to become a villain or turn himself into one by doing anything messy in Ayodhya. He knows Ram mandir can wait a bit. The temple won't bring jobs to all of India, except to a few sculptors and masons in Ayodhya.
In the meantime, will the Congress and Left intellectuals please stop crying wolf each time Yogi clears his throat or bats an eyelid and let him do his job?
Author tweets @sprasadindia
Politics
Several users used images and dialogues from popular television series and films to express their emotions about the situation
India
As part of the celebrations, Union Health Minister Mansukh Mandaviya requested people to get themselves vaccinated and also help others to receive their jab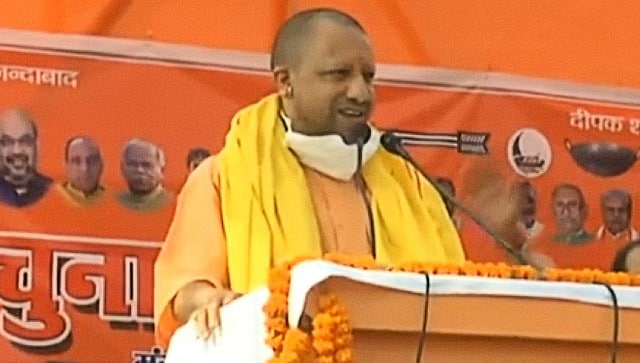 Entertainment
The seers alleged that Bollywood artistes consume alcohol, eat meat and involve in immoral activities due to which they can never represent pious characters of the Ramayana.