Rajya Sabha deputy chairman election: Joint Opposition candidate BK Hariprasad has been Congress' blue-eyed boy since 70s
Sixty-four-year-old Hariprasad is a Congress's Rajya Sabha deputy chairman candidate who represents Karnataka in the Rajya Sabha has been an old favourite of India's grand old party.
The Congress party nominated BK Hariprasad as its Rajya Sabha deputy chairman candidate on Wednesday, even as talks of Vandana Chavan of the NCP being named a consensus candidate by the Opposition fell through. Hariprasad, 64, is a Congress leader who represents Karnataka in the Rajya Sabha, and has been an old favourite of the party's high command. He has been a general secretary of the All India Congress Committee for 18 years and has served as a party in-charge of Gujarat, Chhattisgarh, Odisha and Jharkhand.
The Congress had claimed on Wednesday that the Opposition has a "formidable and better candidate" in its three-time MP Hariprasad with numbers on his side.
Hariprasad has the support of 61 MPs of the Congress-led UPA, 13 members each of the TMC and the SP, six from the TDP, five of the CPM, four each from the BSP and the DMK, two of the CPI, and one JD(S) MP, adding up to 109 members.
According to The New Indian Express, Hariprasad has always been on great terms with senior Congress leaders, enjoying the support of the first family of the party since the days of Indira Gandhi. In the 1970s, Hariprasad was a student leader at MES College in Bengaluru and took no time in receiving accolades from party leaders during his tenure as the general secretary of Congress' student wing, the National Students Union of India (NSUI). Hariprasad has also been involved with the Congress' decision making body, the Congress Working Committee (CWC), for over a decade.
Born in Bangalore, the Congress leader contested the 1999 Lok Sabha election from Bangalore South, but lost to BJP's Ananth Kumar.
Hariprasad, who filed five sets of papers, said it is an honour for him to be the joint Opposition candidate and said it would be a "good contest".
Congress leader Anand Sharma said Hariprasad is a senior parliamentarian, and various parties including SP, NCP, BSP, DMK, CPI, CPM, and also the TMC and TDP, have extended their support and signed the nomination papers. Sharma called their candidate "formidable", and one who can conduct the proceedings and understand the functioning of the House.
With inputs from PTI
Find latest and upcoming tech gadgets online on Tech2 Gadgets. Get technology news, gadgets reviews & ratings. Popular gadgets including laptop, tablet and mobile specifications, features, prices, comparison.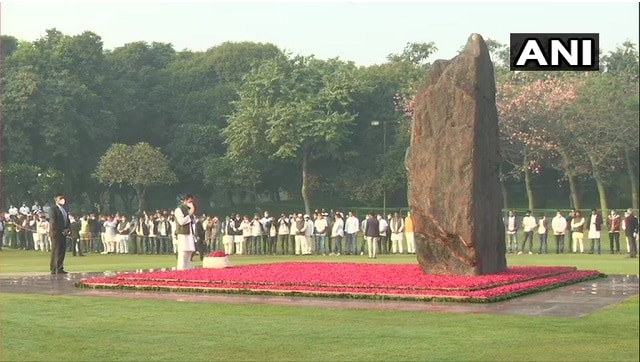 India
Taking to Twitter, the former Congress chief remembered Indira Gandhi as an 'efficient prime minister' and someone who still sets an example of 'her impressive leadership'
Politics
The two parties on Tuesday night held a two-hour-long meeting to determine the strategy for the next Assembly polls
India
Patel, 71, had announced on Twitter on 1 October that he had contracted coronavirus. He has been admitted to the Medanta Hospital in Gurgaon for further treatment