Rakesh Dubbudu
Former India cricketer Sachin Tendulkar and yesteryear actress Rekha are the worst performers in attendance in the Rajya Sabha (upper house of Parliament) among the 12 nominated members, according to an analysis by Factly.in, a data journalism portal.
While Tendulkar has attended 23 of the 348 days since his nomination in 2012, Rekha has attended 18. Further, Rekha has not attended more than a single day in any session since her nomination in 2012.
While Rekha attended the least number of days compared to those who were nominated along with her, the expenditure incurred on her is the highest till date: Rs 65 lakh as salary and expenses. Expenditure incurred on Tendulkar is Rs 58.8 lakh, according to Rajya Sabha data.
This translates to an expenditure of Rs 360,000 per day incurred on Rekha and Rs 256,000 per day on Tendulkar.
The difference in the expenditure is only because of the allowances, since all other components are fixed for every member (MP). If a particular MP attended the house more often than others and has travelled more extensively than others, the expenditure incurred on him/her would be high. In Rekha's case, it is the opposite.
Each MP is entitled to the following:
Salary (Rs 50,000 per month)
Constituency allowance (Rs 45,000 per month)
Office expense allowance (Rs 15,000 per month)
Travel & Daily Allowance (TA/DA) (variable)
There are 12 nominated members in the Rajya Sabha. While two other MPs were nominated in 2012 along with Tendulkar and Rekha, one was nominated in 2014 and the remaining seven were nominated in 2016. Four of the nominated members joined the ruling Bharatiya Janata Party (BJP) and are counted as BJP members in the house. A nominated member can join a political party within the first six months of being nominated to the house, according to the rules.
12 Nominated Rajya Sabha MPs
| Name | Date of Nomination | Field | Party |
| --- | --- | --- | --- |
| Anu Aga | 4/27/12 | Industrialist | Nominated |
| Rekha | 4/27/12 | Actress | Nominated |
| Sachin Tendulkar | 4/27/12 | Cricketer | Nominated |
| K Parasaran | 6/29/12 | Lawyer | Nominated |
| K T S Tulsi (Sal since March 2014) | 2/25/14 | Lawyer | Nominated |
| Sambhaji Chhatrapati | 6/13/16 | Social Worker | BJP |
| Swapan Das Gupta | 4/25/16 | Journalist | Nominated |
| Roopa Ganguly | 10/4/16 | Actress | BJP |
| Narendra Jadhav | 4/25/16 | Economist | Nominated |
| M C Mary Kom | 4/25/16 | Sports Person | Nominated |
| Suresh Gopi | 4/25/16 | Actor | BJP |
| Subramanian Swamy | 4/25/16 | Politician | BJP |
These members are nominated by the President based on the advice of the government of the day. Article 80(3) of the Constitution of India authorises the President to nominate a maximum of 12 members to the Rajya Sabha, and the members nominated shall have special knowledge or practical experience in the fields of literature, science, art and social service.
Samajwadi Party MP Naresh Agarwal had raised the issue of Tendulkar and Rekha's attendance in the Rajya Sabha, lamenting that they hardly attend the house.
Rekha has not asked a single question
Rekha has not asked a single question in the house in her nearly five years in the Rajya Sabha. Tendulkar fared better by asking 22 questions. Industrialist Anu Aga, who was nominated along with Tendulkar and Rekha, has also not asked a single question till date. Lawyer KTS Tulsi has asked the most questions among the nominated members.

Tendulkar, Rekha don't participate in debates
Tendulkar and Rekha have not participated in a single debate in their nearly five-year stint in the Rajya Sabha. Malayalam actor Suresh Gopi and boxer MC Mary Kom–who were nominated in 2016, participated in three and two debates, respectively.
Spending on development projects

Under the Member of Parliament Local Area Development Scheme (MPLADS), each MP can suggest to the district collector of the nodal district chosen by them, works to the tune of Rs 5 crore per annum. The nominated Rajya Sabha MPs may select any district from any state for implementation of their choice of work under the scheme.
Of the total Rs 25 crore that Tendulkar is entitled to for the five years, he has recommended works worth Rs 21.19 crore, while Rs 17.65 crore was made available. Rekha has recommended works of Rs 9.28 crore, while the Rs 7.6 crore was made available.
Under MPLADS, the role of the MP is limited to the recommendation of works. Thereafter, it is the responsibility of the district authority to sanction, execute and complete the works recommended by the MP within the stipulated time period.
The Rs five crore per annum is not automatically released each year. The first installment of Rs 2.5 crore is released without any condition. The subsequent installments are released subject to conditions such as utilisation of the previous installment.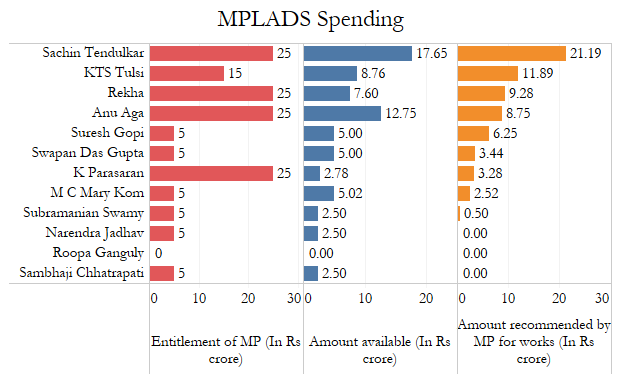 (Dubbudu has been working on issues related to the Right to Information for a decade. He is a data/information enthusiast & is passionate about governance/policy issues. Factly.in is dedicated to making public data meaningful.)
Your guide to the latest cricket World Cup stories, analysis, reports, opinions, live updates and scores on https://www.firstpost.com/firstcricket/series/icc-cricket-world-cup-2019.html. Follow us on Twitter and Instagram or like our Facebook page for updates throughout the ongoing event in England and Wales.
Updated Date: Apr 11, 2017 14:26:34 IST