Rajinikanth to take the political plunge? Actor meets Hindu Makkal Katchi leader, sets the rumour mill churning
Variou political parties too, have have dropped enough hints that Rajinikanth would be welcome to join their front
Weeks after advising his fans to be ready for a righteous 'war' against 'rotten politics', Tamil superstar Rajinikanth on Monday triggered another round of speculations as he met the leaders of farmer bodies and right wing groups in Chennai.
The superstar is said to have been toying with the idea of taking the political plunge, as the superstar has been making comments about the 'corrupt' state of politics in Tamil Nadu, as he advised his fans to start preparing for a 'war'. Various political parties have have dropped ample hints that Rajinikanth would be welcome to join their front should he choose to do so. But the superstar had so far refused to openly pick sides, even as many say he is poised to support right-wing politics.
Such speculations especially found weight on Monday as Rajinikanth met the leader of right-wing fringe group Hindu Makkal Katchi, Arjun Sampath at his Poes Garden residence. The veteran actor is also reportedly scheduled to meet the representative of the Hindu Munnani later in the day, according to News 18
Many were surprised as pictures of Sampath draping a shawl on the Tamil superstar emerged as the duo smiled. Speaking to the reporters soon after the meeting, Sampath said, "We discussed the political system in Tamil Nadu. We have requested him to take the political plunge. He told us he is seriously considering it... if he floats his own party, the main agenda will be the inter-linking of rivers…. Only Rajini can fill the political vacuum in the state," News18 reported.
Besides this, Rajinikanth had met a delegation of farmers on Sunday as he assured them his support for their plea to interlink rivers on Sunday. The Kabaali star told the visiting farmers that their plea to link up rivers will be represented to Prime Minister Narendra Modi and pledged Rs one crore in this regard.
"Rajini told us that he will take steps to facilitate interlinking rivers, he said first (Peninsular) rivers like Mahanadi, Godavari, Krishna, Palaru, and Cauvery should be linked," a farmer's said after meeting the top star.
In 2002, Rajinikanth had famously offered Rs one crore towards interlinking Himalayan and Peninsular Rivers after a fast on the Cauvery issue.
"Rajinkanth offered to give us Rs one crore immediately towards river linking, however, we requested him to hand it over to Prime Minister Narendra Modi for a project in this connection," the farmer leader who kicked up a storm with his recent multiple forms of protest in Delhi told PTI.
He said,"we wanted Rajinikanth to help make a beginning (pillayar suzhi) for this river link-up effort and he said he will do it."
The farmer leader said the top star who is shooting for his upcoming flick 'Kaala' told them that he will represent the issue to Modi "though he did not specifically say that he will personally meet Modi in this regard."
Rajinikanth while addressing his fans last month had asked them to be ready for war when it comes, asserting the "system is rotten" and that it needs to be changed.
While DMK working president MK Stalin had said that it was Rajinikanth's wish "whether or not to join politics," others including pro-Tamil leader Seeman opposed it even as others like BJP welcomed the actor's remarks.
All India Mahila Congress General Secretary and actress Nagma had said days before Rajinikanth addressed his cadres that the top star will be successful if he chose to come to politics. She had paired with Rajinikanth in the blockbuster 1995 movie Baasha. A strife-torn AIADMK, has however, has remained mysteriously silent on the issue.
The veteran actor shares a stormy relationship with the ruling party. He is considered responsible for AIADMK's poll rout, in 1996, as he openly asked his supporters not to vote for the party. "If AIADMK is voted back to power, even God cannot save Tamil Nadu," the actor had famously said. However, of late he was considered to share an amicable relationship with the party's late leader Jayalalithaa as he publicly regretted his harsh words against her.
With inputs from PTI
Politics
When asked whether a Dalit would be his successor, the 78-year-old said, 'The BJP high command shall decide on it. I am not the one to take any calls.'
India
The heart of the conflict is an unresolved border issue — a 164.6-kilometre long inter-state border, which separates Assam and Mizoram. This border is shared by three districts of South Assam — Cachar, Hailakandi and Karimganj — and three districts of Mizoram — Kolasib, Mamit and Aizawl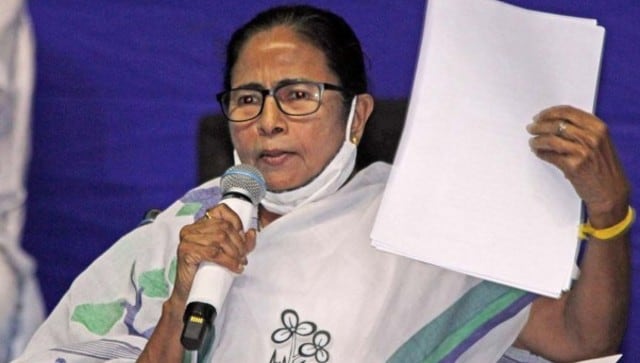 Politics
All this in the backdrop of #AbkiBaarDidiSarkar trending on Twitter, thus further fuelling rumours about a United Front.