Rajasthan Assembly polls: Chief Minister Vasundhara Raje to contest election from Jhalrapatan constituency
Vasundhara Raje has been elected thrice from the Jhalrapatan seat – in 2003, 2008 and 2013.
Jaipur: Rajasthan Chief Minister Vasundhara Raje Sunday announced that she will contest the upcoming Assembly election in the state from the Jhalrapatan constituency in Jhalawar district.
"I have a 30-year-old connection with the people of Jhalawar. The people here have showered love and affection. I have done whatever I could do for Jhalawar and Baran districts," she said.
Raje has been elected thrice from the Jhalrapatan seat – in 2003, 2008 and 2013.
She said although her focus would be to win all the 200 Assembly seats in the Rajasthan Assembly, special attention would be on 100 seats.
Raje exuded confidence that the BJP would form a majority government in the state once again.
She said BJP workers have created a situation that Congress's prime ministerial face Rahul Gandhi is forced to hold Assembly-level public meetings.
"In the 2008 Assembly election, the BJP was eight seats away from making government in the state. The BJP had won 78 seats despite tough circumstances. Also, four seats were won by the JD(U) and the BJP dissidents. The Congress had won 96 seats," the chief minister said.
"Of the eight seats, six seats were from Jhalawar and Baran districts. People of Jhalawar-Baran would not make any mistake this time and saffron would bloom in the state again," she added.
Rajasthan will go to the polls on 7 December.
Find latest and upcoming tech gadgets online on Tech2 Gadgets. Get technology news, gadgets reviews & ratings. Popular gadgets including laptop, tablet and mobile specifications, features, prices, comparison.
Politics
At a campaign meeting on Sunday in Gwalior's Dabra town, where the BJP has fielded Imarti Devi, Kamal Nath had said the Congress candidate was a "simple person" unlike his opponent who was an "item".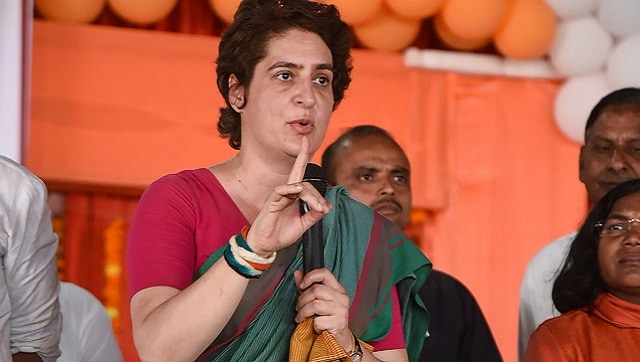 Politics
The Congress leaders made the comments in reference to reports of a BJP MLA and his son allegedly taking away a man accused of harassing a woman from police custody on Saturday
India
Some also drew the Election Commission into the debate, asking whether the BJP could be allowed to make such an announcement when preparations for the polls were already underway