Rajasthan Assembly election 2018: Amit Shah begins preparations for 'Mission 180'
With assembly polls due next year in Rajasthan, BJP chief Amit Shah on Friday virtually began rebooting the party's election machinery, asking leaders and workers to focus on strengthening the organisation at booth-level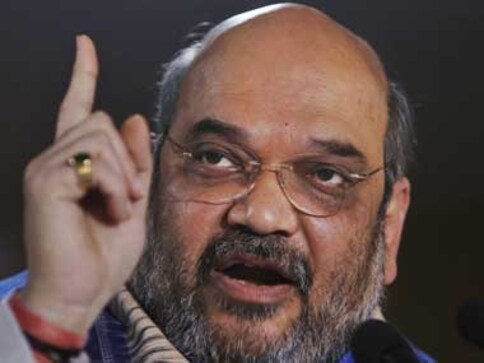 Jaipur: With assembly polls due next year in Rajasthan, BJP chief Amit Shah on Friday virtually began rebooting the party's election machinery, asking leaders and workers to focus on strengthening the organisation at booth-level.
Shah, who started his three-day visit to Rajasthan on Friday, met party MPs, MLAs, and other office-bearers from across the state to chalk out a strategy for BJP's 'Mission 180' to retain power in the desert state.
The BJP chief, who has a proven track record of mobilising cadre to deliver crucial victories for the party, sought suggestions from the members on various issues and assured them that they would be worked out.
"Positive discussions on various issues were held today in his (Shah's) first meeting with ministers and the second major meeting with MPs, MLAs, district presidents and others," BJP's state unit president Ashok Parnami said.
"The biggest mantra Shah gave today is for strengthening booths to ensure victory in elections," he told reporters at the party headquarters in Jaipur after the meeting.
Parnami said the party is implementing Shah's vision and agenda in Rajasthan and exuded confidence that the party would be able to achieve its 'Mission 180' in assembly elections and 'Mission 25' in 2019 Lok Sabha polls.
The BJP, which wrested power from Congress in Rajasthan in 2013, has 161 MLAs in the House of 200 and aims to raise the tally to 180 in the next assembly elections, he said.
In Lok Sabha, all 25 MPs from Rajasthan are from BJP which the party aims to retain in the next general elections.
MLA (Ramgarh) from Alwar district, Gyan Dev Ahuja, said he raised the issues of Ram Temple in Ayodhya, Article 370 of the Constitution which grants special status to Jammu and Kashmir, rising population, among others.
Ahuja said he has also suggested that the "gap between minority and majority should be bridged."
Chief Minister Vasundhara Raje, BJP national vice president Om Mathur, Union ministers Arjun Ram Meghwal, Rajyavardhan Singh Rathore, Vijay Goel, C R Chaudhary, besides the heads of various cells of the party were present at the meeting.
However, dissident MLA Ghanshyam Tiwari skipped the meeting.
"I had already made it clear that I will not attend any party meeting or function till the notice served on me is withdrawn," he told PTI.
Tiwari was served notice for indiscipline in May and has since been openly criticising and targeting chief minister Raje.
The BJP chief is also scheduled to meet seers tomorrow to take their feedback and seek their "blessings" for the assembly elections in Rajasthan, Parnami said.
Earlier in the day, Shah, who arrived in Rajasthan on Friday, inaugurated a library and e-library at the party headquarters here which contain more than 2000 books and close to 8400 e-books.
The Nanaji Deshmukh library has books on prime minister Narendra Modi, veteran BJP leader LK Advani, former PM Atal Bihari Vajpayee, former President APJ Abdul Kalam, father of the nation Mahatma Gandhi, and other personalities like Sardar Patel, Veer Sawarkar, Swami Vivekananda, Deel Dayal Upadhyay, BR Ambedkar.
It also has books on Kashmir issues, the terror of ISIS, cultural heritage of India, RSS philosophy, Hindutva, constituent assembly debates, besides documents on the Jansangh and the BJP.
India
Sources said that the BJP is likely to contest on 65 out of the total 117 Assembly seats in Punjab, while its allies the Amarinder Singh-led Punjab Lok Congress is expected to contest 38 seats and SAD (Sanyukt) 14
Politics
The hostility between the two parties came to a head on Monday when Devendra Fadnavis said that the Shiv Sena's Hindutva is merely on paper and doesn't go beyond speeches in response to Uddhav Thackeray's 'wasted 25 years' comment
India
In his resignation letter to the BSP leadership, Upadhyay said since the BSP has deviated from the principles and ideals of Kanshi Ram, he is resigning from the membership of the party