Railway Minister Suresh Prabhu chose not to take the bitter pill of fare hikes on Thursday in the 2016 Railway Budget, and vowed to continue with his big investment-push to turn around Railways as a major engine for India's economic growth.
Prabhu announced several initiatives to expand railways' reach and efficiency. These include creation of dedicated rail corridors, improving railway infrastructure and revamping the suburban railways system. In fiscal year 2017, there are 44 new partnership projects planned covering 5,300 km worth Rs 92,714 crore and creation of two locomotive factories with a total investment of Rs 40,000 crore.
But, the big question remains without hike in fares can Prabhu address the constrained balance sheet of the railways, particularly in the face of a massive spending burden on account of 7th Pay Commission implementation, cost over-run of delayed projects and other expenses.
Prabhu expects Rs 1.5 lakh crore help from LIC over next five years and going overseas with rupee bonds to raise funds.
Already, railways have felt the heat of subsidising passenger fares with freight segment, a strategy criticised by most experts. Prabhu has hinted that the freight rates will be revised. In 2015-16, railways has suffered a loss of Rs 30,000 crore on account of subsidising passenger fares. Gross budgetary support, Prabhu expects, to be around Rs 40,000 core in FY17. Prabhu has set a gross traffic earnings target of Rs 1.85 lakh crore.
Prabhu's budget shows the government's intent to transform Railways as a crucial engine to economic growth and change the country as a high-growth manufacturing economy among emerging markets.
Prabhu has increased the investment target for fiscal year 2017 to Rs 1.21 lakh crore, up 21 per cent, as against Rs 1,00,011 crore in the last year. This, however, is less than a jump of 52 percent budgeted last year. Prabhu wants to achieve an operating ratio of 92 per cent in 2016-17 as against 90 percent this year (budget estimate 88.5 percent).
Implementation key
But the real concern is on the implementation front. The government's own estimates show that, as on 1 January, maximum cost overrun was seen in railway projects with the anticipated cost of 27 projects climbing to Rs 79,140.68 crore from the original cost of Rs 22,680.85 crore.
What this means that aggressive expansion plans sans the determination to implement on time would hardly help. This is where Prabhu should put his foot down and make sure that the expansion strategy doesn't remain on the paper.
Beyond the numbers, there are several key takeaways in Prabhu's second Rail budget: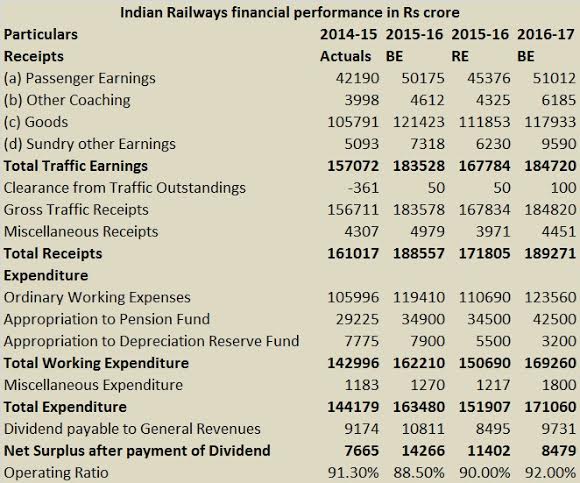 First, it is even clearer now that the Modi government doesn't want to privatize the railways.
This is something Prabhu has highlighted in the past as well when he said Railways need private money but not privatisation. But, that also puts more pressure on the government to find enough resources to push railways' development agenda. Prabh spoke in detail about his plans to invite public-private partnership contracts to develop railway projects.
Second, clearly, Prabhu wants to make Railways more passenger-friendly by promising more efficiency and customer experience. Prabhu listed out a host of initiatives in the budget such as improving the customer experience through the help of technology. "It is the people who are the soul of Indian railways," Prabhu said.
Railways plans to build 17000 bio-toilets in trains and 475 in stations this year. The railways also plan to increase reliance on social media to reach out to customers. Prabhu plans to cover 400 stations with free Wi-fi access, of which 100 will be implemented this year.
Third, monetising the assets is another key area Prabhu stressed in the last budget. Prabhu spoke about creating a holding company to monetise the assets owned by railways, including the companies it own. This will be done through monetisation of land to raise rail revenue from non-freight sources besides monetising land on tracks by leasing out for horticulture and tea plantation.
Fourth, Prabhu reiterated the government's intention to create an independent railway regulator to decide tariffs and investment proposals. This is even more critical now to win the confidence of private investors about a proper overseeing mechanism. Prabhu said the draft bill will be ready for this after holding discussions with stakeholders.
On the whole Prabhu's 2016-17 Railway budget is a please-all budget, which indeed shows promise of taking ahead the process of overhauling Indian railways through several small reform-steps rather than making big-bang announcements. But, the real challenge for Prabhu lies on the implementation-front.
(Kishor Kadam and Prasanna Deshpande contributed to this story)
Firstpost is now on WhatsApp. For the latest analysis, commentary and news updates, sign up for our WhatsApp services. Just go to Firstpost.com/Whatsapp and hit the Subscribe button.
Updated Date: Feb 26, 2016 07:35:04 IST