Raigarh court registers case against BJP MLA for unlawfully purchasing land allotted to Dalits
A court in Raigarh has registered a case against BJP MLA Hazarilal Dangi, for allegedly unlawfully purchasing land leased to Dalits
Rajgarh: A court in Raigarh has registered a case against BJP MLA Hazarilal Dangi, his three wives and another person for allegedly unlawfully purchasing land leased out by the Madhya Pradesh government to Dalits.
Special Judge Rajesh Kumar on Friday also directed the police to produce Dangi, his wives Sardar Bai, Dhapu Bai, Jyotsana Bai and one Srinath Taank before it on the next date of hearing on 18 December, the petitioners' counsel ML Jangdra said.
Jangdra said the court has booked the five under relevant sections of the Scheduled Caste and Scheduled Tribe (Prevention of Atrocities) Act. The court action came after five Dalits,  Buddhaji, Laxman, Prabhulal, Mangilal and Kalu--petitioned it alleging that Dangi had acquired land unlawfully from them for himself, his three wives and Taank at Vattawala village of the district.
This was when Dangi was district panchayat president in 1996-97, the petition contended. The land in question was given to the petitioners, all Dalits, by the government free of cost, it said.
"The petition contended that, as per law, such land could not be acquired without the prior permission of the district collector," Jangdra said. Dangi, the MLA from Khilchpur in Rajgarh district, said he had bought the land by mutual consent two decades ago.
"I did not know that collector's prior permission is taken to purchase the land of Dalits. Why did the revenue officials not raise this point when the land was registered in my name," he asked while talking to PTI.
"Some people are inciting the Dalits as part of a political conspiracy. We are going to place our side in the court," he alleged.
India
More than six lakh Dalits gathered at Chaityabhoomi in Dadar (on 6 December) to pay homage to Dr BR Ambedkar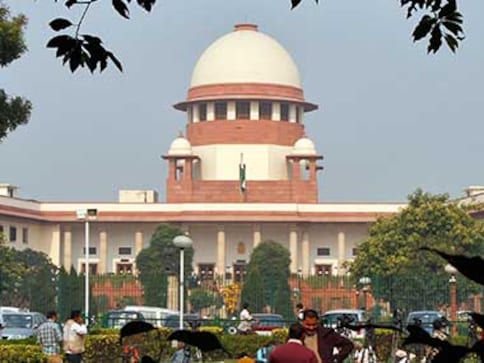 India
In the present climate of fear and reprisal, the Supreme Court order is politically damaging.
Politics
Union Law Minister Ravi Shankar Prasad accused the Congress, the Bahujan Samaj Party (BSP) and the Samajwadi Party (SP) of fanning Dalit violence in various parts of the country for political gains