A Google search on Rahul Gandhi returns queries related to his age and marriage as the two most popular topics. It's hardly a reliable statistic. Nevertheless, it gives us an indication of how the Gandhi dynasty scion is perceived in popular opinion. More than a decade into active politics, the Congress vice-president still retains the impression of an unwilling hero unable to carry his surname and completely at odds with the greatness thrust on him.
Try as he or his party might, that impression was further reinforced, not dispelled, by Rahul's latest shenanigans in court on the issue of whether RSS is indeed responsible for killing Mahatma Gandhi. The Congress spin doctors have since been busy projecting Rahul's decision to stand for trial in the defamation case as an act of volition. They are at pains to point out that Rahul has decided to take on the RSS as part of a larger ideological battle.
But this argument is specious.
It is futile now to claim that Rahul is keen to 'set the record straight' and 'eager to lock horns with the RSS' when all that he has done in the last two years is to seek legal recourse for avoiding the trial. In fact, it has barely been a week since Rahul's counsel Kapil Sibal, while pleading for quashing of the case, told Supreme Court on 24 August that his client never meant to implicate the RSS organization as a whole in Mahatma Gandhi's murder.
A closer look at the timeline of the case and court proceedings on Thursday would reveal that Rahul's latest shot at martyrdom is a belated attempt at making the best out of a script gone awry.
The defamation suit was filed by RSS functionary Rajesh Kunte back in 2014, acting against the Congress vice-president's remarks at a public rally in Bhiwandi in March where he reportedly said: "RSS ke logon ne Gandhiji ko goli maari aur unke log Gandhiji ki baat karte hai."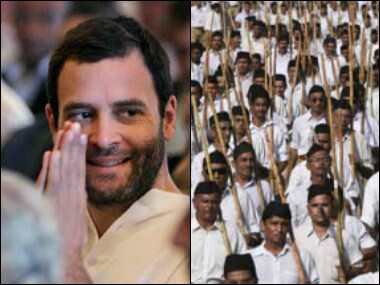 Facing a court summons issued by a Bhiwandi magistrate court, the Congress vice-president had moved the Bombay High Court seeking quashing of the defamation complaint. It is instructive to note that on that occasion, Rahul Gandhi through his counsel RS Cheema had taken a very different stand from the one he adopted on Thursday.
According to a report in The Times of India, Cheema told the High Court on 10 March, 2015, that "Rahul was addressing the members of a rally on the point of philosophy of Congress and his statement should be read in that context. Rahul made a plain statement and did not intent to harm the reputation of RSS…" His petition was dismissed by the court.
This is direct contradiction with Congress's narrative that there has been no U-turn from the its vice-president. Other inconsistencies remain. Soon after Rahul's declaration in court on Thursday that he stands by the 2014 statement, party spokesperson Randeep Singh Surjewala rushed in to say that Rahul's "fight is not against any individual, but against an ideology that divides the country using caste, region and religion. This will further embolden the Congress to fight communalism", according to a report in Business Line.
If fighting for secularism was Rahul's grand motive, why did he repeatedly try to avoid the trial?
What happened inside the hallowed premises of Supreme Court on Thursday further corroborates the impression that Rahul Gandhi was actually cornered and had little option left except facing trial.
According to a PTI report, the hearing on Thursday before a bench of Justice Dipak Misra and Justice R F Nariman started with Kunte's counsel UR Lalit submitting before the court that he needed more assurance from Rahul Gandhi that RSS won't be targeted again.
"…I can agree with his stand if he states that he did not intend to involve RSS for the offence. If he says he did not intend to involve RSS, let him clarify. Let him say that he believes that RSS as an institution was not involved in the killing," Lalit told the Bench which sought his response to Rahul Gandhi's stand during the last hearing on 24 August that he referred to the people belonging to RSS for Mahatma Gandhi's killing, not the institution itself.
"For the last 60 years, every time when there is election and whenever it is a political battle and wherever there is minority votes, RSS are the capital hook," Lalit said. 

Following arguments and counter-arguments Rahul Gandhi's counsel submitted that his client stands by his comments, reported the newspaper. "I stand by each and every word. I will never take my words back. I stood by it yesterday, I stand by it today and I will stand by it in future as well. I am ready to go to the trial," senior advocate Kapil Sibal, appearing for Rahul, submitted.
The details of the proceedings reveal that Kunte's stand left very little manoeuvering room for Rahul Gandhi. At this stage he had to either categorically comply with the demand or, as he finally chose to, stand by his earlier comments and try to make political capital out of a legal setback.
The Congress later made no bones about the fact that this will now become a full-blown political battle. The slow judicial system will anyway present huge opportunity for political propaganda and the party would want to cash in on it.
The Congress reckons that creating some heat and dust on 'Mahatma Gandhi vs RSS' would serve two crucial purposes ahead of the upcoming Assembly polls in a clutch of states. One, an aggressive posturing would ensure blanket coverage for Rahul Gandhi and two, it could be the veritable masterstroke to counter BJP's nationalism card.
BJP's usurping of Congress icons and adopting a muscular brand of nationalism has left Congress searching for an answer. It makes immense sense, therefore, to have a larger public debate about RSS role in Mahatma's assassination. The only problem is, this strategy requires Rahul Gandhi to play his part with élan. Few would bet on him.
Updated Date: Sep 02, 2016 15:52 PM