Rahul Gandhi's U-turn on RSS: Congress vice-president doesn't want a prolonged court battle
Rahul Gandhi diluting his position on RSS killing Gandhi, an effective U-turn, is an indicator that he does not want to go through a prolonged court battle.
Rahul Gandhi has disappointed secularists, so-called liberals and progressives. They had pinned a great deal of hope in Congress vice-president's initial defiance of not apologising for the "RSS people killed Gandhi" remark and saw this as an opportunity to yet again revive communalism-secular debate, an intellectual discourse marshalling freshly researched facts and arguments to prove that he was right in what he had said about ideological fountainhead of the Sangh Parivar.
They saluted Rahul Gandhi's raw courage to revive the Gandhi assassination issue and mightily taking on Sangh Parivar. It didn't matter that the judicial verdict on the subject was not on his side. The liberals knew that but they had wished that during the course of a long court proceeding and defamation trial, Rahul would stand on his words and spark off daily prime debates on national news channels and forces usage of tonnes of newsprint and fast and furious opinions on digital media.
The idea was that given the fact that the secularists (Left and centre-leaning) had better intellectual capacity and articulation than those from the Sangh Parivar, the so-called progressives would be able to tilt the balance in their favour, irrespective of the outcome of court proceedings.
"At a time when assembly elections in Punjab and Uttar Pradesh are approaching, will it be a wrong political strategy for Rahul Gandhi to fight the ideological-political battle even if there is a real risk of his going to jail? Will his going to jail not galvanise his Congressmen and women all over the country, something that his party badly needs....At a time when the RSS-BJP combine is busy appropriating icons like Mahatma Gandhi, Sardar Patel, BR Ambedkar and Bhagat Singh, it will be a worthwhile exercise if historical facts about their attitude towards Gandhi are brought before the Supreme Court. Even if Rahul Gandhi loses the legal battle, he would have won politically. It does not seem so," Kuldeep Kumar wrote in Firstpost.
Wednesday's proceedings in the Supreme Court where Rahul Gandhi diluted his position on RSS killing Gandhi, an effective U-turn, is an indicator that he does not want to go through a prolonged court battle to reopen the Mahatma assassination debate. He seems to have realised the futility of his earlier position and thus decided to rest his case. A raging debate would not benefit him either legally or politically. In any case, an intense internal debate is going on in the Congress whether the party is now perceived as an anti-Hindu party and if so, why?
In one stroke, Rahul Gandhi through his counsel, Kapil Sibal, also a senior Congress leader, has shown his intent — he does not wish to carry on with his argument and fight a defamation case filed against him by an RSS activist Rajesh Kunte in courts, Apex and trial for months and years to come.
Consider this: On 6 March, 2014, an angry Rahul Gandhi had said in a public rally that "RSS ke logon ne Gandhiji ko mara, RSS ke logon ne Gandhiji ko goli mara...Usi ke log (BJP) aaj Gandhiji ki baat Karte hain (RSS guys killed Gandhiji, RSS guys killed Gandhi by spraying bullets...today their people (BJP) talk about Gandhiji)."
On Wednesday, Rahul Gandhi told the Supreme Court through an affidavit, "I never said RSS is an institution of crime but (Nathuram) Godse who assassinated Mahatma Gandhi is affiliated to RSS. It is not an attempt to appropriate the legacy of RSS." He talked specifically about Nathuram Godse.
Legalities and technicalities of the case apart, as Congress vice-president, Rahul Gandhi should understand that politics is about public perception and he has lost out badly in this game. In any case, he had been on a steep downhill since May 2014. This time around, his sympathisers, or Modi-RSS-BJP baiters, were inclined to give him yet another chance but got belied in their expectations. "Congress party ek soch hai," Rahul would say in his meetings. He should reflect today on what kind of thought process he was instilling in the party he leads, particularly when challenged by a political adversary.
In an earlier article on Firstpost, Ajay Singh had written: "should Rahul Gandhi decide to ignore the Supreme Court's advice to apologise to the RSS and rest the case, he is sure to encounter truths that may not be palatable to him individually and his party collectively. Had Gandhi been alive he would have said in his inimitable style, 'bachcha hai abhi, samajhta nahi hai.'"
This is the second occasion when Rahul Gandhi has virtually chickened out after showing initial defiance or, as some others would so go by the age-old dictum, prudence is better than valour. In the National Herald case filed by BJP's Subramanian Swamy, Rahul's sympathisers and sections of Congress leaders had suggested that he shouldn't seek bail and challenge the adversary by going to jail and thus choose to become a rallying point for all anti-Modi, anti-saffron Parivar forces. The burden of their argument was that in defiance, Rahul would show his real steely metal and the nation would react emotively and overwhelmingly. Rahul Gandhi walked to the Patiala House trial court in New Delhi along with his mother Sonia Gandhi and some other Congress leaders as accused and took bail.
He perhaps did not want to suffer the same ignominy again by personally appearing in a trial court to face or challenge a defamation case against him. But in the process, his image has taken yet another hit.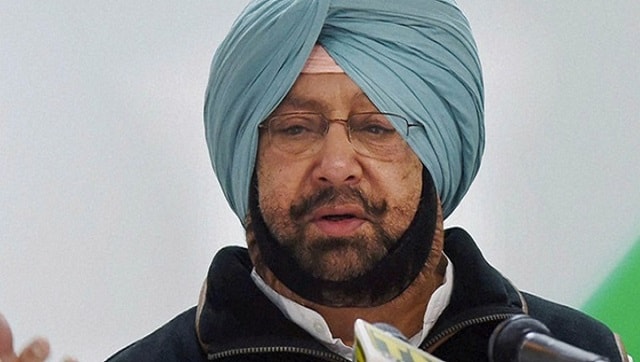 India
While the growing rift between Congress member Navjot Singh Sidhu and Singh made for interesting politics, it also marred the Congress' image as a party that could not keep its politicians in line
India
Some political leaders tried to visit him but were politely turned away from the gates of Rajkamal Saraswati Vidya Mandir School, where Bhagwat is staying
India
The BJP attacked Gandhi and alleged that he was trying to fuel propaganda by tweeting an old picture "to claim success of the mahapanchayat".