Rahul Gandhi's top aide Ashish Kulkarni quits party, calls Congress 'nepotistic and feudal'
Ashish Kulkarni, one of Rahul Gandhi's election managers and top aides, resigned as a Member of the Congress Coordination Centre on Friday.
In what can only be considered as a major setback to the Congress party, Ashish Kulkarni, one of Rahul Gandhi's election managers and top aides, resigned as a member of the Congress Coordination Centre on Friday.
Joining a string of resignations and party expulsions, Kulkarni enumerates four reasons behind his decision while expressing disappointment of the party's stand on certain issues in his resignation letter to Rahul Gandhi, obtained exclusively by Firstpost.
Kulkarni blamed Congress for not "identifying, grooming and creating a depth of management required" despite being a recognised national organisation.
"There has been a total mismanagement of the party affairs which have led to many political failures and administrative losses, also resulting in many legal issues. Party's indecisive functioning in Maharashtra, Assam, Goa, Uttarakhand and Arunachal led to defeat in Assembly polls. The same is being repeated with in Himachal and Gujarat. The party is in disarray in almost all states with rampant factionalism," Kulkarni wrote.
Kulkarni further accused Congress of moving away from the centrist ideology to being a far-Left party while culturally supporting "Kashmiri separatists, JNU protesters". He indicated the party was dangerously close to losing its identity and being considered an "Anti-Hindu party" like other Left organisations like Trinamool Congress, CPI, CPM and others.
Kulkarni has been active for a long time in Maharashtra politics and in the workings of Congress. A key strategist in election planning and management, he was closely associated with erstwhile chief ministers Vilasrao Deshmukh and Ashok Chavan as the general secretary of the Maharashtra Pradesh Congress Committee. In 2009, he was drafted by the Congress central leadership to be a part of the newly formed Congress Coordination Centre (War Room) at 15 GRG, New Delhi.
As a member of the core team, Kulkarni was responsible for election data analysis, poll management and co-ordination for all the state Assembly elections. In the run up to the 2014 Lok Sabha elections, he was thoroughly involved analysing surveys of all the 543 parliamentary constituencies and was a co-member with Madhusudan Mistry and Randeep Surjewala for evaluating candidates to the Central Election Committee.
In his letter, Kulkarni also acknowledged that the present narrative adopted by the Congress as the leading Opposition party isn't appealing to the new voters. He wrote: "We continue to be distant from the grass root reality of India."
He further added that a lack of discussion over key areas like economy, foreign policy and development is playing a key role in the party's stagnation.
Kulkarni also pointed out that the the trappings of power have led senior party leaders to fail to work towards the party's interests. He wrote political stalwarts failed to learn from the 2014 Lok Sabha defeat and continued to blame Rahul Gandhi to create a perception of unstable leadership at the helm of party affairs.
In perhaps his strongest criticism of Congress, Kulkarni called the party nepotistic and feudal and called it the 'Tragedy of the Congress', in a reference to a speech Gandhi made earlier 'Tragedy of India' at a party conclave in Jaipur.
"Even today, only the privileged with political lineage and/or money power are the ones being selected. [...] The party is influenced by a coterie of people who won't allow fresh blood and fresh ideas to disturb their secure position in the citadels of power and influence. There seems virtually no scope and opportunity to party workers with commoner's background at the leadership level," he said.
You can read the entire letter here:
Politics
Mukul Roy, who joined the Trinamool Congress on Friday, did not comment on the reasons behind quitting BJP, but he made it clear that he will never rejoin the saffron party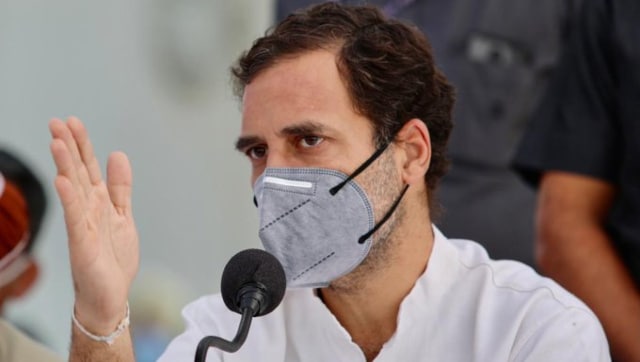 India
BJP leaders hit back at the Congress leader and said that Gandhi should get out of social media and work on the ground and should speak to CMs of Congress-ruled states about alleged irregularities in COVID vaccination programme
India
Rejecting the allegations, the district deputy commissioner said the officer had been asked to rectify contradictory numbers of COVID-19 cases and deaths