Rahul Gandhi's rich vs poor query is in order, but shouldn't he have tweeted it to himself rather than Modi?
If contrition is Rahul's aim, then his attitude is commendable. He should now take the next logical step and ask the right question to the right person.
Rahul Gandhi's attempt to up the social media game is great, but confusing sharpness with smart-aleckry isn't. As the Congress president, Rahul perhaps owes it to himself and his Grand Old Party to appear a little more responsible in public space. It is good that he is asking questions. That's a much-needed upgrading of his skills. But he is still asking all the wrong questions to the wrong people. Besides, he could do with a crash course on the high art of successful trolling. The data to challenge a narrative must be rock-solid.
Shortly after Narendra Modi had finished his keynote address at the World Economic Forum (WEF), the Congress president tweeted:
Dear PM,
Welcome to Switzerland! Please tell DAVOS why 1% of India's population gets 73% of its wealth? I'm attaching a report for your ready reference. https://t.co/lLSNOig5pE

— Office of RG (@OfficeOfRG) January 23, 2018
It was a political gesture aimed at puncturing Modi's image as the occupant of a high seat at Davos. The prime minister was delivering the first speech by an Indian head of state at WEF in more than 20 years. It was billed as a moment of 'arrival' for India, which now demands a say in the global comity of nations, and membership in the institutions that shape geopolitical order.
As The Wall Street Journal had noted, "the linchpin of (India's) new assertiveness has been the uptick in economic growth that started slowly with reforms in the 1990s but has accelerated over the last decade." It quotes data from Centre for Economics and Business Research in London to find that Indian economy "leapfrogged" England and France and is on course to "become the world's third largest economy by 2027."
While Modi was pitching for India's global leadership at Davos and a voice commensurate with its status, the Congress president obviously figured that it would be a great idea to troll the prime minister's keynote address and 'expose' him before the world. He was doubtless convinced that this was a political masterstroke. The Congress president has based his claim on a media report. That report, and similar ones in Indian media, draw from an annual survey by international rights group called Oxfam. A charity that leans strongly to political Left, Oxfam times its annual global wealth inequality report with Davos conferences in a way to shame the world's rich and famous. Its chief contention — that global wealth is a pie that is to be distributed equally — has been criticised as a misleading way of looking at the fight against global poverty.
As The Spectator had written in 2015: "Its (Oxfam's) adverts want to you believe that age-old (and laughably incorrect) trope that the poor are poor because the rich are rich: that wealth is a pie, and the powerful are helping themselves to an ever-larger slice. In fact wealth is something that people generate, and on a global basis more of it is being generated than ever before. This ought to be celebrated, because the pie is bigger than ever before — this is translating into fewer hungry people than ever before." The British newspaper, citing various reports, had pointed out that we are actually "living in the golden age of poverty reduction."
Oxfam's methodology and interpretation of data has also been severely criticised in the past. It has been pointed out that wrong extrapolation has rendered its conclusions meaningless. So Rahul's chief contention — that one percent Indians corner 73 percent of all its wealth — was based on a media report, which was in turn based on the annual report (called Reward Work, Not Wealth) by a charity which has a questionable reputation in handling data. Let's now find out Oxfam's data source. According to BBC, the rights group's report "is based on data from Forbes and the annual Credit Suisse Global Wealth Databook, which gives the distribution of global wealth going back to 2000."
Interestingly, the 2017 Credit Suisse Databook mentions quite clearly in Table 6-5 (Wealth shares and minimum wealth of deciles and top percentiles for regions and selected countries, 2017) that 10 percent Indians possess 73.3 percent of its generated wealth. This has also been pointed out by scientist, author and columnist Anand Ranganathan on Twitter.
3/n In its report, Credit Suisse CLEARLY mentions that 1% of India's richest hold 45% of her wealth, and not 73%. That figure, 73%, is held by 10% of India's richest. In fact, India fares better than China and the World as a whole. https://t.co/GMZKEGTOBs pic.twitter.com/KAajCoyTVG — Anand Ranganathan (@ARanganathan72) January 23, 2018
Even more interestingly, a comparison with last year's Credit Suisse Report reveals that there has been a reduction in the wealth of richest Indians. India's richest 1 percent had 58.4 percent of the country's total wealth in 2016, compared to 45.1 percent in 2017 (according to Credit Suisse).
So if we go by original data, it seems that the Modi government has been successful in arresting inequality of wealth in India, not increasing it.
n/n Indeed, if Credit Suisse is to be believed, India's income inequality has actually REDUCED in the last year.
2016: Top 1% garnered 58% of total wealth; top 10% garnered 80%
2017: Top 1% garnered 45% of total wealth; top 10% garnered 73%

cc @narendramodi @OfficeOfRG pic.twitter.com/3EnKAiq5EQ

— Anand Ranganathan (@ARanganathan72) January 23, 2018
According to Oxfam, globally, 82 percent of the total generated wealth goes to just 1 percent of the rich. Inequality of wealth is clearly a global phenomenon, not national, and India seems to have done much better in comparison. In his enthusiasm for scoring a political point and punching a hole in Modi's perceived aura, the Gandhi scion has managed to score a self-goal.
However, the quibble over data masks the larger question that Rahul had posed against the prime minister, which ironically is the strongest statement against the leadership meted out by his own party.
The article by The Wire mentioned by the Congress president refers to a report — Indian income inequality, 1922-2014: from British Raj to Billionaire Raj? — by economists Lucas Chancel and Thomas Piketty. In that paper, the globally acclaimed economists point out that "10 percent of Indians garnered 56 percent of the national income in 2014."
Page 23 of the report finds, among other things, that "the dynamics for the bottom 50 percent of the income distribution exhibit a similar pattern to that of the middle 40 percent (Figure 10). Bottom 50 percent share of national income increases from 19 percent in 1955-56 to 23.6 percent in 1982-1983, but then decreases sharply and almost continuously thereafter (20.6 percent in 2000-2001 and 14.9 percent in 2013-14).
Rahul seems to have delivered a scathing criticism of India's performance when UPA 1 and 2 were in power. If contrition is Rahul's aim, then his attitude is commendable. He should now take the next logical step and ask the right question to the right person. He should ask himself why, after a six-decade span of ruling over India, the Congress failed to mitigate poverty and ended up increasing inequality of wealth despite claiming to be pro-poor.
India
BJP spokesperson Sambit Patra said the WHO's methodology to calculate estimated deaths in India due to the virus is 'flawed' and the Indian government had conveyed its objections to the organisation
Politics
Addressing Congress leaders at the brainstorming camp in Udaipur, Rahul Gandhi said that regional parties lack ideology and cannot fight the BJP-RSS team. He believes it is the Indian National Congress party which can do it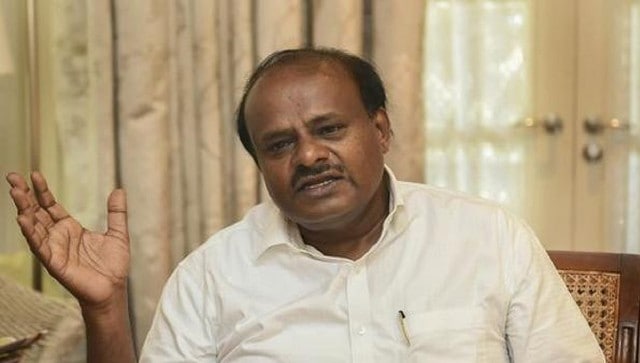 Politics
In his address at his party's 'Chintan Shivir'in Udaipur, Rahul had claimed that regional parties cannot fight the BJP and the RSS as they lack ideology