Rahul Gandhi's flippant performance in Parliament proves he can never be trusted with serious affairs of the state
It is clear after Friday's rigmarole that Rahul Gandhi is no longer – if at all he ever was – the natural leader of an anti-Narendra Modi alliance. He lacks the depth, the appeal, the grace and the understanding to try and even garner such a front
The pipe-dream of forming a grand alliance to oust Narendra Modi in 2019 took a beating yet again during Friday's no-confidence motion. The Opposition's many combinations and permutations fell apart. That the ranks were in disarray and stood depleted was evident when voting took place. The parties on whom some leaders banked to fructify their dreams of leading a delusional 'Federal Front' proved elusive while the Congress and its leaders were too convoluted in their approach and in their arguments during the motion.
Congress president Rahul Gandhi, scion of the Gandhi dynasty, who has already staked claim to the prime minister's chair if and when a combined Opposition comes to power, however, emerged as a confused intellectual pygmy, displaying a huge lack of sense of Parliamentary decorum and a lack of understanding of complex issues. Rahul not only failed to impart direction to the party's case in the Parliament, he also failed to articulate a coherent line of attack and displayed a complete lack of awareness of his own position within his party.
Of course, the dynasty apologists were quick to defend his act and saw in it, as they have unfailingly done, the expressions of deep maturity and a coming of age. By his prancing behaviour, which lacked grace and maturity, if not anything else, Rahul has at least forfeited whatever little chance he had to lead a combined front against Modi in 2019. It is clear after Friday's rigmarole — except perhaps for the diehard dynasty apologists — that Rahul is no longer – if at all he ever was – the natural leader of an anti-Modi alliance. He lacks the depth, the appeal, the grace and the understanding to try and even garner such a front.
Who the actual leader of the opposition's anti-Modi front is, was unclear; what the issues were on which the opposition wanted to floor the Modi government was uncertain and why did they bring this No Confidence Motion remained unexplained. The Opposition's charge against Modi was clueless, rudderless and directionless. Leaders like Mamata Banerjee, who had started an as yet unfinished yatra of drumming up a Federal Front with the hope that it would eventually propel her to the prime minister's chair, must be a worried leader after the no-confidence motion. Her calculations have gone awry; her delusions of grandeur had begun to bite the dust.
While the prime minister out-spoke the obstructionists and habitual disrupters from the TDP and the Opposition which supported the motion, in his conviction-driven reply of how he was working towards the creation of a new India and how the march to transform India was an irreversible one, the Opposition and its leaders came across as a reductionist conglomerate which had no counter-narrative or credible alternative to Modi's vision. It could only catcall and dish out half-truths and subversive propaganda. One thing that stood out on Friday is that the efforts to create a platform to oust Modi is yet to take off — the first plank has not even been planted, the first nail has not even been hammered — and the pulls and pressures of overweening ambition and an insatiable clamour for power is already dissolving that dream and ripping apart the opportunistic cohort. In contrast, the prime minister came out as decisive, determined and driven.
But what is of great concern is the behaviour of the so-called principal Opposition party and especially of its president. That behaviour bodes ill for the party itself and indicates the uncertain directions its leader may drive it in future. The flippancy with which Rahul Gandhi spoke of the Rafael deal, the cavalier manner in which he referred to an imaginative conversation he had with the President of the French Republic and his dishonest description of what transpired during that conversation essentially reflect a mind and an intelligence which has absolutely no understanding or clue of the gravity of the matters of state and of statecraft itself.
Not only did Rahul seriously undermined the credibility of foreign treaties and negotiations, but by resorting to falsehood on the floor of the Parliament he has also seriously undermined the stature of the House itself, cast aspersions on the bona fide of a friendly country and our relations with it, and more crucially, has displayed that he can never be, or ought to never be, trusted with serious affairs of the state or can never be entrusted with safeguarding or promoting India's national interest.
The Congress under Rahul increasingly resembles an anarchist formation, which aims to hack away at all institutions of the state. Its sole aim is to perpetuate itself and to usher in an era of instability in the country. An anarchist formation does not believe in national interest and is bent upon destroying the socio-political fabric of the country. While Rahul is gradually steering the Congress towards that course, Modi's determination, his call to new India, his relentless drive to remake India stands as a bulwark against that intent of subversion. Friday's no-confidence motion has demonstrated both these truths.
The author is director, Dr Syama Prasad Mookerjee Research Foundation, and member, Policy Research Department, BJP
Find latest and upcoming tech gadgets online on Tech2 Gadgets. Get technology news, gadgets reviews & ratings. Popular gadgets including laptop, tablet and mobile specifications, features, prices, comparison.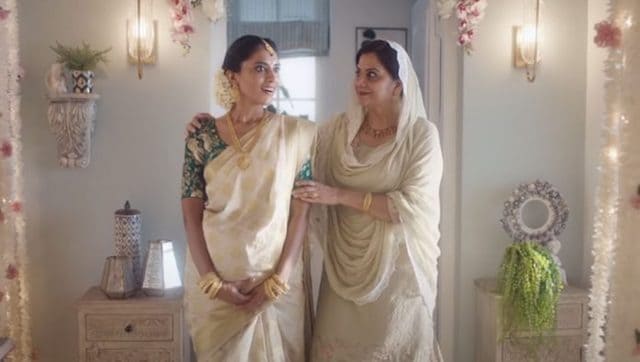 India
The Tanishq advertisement is about a Muslim family trying to respect the traditions of the pregnant daughter-in-law. It enraged a large section of Hindus
India
Madhusudan and Mantri describe Bharat's journey from a civilisation to a nation, the dangers of demographic takeover especially in states like Bengal, Assam and Kerala, "saving secularism from secularists", and the baroque minority appeasement by successive Central and state governments
Politics
The Election Commission has allowed all recognised parties 30 star campaigners each, while for unrecognised parties the number is down to 20