Rahul Gandhi woos Gujarat's Dalit community with flag politics, but winning over urban voters is Congress' challenge
Rahul Gandhi, by attending a function organised by Navsarjan, an organisation working with Dalits, has made it clear that he will make every effort to woo the community.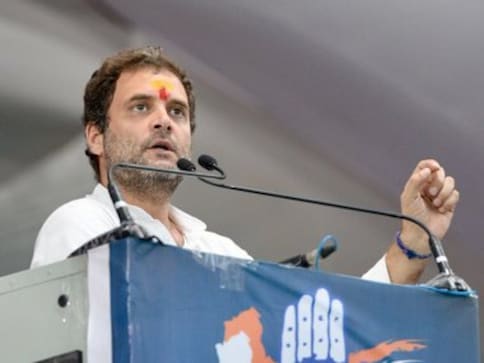 The Congress' rallying cry in the run-up to the Gujarat election has been 'Congress aave chhe, navsarjan lave chhe (The Congress is coming, and it's bringing about a new beginning.' It is difficult to predict what the Congress' situation will be like when the election is over. But Rahul Gandhi, by attending a function organised by Navsarjan, an organisation working with Dalits, has made it clear that he will make every effort to woo the community. Interestingly, in the function, it was repeatedly stressed that the event was not aligned with any political party. However, when Rahul Gandhi began his speech, it was clear that—in the politically charged environment ahead of the election— the event was no less than a political rally. There is a fascinating story as to why the Congress vice-president attended the event organised by Navsarjan.
In August this year, Navsarjan got artisans from the Dalit community to make a National Flag and went to present it to Chief Minister Vijay Rupani. But Rupani declined to accept the flag, saying that there was no place to keep it, and that he would accept it when there would be place. Martin Macwan, the co-founder of Navsarjan, claims that it is the country's biggest flag. The flag was made by 1,205 Dalit labourers from 120 tehsils, and weighs about 240 kilograms. After this incident, Rahul Gandhi made it a point to accept the flag. Subsequently, there was much politics over this flag.
Apart from Rahul Gandhi, Ashok Gehlot and Ahmed Patel were also present at the event. Rahul, at the very beginning of his speech, made it clear that although the event was not organised by a political party, he would train his guns at Narendra Modi. He said that even if the flag had weighed 50,000 kilograms and he had even an inch of land to keep it, he would not have declined it. Hitting out at the BJP, he said that the party does not have a place in its heart for the National Flag.
Thakor not given a platform on event for Dalits
The event was meant to uplift and motivate the Dalit community. Here, important leaders of the Congress, including Alpesh Thakor, had marked their presence. But he was not given an opportunity to share the stage with Rahul Gandhi and Ahmed Patel. Dalits from far-flung regions—even Uttarakhand, Rajasthan and Maharashtra—  had come to meet Rahul.
It appeared that members of the Dalit community in Gujarat present at the event were confounded as regards the upcoming Assembly election. On being asked who they would vote for, they would initially say that they would choose the Congress. But their approach would become more vigilant once Hardik Patel would come into the discussion. Gautam, a resident of Limdi village in Surendranagar said that some Patels are in need of reservation, but this quota should be given not on the basis of caste but on their economic condition.
Countering Modi wave in urban Gujarat an uphill task
Rahul Gandhi may be trying to win the Gujarat election through the support of Dalits, OBCs and Muslims, but the Congress may find it difficult to gain votes in urban areas. On 24 November, Rahul Gandhi had two events planned in Ahmedabad, but no taxi drivers were aware of his presence or the events he was supposed to attend. On being asked if it was a similar situation when Narendra Modi visited the city, the answer was remarkable. Chetan Chunara, a 25-year-old taxi driver, said, "Mota bhai (elder brother) is from here, and he keeps coming here. Even after becoming the prime minister, he has not forgotten about Gujarat."
While the BJP would be happy to hear such a statement, the Congress needs to take a lesson from this. At the ground level, Congress workers do not display the energy that BJP workers do. Rahul Gandhi toured Porbandar and Ahmedabad on the same day, in which he gave barely 30 to 45 minutes per event. In a state which is used to Modi's style of campaigning, Rahul Gandhi's short rallies will not be able to woo urban Gujarat.
Opinion
Would Bharat Jodo Yatra make some promising and fresh beginnings in Kashmir? Looks a tough call given the baggage of history and the poor track record
World
The twice-impeached Republican, whose party lost the White House and both chambers of Congress during his term, makes his case for another four years with appearances in New Hampshire and South Carolina
Politics
Badal joined the party at the BJP headquarters in the presence of several leaders, including Union Minister Piyush Goyal. Recently, his absence from the Punjab chapter of the Congress' Bharat Jodo Yatra had been noticed by state unit leaders