Rahul Gandhi vs Narendra Modi: Sans a strong economic narrative, Congress president's 2019 strategy remains weak
By levelling a personal attack on Narendra Modi and invoking a Mahabharata-like battle scenario in 2019, Rahul Gandhi is stepping into risky terrain.
The moment you make a battle call challenging a mightier opponent, it turns you into a hero before the crowd. However, it also takes you to a point of no return. Congress president Rahul Gandhi may have reached such a point. When Gandhi made a battle call against BJP and Narendra Modi at the Congress party's 84th plenary session in his 50-minute speech he put himself in such a position. Gandhi compared the 2019 general elections to the epic battle of Mahabharata wherein he visualized his own party members as 'Pandavas' or messengers of truth and the BJP as cunning Kauravas who symbolise lies and treachery.
The 47-year old Gandhi made a strong personal attack on Prime Minister Narendra Modi likening him with IPL scam accused Lalit Modi and Nirav Modi who orchestrated the Rs 13,000 crore PNB fraud. Modi is all that symbolises crony capitalism and corruption, Rahul suggested, presenting himself as a worthy alternative to lead the nation. "Centuries ago, there was a huge battle on the field of Kurukshetra. The Kauravas were powerful and arrogant, while the Pandavas were humble and they fought for the truth. Like the Kauravas, the BJP and the RSS are designed to fight for power, but like Pandavas, the Congress is designed to fight for truth," Gandhi said.
Certainly, Gandhi has improved his skills to deliver hard-hitting speeches about political opponents — no-nonsense stuff — something one couldn't have expected from him till a few years back. And yes, Gandhi is finding his mojo at the right time. Post Gujarat, the BJP doesn't have the aura of invincibility any longer, a series of crucial bypolls across states appears to have shaken the morale of the party cadres, the lost economic momentum is taking time to come back in full strength, the public discontent with respect to demonetisation and flawed GST (goods and services tax) rollout continues to haunt the Modi administration, although it is certainly past the worst. Political moves of some of the regional elements such as SP-BSP in Uttar Pradesh and TDP in Andhra Pradesh have managed to send shock signals to the BJP cadres.
In this backdrop, Gandhi is only doing the logical thing by intensifying a verbal attack on Modi, BJP's strongest face. But the only thing missing is a strong action plan, particularly with respect to the Congress party's idea of the economy. The Congress party's economic agenda is always a good read for academics but not a refreshing one for the aspiring, informed middle-class. That's because the action points are mostly repeated items with some changes here and there. The key attractions of the show continue to be freebies, farm loan waivers and pro-farmer policies. However, what is missing is steps to address some of the mammoth challenges in the economy that Gandhi and his party will encounter should they manage an upset in 2019. Gandhi will have to basically find answers to the following questions.
First, one of the charges Gandhi raised against the Modi government was its failure to generate enough jobs in three-and-a-half years of its rule, which is indeed a serious issue. Job creation has been at its lowest in several years during Modi's rule, going by labour bureau data. Gandhi is right in pointing out the problem. But what would Gandhi do to generate enough jobs? Is there a well thought out, credible alternative plan with Gandhi to accommodate the millions of workers entering the job market every month?
Second, Gandhi has launched a prolonged attack on demonetisation, Modi's biggest economic decision since coming to power, saying it missed the goals and has proved to be counter-productive. Valid point again. There are many economists, including Nobel laureate Richard Thaler, who think that the demonetisation roll out was deeply flawed, with the introduction of Rs 2000 notes defeating the purpose. But, what is Gandhi's plan to take on the parallel economy and the chunk of black money stashed in cash and other assets? According to certain research estimates, the chunk of black money in the domestic market is around Rs 15 lakh crore and that abroad is around Rs 65 lakh crore.
Third, Gandhi repeats the promise of farm loan waivers. He said if voted to power, Congress would come out with a loan waiver scheme for small and marginal farmers on the lines of UPA's 2009 waiver. This promise itself is evidence enough to show that Gandhi has not learned from the past mistakes of Congress. Empirical evidence shows that loan waivers have never helped farmers but have actually brought troubles to them beyond the initial excitement and temporary monetary relief. Such programmes have irrevocably damaged the credit culture in some parts of the country. Why does Gandhi, who talks of economic prudence, blames the Modi government for wasting taxpayers' money, and emphasises on lasting solutions to improve livelihood of the poor, continue to rely on populist policies?
Fourth, Gandhi has fought Modi's controversial economic policies such as demonetisation and a flawed roll-out of Goods and Services Tax (GST) tooth and nail. But beyond criticising the actions, Gandhi hasn't yet offered credible alternatives to where the Modi government may have gone wrong on fighting black money or how to implement a better GST structure. Even intellectuals within the Congress party would agree that these are key issues, but a solution is missing.
Fifith, Gandhi calls Modi corrupt. What would be his own approach to the corrupt in his own party, beyond distancing himself from them? Is there a stated policy according to which the Congress would have to deal with those accused of corruption in its own camp?
By levelling a personal attack on Modi and invoking a Mahabharata-like battle scenario in 2019, Gandhi is stepping into risky terrain. Unless backed with a clear political narrative and economic action plan, Gandhi is bound to taste defeat at the hands of battle-hardened Modi, who knows his game too well.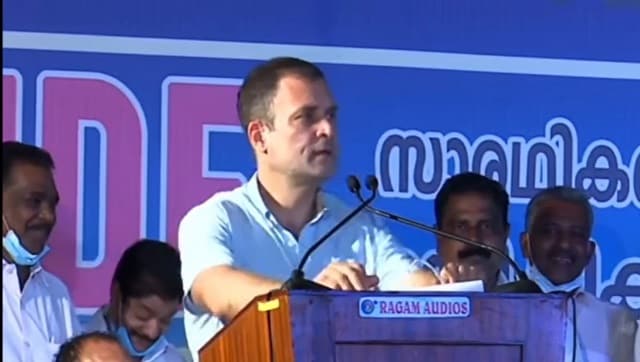 India
The meeting is likely to discuss preparations for the Assembly polls in Karnataka likely before May next year, and also the organisational matters. Gandhi will also attend former Chief Minister Siddaramaiah's 75th birthday bash
Politics
The BJP's 'Har Ghar Tiranga' programme to celebrate 75 years of Independence is a super hit. Now, while Congress is trying to malign the initiative even as its Punjab unit launches a version of the 'Tiranga Yatra', Delhi's Arvind Kejriwal has plans of his own
India
Proceeds of crime worth Rs 99,356 crore were attached between 2014 and 2022, while only Rs 5,346 crore was attached between 2004 and 2014 under the then Congress regime