Rahul Gandhi slams BJP for 'offering money' to Meghalaya churches ahead of Assembly polls
Stressing that neither the NPP nor the BJP can change the future of Meghalaya, Gandhi said: 'A vote to NPP is like voting for the BJP, but they will not be able to change the future of Meghalaya.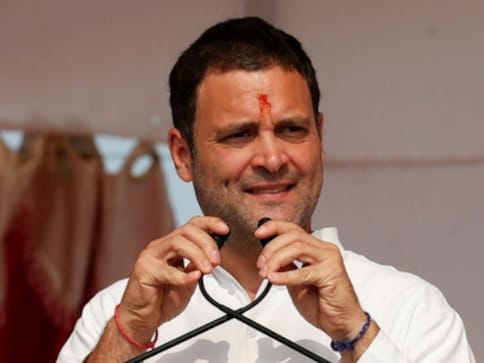 Jowai: Congress president Rahul Gandhi on Tuesday hit out at the BJP-led NDA government for offering money to churches in Congress-ruled Meghalaya ahead of the assembly elections.
"You will find the BJP has a lot of money. These days their leadership believes that everything can be bought," he said drumming up support for his party candidates in the seven assembly constituencies in Jaintia Hills district.
"I am very sad to hear that the BJP offered money to our churches in what I consider to be a huge sum...," said Rahul, who travelled 60 km to Jowai, the district headquarters of Jaintia Hills.
The Congress president is scheduled to meet Church leaders of various Christian denominations over breakfast on Wednesday.
Chief Minister Mukul Sangma, state Congress President Celestine Lyngdoh, Lok Sabha member Vincent H Pala and others accompanied the party leader.
On 7 January, Union Tourism Minister KJ Alphons announced a tourism package of Rs 70 crore to develop religious and spiritual circuits in the state.
But the Presbyterian Church and Catholic Church, besides the opposition Hill State People's Democratic Party, raised their eyebrows on the offer.
Election to the 60-member Meghalaya Assembly will be held on 27 February.
"There is no price, there is no amount of money that can buy the people of Meghalaya. The BJP may buy a few leaders here and there as few leaders may defect to the BJP or their proxy the NPP (National People's Party)," the Congress President said.
Five former Congress legislators — Rowell Lyngdoh, Prestone Tynsong, Coming One Ymbon, Sniawbhalang Dhar and Ngaitlang Dhar — had defected to the NPP founded by former Lok Sabha Speaker late Purno A. Sangma.
Another Congress legislator Alexander Hek, who was a Health and Family Welfare Minister in Mukul Sangma-led government until he was sacked last year, joined the Bharatiya Janata Party.
Stressing that neither the NPP nor the BJP can change the future of Meghalaya, Rahul said: "A vote to NPP is like voting for the BJP, but they will not be able to change the future of Meghalaya.
"...I am here to tell you that the Congress is going to work together with our different cultures, ideas when everybody feels that they can express what is in their hearts and say what they want and happily live in india that embraces them."
Noting that the Congress will defend the idea of Meghalaya, Rahul told his party workers and supporters that "when we defend your culture we are defending the idea of Meghalaya and also the idea of plural and inclusive India that we love".
Exhorting his party workers to work hard so as to ensure the victory of Congress candidates, Rahul told the gathering about his relationship with northeast.
"My grandmother (Indira Gandhi) was fond of northeast, so was my father (Rajiv Gandhi) and I intend to come here often and spend a longer period with you and understand your culture and customs and understand deeply what Meghalaya is," he said.
Opinion
Barring a handful of TV news channels and anchors, Rahul Gandhi's assumption that 'the mainstream media has become an instrument that serves only the interests and destructive ideology of those in power', is inaccurate and exaggerated
Entertainment
In response to a Twitter user's appreciation post for Gandhi, Agnihotri wrote, "I like the ease with which he wears warm jackets indoors and goes without jacket outdoors. Also, ease with which he drinks chai outdoors and 5 course meal indoors. Easy drama. Easy followers. Good one."