Rahul Gandhi says Winter Session delayed to avoid debate on Jay Shah, Rafale deal before Gujarat polls
Rahul Gandhi alleged government delayed the winter session of Parliament as it wanted to avoid discussion on issues related to BJP chief Amit Shah's son Jay, the Rafale deal and Doka La standoff before the Gujarat polls
On a two-day visit to poll-bound Gujarat, Congress vice-president Rahul Gandhi hit out at rival BJP for 'purposely delaying' the Winter Session of Parliament to evade the Opposition's questions ahead of crucial elections.
Rahul alleged that the BJP wanted to avoid discussion on issues like the alleged corruption charges on BJP national president Amit Shah's son Jay, the Rafale deal and the Centre's treatment of the Doka La standoff.
"They have closed Parliament...every year Parliament opens in November, this year it will not open in November. You see, it is not going to open before elections. Why? Because they don't want Jay Shah, Rafale deal and Doka La issues to be discussed in Parliament before Gujarat elections," he told a gathering of Dalits in Sanand, Ahmedabad on Friday.
His statement came hours after the announcement that the Winter Session will commence from 15 December, a day after the second phase of the Gujarat Assembly elections. Usually, the Winter Session starts in the third week of November and lasts until the third week of December.
Rahul is on a two-day tour of Gujarat to lead his party's election campaign ahead of the first phase of polling for 89 seats next month. This is his fifth visit to Gujarat since the Assembly polls dates were announced on 25 October.
The Gandhi scion visited the Dalit Shakti Kendra (DSK), a vocational training institute run by Dalit activists, near Sanand. On Saturday, Rahul will also visit various villages and towns on his journey covering Gandhinagar, Arvalli, Mahisagar and Dahod districts.
Rahul also accepted a giant National Flag made by the Dalit community which was early reportedly turned down by Chief Minister Vijay Rupani citing "lack of space." The flag, which is a 125 x 83.3 feet wide tricolour weighing 240 kg, was accepted by Rahul, who said that neither the prime minister nor the Gujarat chief minister had space for Dalits, farmers, poor and small businessmen.
Reaching out to the fishermen community in Gujarat, Rahul promised to create a fisheries ministry if the party comes to power. "Fishermen's work is equivalent to that of farmers. Sometime back, you demanded that if there is a ministry to look after the agriculture sector, then why not for fishermen? I agree with you, and I promise that the Congress will set it up after forming the government at the Centre," Rahul said.
The Congress leader met with fishermen at Fishing Harbour Ground in Porbandar and visited Kirti Mandir, the birthplace of Mahatma Gandhi, as part of his tour. In his speech at Porbandar, Rahul criticised the BJP-led state government for halting subsidies given to fishermen to buy diesel for their boats. "When Congress was in power, fishermen used to get 25 percent subsidy on the purchase of diesel. That subsidy, which was just Rs 300 crore (per annum), has been abolished by the BJP government. What kind of magic is this? They can give Rs 33,000 crore for Nano factory but they can't give Rs 300 crore to you," he said.
Taking a jibe at Narendra Modi's radio programme Mann ki Baat, the Congress leader promised that the doors of Congress government will be opened once the party comes to power in Gujarat. "Congress party and I do not want to tell you our mann ki baat. We want to hear your mann ki baat," Rahul said. "I am confident that the Congress will win this election. After that, doors of the Chief Minister's Office and the Assembly will be opened for you, so that you can tell us your mann ki baat. Till now, those doors were open only for the rich, and only their voice was heard. Your voice never reached the government," he alleged.
He also accused the Modi government of only favouring rich industrialists. "In the last few years, all of the work in Gujarat has been done for just five or ten industrialists...and those industrialists contributed to campaigning for Modi later on," Rahul said. "But the most important fact is that Gujarat does not belong to five or ten industrialists. It belongs to the farmers and fishermen," he asserted.
Polling for the two-phase elections in the state, which has a total of 182 seats, will take place on 9 and 14 December. The votes for Gujarat Assembly elections will be counted on 18 December. Eighty-nine seats of Saurashtra and south Gujarat region are going to polls in the first phase, while the remaining 93 seats in the central and northern region would vote in the second phase.
With inputs from agencies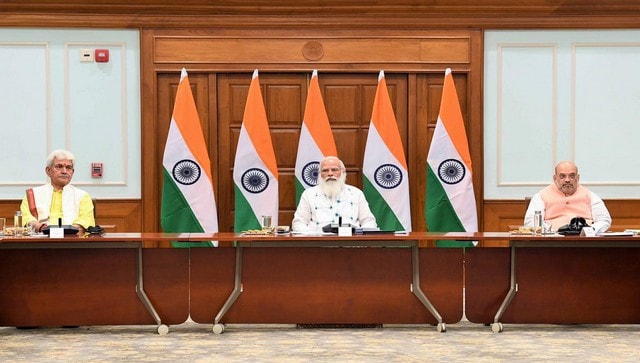 Politics
Let us look at a few smaller equations and solve the larger riddle where Opposition politics stands now
India
As the Opposition creates ruckus in Parliament, the Centre says the controversy is an attempt to malign Indian democracy and its well-established institutions
Politics
People of Assam have voted for the BJP for the second consecutive term as they have realised that there is no place for 'aatankwad' (insurgency) and 'andolan' (agitation) in the state, Shah asserted