Rahul Gandhi says Narendra Modi govt 'scared' of no-confidence motion against it in Lok Sabha
Rahul Gandhi accused the Narendra Modi government of stalling no-confidence motion moved in the Lok Sabha against it by the party and the TDP and YSR Congress over denial of special status to Andhra Pradesh
Mysuru: Congress president Rahul Gandhi on Sunday accused the Narendra Modi government of stalling no-confidence motion moved in the Lok Sabha against it by the party and the TDP and YSR Congress over denial of special status to Andhra Pradesh.
"For the past 10 days, the Modi government is stalling the no-confidence motion as it is scared.
"What has Modi done for the country for the past four years?" Gandhi asked at the rally in Mysuru attended by hundreds of people and party cadres.
On Friday, the Congress had tabled a notice for no-confidence motion in the Lok Sabha, which was, however, not taken up due to disruption of the House.
Though Speaker Sumitra Mahajan had said she wanted to take up the no-trust motion for discussion, she had insisted the house return to order for initiating debate on it.
On 16 March, the Telugu Desam Party (TDP) and YSR Congress had also moved no-confidence motions against the government over the issue of special category status for Andhra Pradesh, but these also haven't been taken up so far.
Gandhi, accusing prime minister Modi of peddling lies, claimed that the prime minister came to power in 2014 by lying to people.
"He (Modi) had promised 2 crore jobs a year for the country's youth if he came to power. But the country is seeing the highest unemployment over the last eight years," the Congress chief said in his 30-minute long address delivered in Hindi, which was translated into Kannada.
While then prime minister Indira Gandhi had nationalised the banks in the country in 1969, Modi had "affected" the banking system and the economy through policies like note ban, he said.
"Poor Indians were made to stand in queues for their own money during demonetisation days, while the wealthy were given an opportunity to convert their black money into white," he alleged.
Terming the Bharatiya Janata Party (BJP)-led Central government corrupt, he said the only exports India has made are people like diamond jeweller and Punjab National Bank fraud case accused Nirav Modi, liquor baron Vijay Mallya and former Indian Premier League Chairman Lalit Modi.
Mallya is facing an extradition trial in London over money-laundering charges of his now-defunct Kingfisher Airlines, while Lalit Modi is also facing money-laundering charges.
Gandhi said that they only business that flourished after the note ban was BJP president Amit Shah's son Jay Shah's, which grew from Rs 50,000 to Rs 80 crore within months.
"When the PM talks of corruption, he doesn't look at his own cabinet, his ministers and chief ministers."
He also asserted that his party will defeat the BJP in the coming assembly elections "due to its ideologies".
This is Gandhi's fourth visit to the southern state since February ahead of the assembly elections due in April-May.
Chief Minister Siddaramaiah, party state unit president G Parameshwara, and party leader in Lok Sabha Mallikarjun Kharge were among the other party leaders present at the rally.
Politics
Senior leaders and members of the Congress Working Committee (CWC) have been carrying out 'PM House ghero' in protest, while party MPs are holding a 'Chalo Rashtrapati Bhavan' from Parliament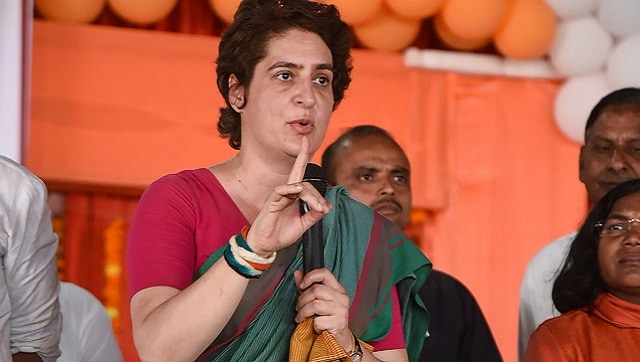 Sports
The Congress general secretary was subsequently put in a vehicle forcibly by police and taken away.
India
Bishnoi joined the BJP this week and stated that politics is all about perception, and right now, the opinion is that the Congress cannot compete with the BJP