Rahul Gandhi puts a stop to CP Joshi's abusive politics, forces ex-minister to retract casteist slur, apologise
Congress president Rahul Gandhi on Friday took a stand against abusive politics in his party commenting on Congress leader CP Joshi's casteist attack on the prime minister. Rahul stated that Joshi's statement is against the party's ideology, asking the leader to clarify his statement.
Moments after Congress president Rahul Gandhi publicly deplored CP Joshi's casteist comments against Prime Minister Narendra Modi, the former Union minister issued an unconditional apology to "any section of the society" he may have hurt.
Rahul took a stand against abusive comments of his party colleague stating that former Union minister's statement stood against the party's ideology. "While respecting the principles of Congress, the spirit of the workers, Joshi must surely realize the mistake," said Rahul.
सी पी जोशी जी का बयान कांग्रेस पार्टी के आदर्शों के विपरीत है। पार्टी के नेता ऐसा कोई बयान न दें जिससे समाज के किसी भी वर्ग को दुःख पहुँचे। कांग्रेस के सिद्धांतों, कार्यकर्ताओं की भावना का आदर करते हुए जोशीजी को जरूर गलती का अहसास होगा। उन्हें अपने बयान पर खेद प्रकट करना चाहिए। — Rahul Gandhi (@RahulGandhi) November 23, 2018
Joshi had stirred up a controversy on Thursday when he claimed that only Pandits, intellectuals and Brahmins were qualified to speak on Hinduism. "Respecting the ideals of the Congress and the sentiments of the party workers, I express remorse for my statement if it caused any hurt to the sentiments of any section of the society," he said in a brief statement. Joshi had earlier condemned the "fabricated use" of his statement by Bharatiya Janata Party (BJP).  
कांग्रेस के सिद्धांतो एवं कार्यकर्ताओं की भावनाओं का सम्मान करते हुए मेरे कथन से समाज के किसी वर्ग को ठेस पहुँची हो तो मैं उसके लिए खेद प्रकट करता हूँ । — Dr. C.P. Joshi (@drcpjoshi) November 23, 2018
In his comments made on Thursday, Joshi had attacked Modi and Uma Bharti, questioning their authority over the subject. "If anyone is qualified to speak on religion it is the Pandits, the intellectuals and the Brahmins. There is a weird trend in the country where people from different castes are speaking on Hinduism. Uma Bharti, who belongs to the Lodi samaj, is talking about Hindu religion. Sadhvi ji also belongs to a different religion and is talking about Hindu religion. Narendra Modi too belongs to some other religion and talks about Hinduism. In the last 50 years, Brahmins have lost their mind," said CP Joshi.
"Does anyone know what is the caste of Uma Bharti? What is the caste of Sadhvi Ritambhara? In this country, if anyone knows about religion, it is the pandits and the brahmins," Joshi is heard saying in the video.
Joshi's comment came soon after he claimed that only a Congress prime minister would be able to build the Ram Mandir in Ayodhya. Joshi even invoked a controversial chapter from Congress' past and said, "It was Rajiv Gandhi who opened the lock of the Babri Masjid premise and allowed religious rites inside the disputed structure. Only a Congress prime minister can get the temple built."
The statement seems to be a turn from the party's carefully held position—at least in recent times—that it would welcome the Supreme Court's verdict on the issue.
With inputs from agenciea
Subscribe to Moneycontrol Pro at ₹499 for the first year. Use code PRO499. Limited period offer. *T&C apply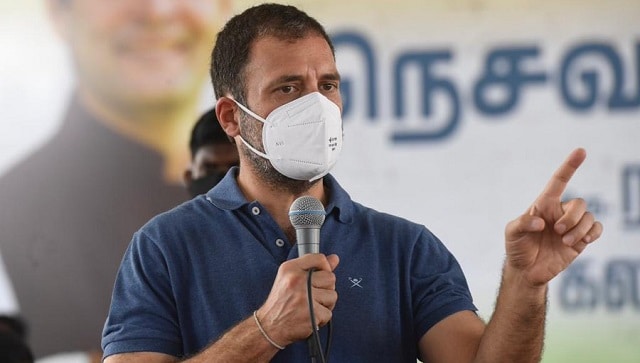 Politics
The north-south divide inadvertently flares up before every election, especially in southern Indian states. This time it has come before the Assembly elections in Tamil Nadu, Kerala, and the UT of Puducherry
India
The Congress leader, who was on a three-day tour of Tamil Nadu, participated in multiple events in Kanyakumari district ahead of the 6 April Assembly polls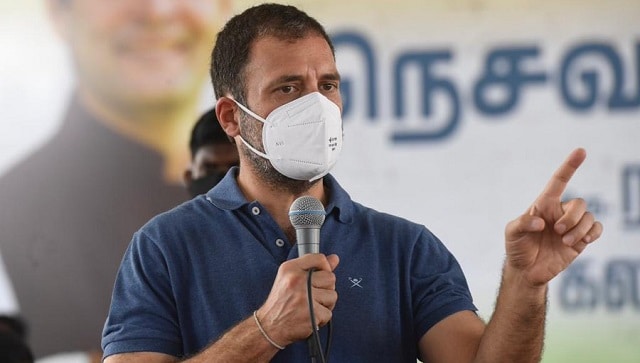 Politics
Gandhi alleged that the RSS is doing something 'fundamentally different' and filling up the institutions of the country with its people