Bring Priyanka Gandhi into active politics: People in Amethi tell Rahul
Congress vice president Rahul Gandhi arrived in Amethi on a two-day visit to his parliamentary constituency in Uttar Pradesh.
Congress vice president Rahul Gandhi held a janata darbar on Thursday in his home constituency of Amethi in Uttar Pradesh, where he heard public grievances and listened to locals who urged him to travel to other parts of the state and to bring Priyanka Gandhi, his sister, into "active politics" before the state assembly elections next year, reports The Indian Express.
The report stated that locals in Ghoraha, where Gandhi was holding a chaupal at the house of village pradhan Bindu Singh, requested Rahul to "bring Priyanka Gandhi into active politics" in order to revive the fortunes of the Congress party in the critically important state.
News18 reported that Gandhi kept his distance from the media, refusing to answer questions on any issue, including the developments in neighbouring Uttarakhand, where the high court struck down President's Rule and restored the Congress government.
The report added that Congress party leaders in the state, while downplaying Congress' chances in next year's UP Assembly elections, were enthused about the fact that Gandhi had become more accessible than before and had given them a patient hearing.
On a lighter note, Congressmen reportedly countered Prime Minister Narendra Modi's 'Chai pe Charcha' phrase by coining a new catchphrase 'Chane pe Charcha' as Gandhi interacted with party workers over a UP staple snack - laiyya-chana.
On Wednesday, Gandhi arrived in Amethi on a two-day visit to his parliamentary constituency in Uttar Pradesh. Accorded a warm welcome by his party members at the Fursatganj airstrip, Gandhi was driven to the residence of district Congress president Yogendra Misra in Gauriganj to attend a private function, his representative Chandrakant Dubey said.
The Congress, which ruled UP for decades since independence, has been moved to the margins since the past two decades during which the SP and BSP emerged as the two strong regional players.
The BJP, which swept the state in the 2014 national elections, is hoping to gain power in the 2017 assembly polls.
With inputs from PTI
Politics
Addressing the foundation day of the All India Mahila Congress, Gandhi said that the ideology of the Congress is completely opposite of the BJP-RSS and only one of the two ideologies can rule the country.
India
Speaking to ANI, Khurshid said that Congress will not form an alliance with any political party for the upcoming Uttar Pradesh Assembly polls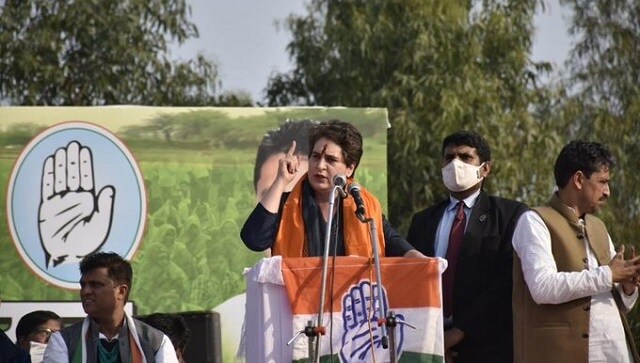 Politics
Her attack on Adityanath came as on this day, last year, the horrific Hathras incident took place in which a young Dalit woman was raped by four men.