Rahul Gandhi must walk the talk on women's empowerment within Congress before demanding legislation
When it comes to women's empowerment, there is a lot that Rahul Gandhi can do on his own to make life better for women, but he has shown very little inclination towards it.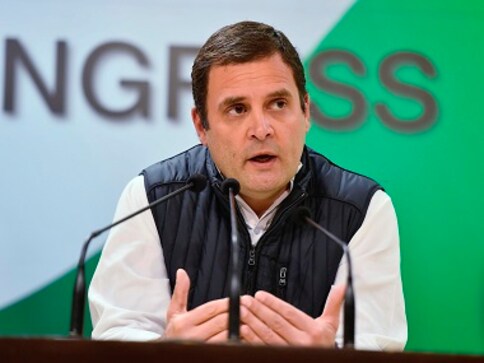 Interviews given by Rahul Gandhi in the run-up to the 2014 Lok Sabha election still remain popular on the internet, for understandable reasons. Among other things, just like a student who would write the one answer he knew irrespective of what the question may be, Rahul managed to utter the same phrase — women's empowerment — in response to a range of questions thrown at him. That miserably failed to find resonance with the people, and the rest, as they say, is history.
Rahul seems to have returned to his favourite talking point after four-and-a-half years. He has written a letter to the prime minister demanding the passing of the Women's Reservation Bill in the Parliament. In an accompanying tweet, he chose to adopt a tone mocking the prime minister's commitment to women's empowerment.
Our PM says he's a crusader for women's empowerment? Time for him to rise above party politics, walk-his-talk & have the Women's Reservation Bill passed by Parliament. The Congress offers him its unconditional support.

Attached is my letter to the PM. #MahilaAakrosh pic.twitter.com/IretXFFvvK

— Rahul Gandhi (@RahulGandhi) July 16, 2018
However, there are some serious questions that Rahul would have to answer regarding women's empowerment. To begin with, the Bharatiya Janata Party (BJP) never opposed the Women's Reservation Bill. As Rahul himself mentions in his letter, the Congress government passed the bill in the Rajya Sabha in 2010. Then, it was fully backed by the BJP. However, since it is a Constitution Amendment Bill, a larger consensus is needed. This is where Rahul's role would become serious, if he wanted it to.
The parties which are opposing women's reservation are Samajwadi Party (SP), Bahujan Samaj Party (BSP) and Rashtriya Janata Dal (RJD), and rebel Janata Dal (United) leaders like Sharad Yadav. They are demanding a quota for women belonging to OBC and minority communities like the one for SC/ST women. There are varying thoughts on this. Why doesn't Rahul Gandhi bring about a consensus by talking to his 'Mahaghatbandhan' friends? Instead, he seems busy uniting parties to move a no-confidence motion against the government which is expected to create nothing but some noise.
If women's reservation were to be so close to Rahul's heart, wouldn't it be prudent for him to make it his single point agenda in this Monsoon Session of Parliament? Rahul's words on women's empowerment, thus, do not seem to spring from the earnestness to see it passed.
On 17 July, the Congress president re-constituted the Congress Working Committee (CWC). He could have showed his commitment to the cause of women's empowerment by first implementing the 33 percent quota within his party. However, the CWC, the highest decision-making body of the party has 51 members, of which only six are women, a rate of about 12 percent. This is another miss on Rahul's part that again goes to show that his tweet was just for public consumption and not something he believed in.
Fairoz Khan, president of the National Students' Union of India (NSUI), was accused of sexual harassment by a female member of the organisation a month ago. An internal probe was promised by the party, but nothing has come of it. In such a situation, even continuing with such a person should have been anathema for someone committed to the rights of women.
Rahul had said in one of his interviews in 2014 that women members like the experience of working in the Congress. But it has repeatedly come to light that the party may not be such a safe place for the women. In the first week of July, a former woman employee of the Congress' social media cell filed a police complaint against senior party functionary Chirag Patnaik alleging inappropriate behaviour at her workplace, presumably the Congress' office premises. She also accused Congress social media cell in-charge Divya Spandana of arrogance, for brushing her off and not entertaining her complaint.
Recently, at a seminar conducted by the Congress for its workers, a female member stood up to narrate the painful ordeal of women workers within the Congress party. As reported in The Times of India, the woman, Anita Gunjal, said, "A Youth Congress leader asked me to wait till late night and later, in an inebriated state, misbehaved with me. When I pushed him, he apologised."
Rahul could have showed some seriousness towards Gunjal's words, where she said her male colleagues from the Congress want women to look glamorous and often behave inappropriately.
If this is the fate of women within the party, it's anyone's guess how serious the party president is towards women's causes elsewhere. The Congress has also been seen taking stances against women's rights outside. By not standing with triple talaq victims, the Congress clearly sided with the cleric patriarchy who impose medieval practices on Muslim women. That's the reason why Union minister Ravishankar Prasad quickly offered a counter deal to Congress for passing the Women's Reservation and Triple Talaq bills together in the Monsoon Session of the Parliament, provided Congress brings its allies on the same page.
When it comes to women's empowerment, there is a lot that Rahul can do on his own to make life better for women, but he has shown very little inclination towards it. He has much "walking the talk" left to do before lecturing anyone on it.
The author is BJP MP from New Delhi and a national spokesperson for the party
India
The Hindutva concepts of namaste, yoga and Ayurveda can form the bedrock on which the post-Covid order can build and strengthen
Business
A moratorium during the first wave helped lenders and borrowers at least temporarily ward off financial stress, but this benefit was not available to them in the second wave
Politics
Modi's oratory is proven on almost every playing field. A machine glitch at a global event won't take away much from that