Rahul Gandhi in Karnataka: Congress president says he is unaware of details of NCC training, cadets benefits
Congress president Rahul Gandhi said that he was unaware of the training and benefits of the National Cadet Corps (NCC) in the country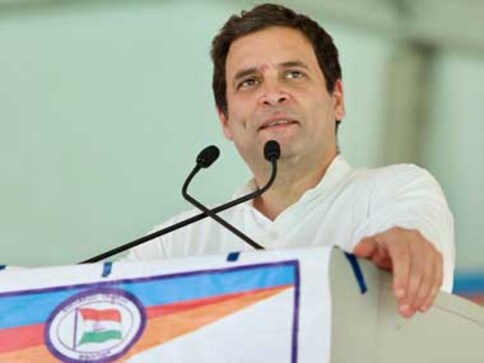 Mysuru (Karnataka): Congress president Rahul Gandhi on Saturday said that he was unaware of the training and benefits of the National Cadet Corps (NCC) in the country.
Responding to a question by a student at the Maharani's Arts and Commerce College for Women in Mysuru on the benefits he would like to be extended to the NCC cadets who have cleared 'C' certificate examination, Gandhi admitted he was "unaware" of the training.
"I don't know the details of NCC training, so I won't be able to answer that. But, as a young Indian person I'd like to give you an opportunity where you can have opportunities, a successful education and a future where you can thrive in this country," the 47-year-old party chief said.
#WATCH: An NCC cadet Hardik Dahiya reacts on Congress President Rahul Gandhi's statement 'I don't know details of NCC training & that type of stuff'. He says 'we are doing everything for the society so they should know about this'. pic.twitter.com/REXIQRLdqu

— ANI (@ANI) March 24, 2018
Gandhi, who is on a two-day visit to the poll-bound Karnataka's old Mysuru region till Sunday, was taking questions from the students in a 30-minute long interaction.
The NCC, which operates under the defence ministry, recruits and gives military training to cadets in high schools, colleges and universities all over the country.
Under the voluntary programme, students have examinations with 'A', 'B' and 'C' level certificates, with the C certificate being the highest, giving the students benefits of special entry into the military and government services in the country and priority in competitive examinations.
During the two days, Gandhi, who is on his fourth visit to Karnataka since February, will be holding public meetings and interacting with party cadres and people in Mysuru, Mandya and Chamrajnagar districts.
also read
India
There have been reports quoting party sources that the high command had put forward the proposal of rotational Chief Ministers to break the deadlock
India
Shanthamurthy MG, who is a teacher at the Kanubennahalli government school in Chitradurga district's Hosadurga, expressed his grievances against the newly-elected government's policies and its distribution of freebies in a Facebook post recently
India
Meanwhile, former CM Siddaramaiah has already arrived in Delhi on Monday to meet the top Congress leadership as the party engaged in the process of picking the next Karnataka CM