Rahul Gandhi in Karnataka: Congress chief once again invokes Mahabharata in Chikmagalur and Hassan to slam BJP, Narendra Modi
Attacking BJP President Amit Shah, the Congress chief called him a 'murder accused'. He accused the prime minister of favouring big businesses by waiving their loans while ignoring farmers.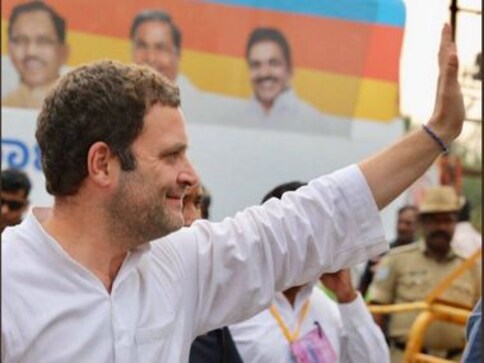 Rahul Gandhi on Wednesday wrapped up the third leg of his Jan Ashirwad Yatra in Karnataka by slamming the BJP and Prime Minister Narendra Modi.
Apart from continuing his temple visits, Rahul held two mega rallies, one in Indira Gandhi's old constituency Chikmagalur, and another in Hassan. In a hard hitting attack on the BJP, Rahul accused it of spreading violence, forming governments using money and dividing the country for the sake of power. He also lashed out at Modi, charging him with "insulting" the common man by claiming credit for the country's progress.
"Wherever Modi goes he says in the last 70 years nothing has happened. He is insulting your parents, poor farmers, labourers, small businessmen of India," he said. If the country today stood as equal to other countries of the world, it had not happened in two years,  it took years of time, sweat and blood of common people, Rahul added.
"Modi should stop insulting the common man," he told a party rally at Padubidre in coastal Udupi district. "No single person can take a country forward," he noted.
"In Meghalaya, Manipur and Arunachal they bought governments using money. They purchased MLAs to form government in Goa. You have seen it all," Rahul charged.
Three days after using Mahabharata analogy at the Congress plenary where he compared BJP to the Kauravas who fought for power and  the Congress to the Pandavas who battled for truth, Rahul once again invoked the epic tale.
"They will do anything for power. BJP is like the power-hungry Kauravas. They are fighting for power, we are fighting for truth. Modi ji will come and repeatedly lie," he said, addressing public meetings ahead of the Assembly polls.
Attacking BJP president Amit Shah, the Congress chief called him a "murder accused". He accused the prime minister of favouring big business by waiving their loans and ignoring farmers.
Rahul also dismissed regional opponent Janata Dal (Secular) as the BJP B-team. He said the party had taken it upon itself to ensure BJP's win and struck a back channel deal with the BJP thinking that people would not understand. "But let me tell you. They can bring A-team, B-team, or C-team, there is only one party that is going to win Karnataka and that is Congress party," Rahul said.
The Congress president, who visited the northern parts of the state during the previous two rounds, was on Wednesday concluding a two-day trip of south coastal Karnataka and Malnad regions.
Chikmagalur, which has a strong BJP presence but was also once Indira Gandhi's constituency, and Hassan, the home district of former prime minister and Janata Dal (Secular) supremo HD Deve Gowda, were on his itinerary on Wednesday.
'Don't know whether chowkidar was watching or he opened the door'
In his rally at Hassan, Rahul challenged Modi's claims that the Karnataka government was corrupt. He referred to the Punjab National bank scam and said money was taken away from people's pockets and put into banks and a few days later Nirav Modi ran away with "your money worth Rs 22,000 crore."
"Nirav Modi ran away with the money of people of India and chowkidar (Modi) was just watching. Don't know whether the chowkidar was just watching or he opened the door, it is still not clear. This is the truth about Narendra Modi," he said.
He said: "Since Modi ji has brought up the topic of corruption, I too will add a couple of words. When prime minister speaks of corruption, he is flanked by Yeddyurappa who spent time in prison over corruption charges. He doesn't see corruption in Jay Shah's wealth. Prime minister doesn't see corruption in Nirav Modi running away after looting crores. Prime minister doesn't tell you the price of the Rafale planes and why he gave the deal to his industrialist friends."
He said Modi makes "big speeches but there is no weight in what he speaks, he makes promises, and he distributes promises like toffees… take this... take this…"
Rahul also accused Modi of not respecting the Indian people. Invoking Atal Bihari Vajpayee, Rahul said India can't be ruled until the prime minister has love, affection and respect for its people. "When Atal ji was Leader of Opposition, even then he had love and affection in his heart for people. He never trivialised others' contribution in building he nation. He never said, like Modi, that no one has done anything before me," Rahul said.
He said that when people look at their prime minister, they want to hear words of motivation and love, not of hatred. He thanked the people of Chikmagalur for supporting Indira when she was at a low point in her political career and urged them to vote for his party. He told the people he will channel all the energy given to him in form of their love to defeat the BJP and RSS' divisive agenda.
also read
Politics
Rahul Gandhi claimed, 'What is happening to the Muslim community in India today, happened to the Dalit community in 1980s'
Politics
Rahul Gandhi has once again come under fire for his remarks during an overseas trip. This time he is in the US. Addressing a gathering in San Francisco, the Congress leader said that all minority communities 'feel attacked' in India; the BJP has accused him of 'insulting the country'
India
Anurag Thakur on Wednesday slammed Rahul Gandhi over his remarks in the US, saying that the Congress leader invariably "insults India" during his foreign visits and that he could not digest the praise of PM Modi from foreign leaders