Rahul Gandhi, who was elected Congress president a year ago, led his party to victory in Chhattisgarh, Rajasthan and in Madhya Pradesh elections. For Rahul — who was dubbed 'Pappu' by his opponents, especially the BJP, and viewed as incapable of resurrecting the Congress — this victory serves as validation of his leadership.
The BJP losing ground in the Hindi heartland has thrown open the 2019 Lok Sabha elections which, until a few months ago, appeared to be trending firmly in the direction of Prime Minister Narendra Modi.
Rahul was elected as Congress president unopposed on 11 December, 2017, at the culmination of the party's organisational elections. He took over from his mother Sonia, who helmed the country's oldest party for 19 years.
Congress Rajasthan chief Sachin Pilot, speaking even as the grand old party was poised to snatch three Hindi heartland states from the BJP, said: "Today is a decisive day and Rahul Gandhi became Congress chief on the same day last year. And what can be a better gift than the party forming its governments in three BJP-ruled states?"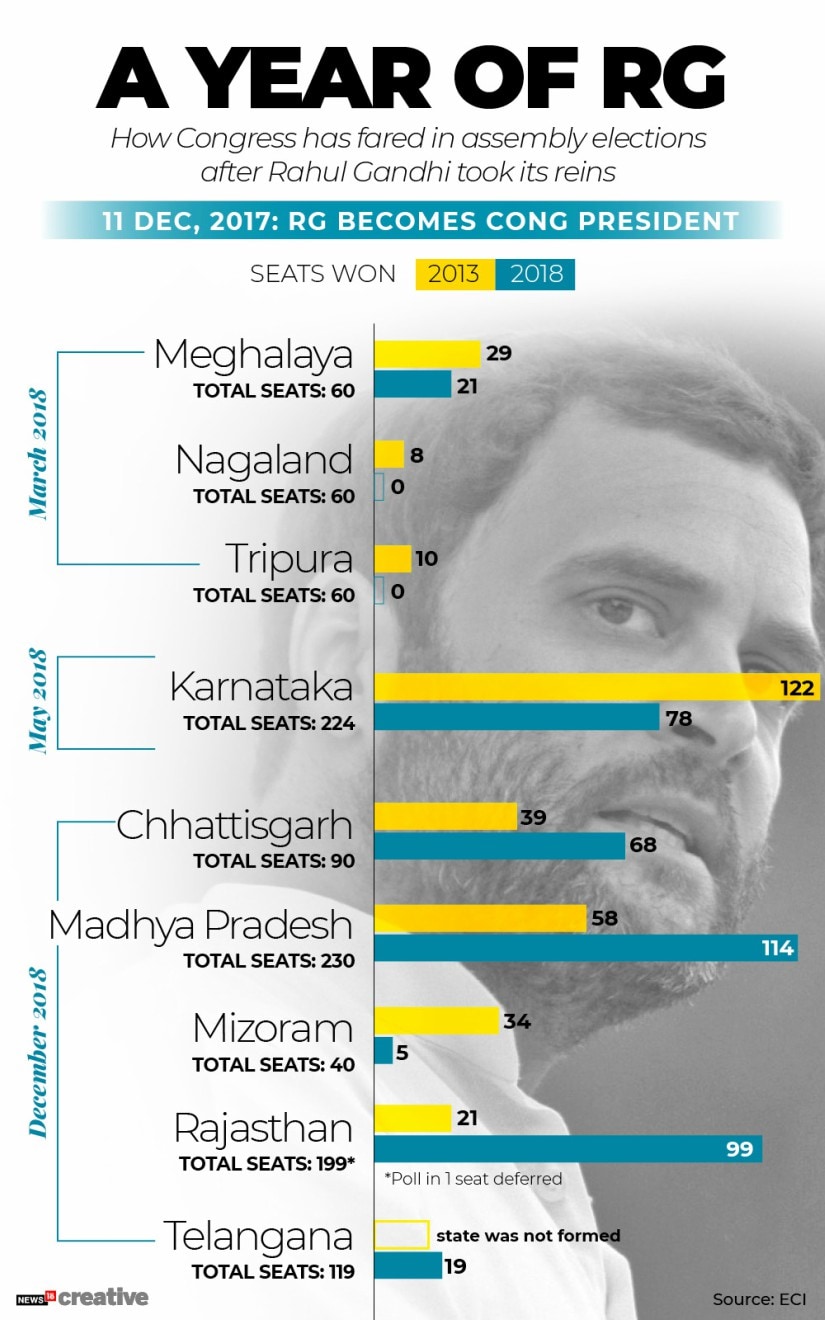 Rahul, in his one year tenure, has effected changes both organisationally and in the way it approached election campaigns. The party's outreach now combines conventional means with an active presence on the social media.
Rahul has created several new departments: the farmers' wing, unorganised labour wing, and NRI wing, reported Economic Times. He also systematically divided the work among new leaders, acted as a bridge between them and created a system where daily to weekly reports are directly sent to him, according to the report.
In Karnataka, Rahul played smart by offering the chief minister's post to the rival JDS, reported Telegraph India. The sacrifice also laid the ground for a coalition of Opposition forces as the move encouraged smaller parties to step closer to the "big brother", according to the report.
Election campaign
The 48-year-old launched blistering attacks on the prime minister during his 82 rallies, declaring Modi "corrupt". He attacked Modi on the Rafale Deal, the Nirav Modi scam, demonetisation and claimed he was a "thief". "Chowkidar chor hain," Rahul said.
Rahul also raised issues of farmers distress, Rafale deal, corruption, and women's security in a spirited campaign. He also raised state-specific issues such as the Vyapam scam in Madhya Pradesh and farmers' suicides in Rajasthan. His promise of a loan waiver to farmers in the Hindi heartland states seems to have struck a chord with the people in villages.
Rahul was also able to curb party infighting: The Congress put up a united front in Madhya Pradesh where Digvijaya Singh, Kamal Nath and Jyotiraditya Scindia buried their differences to work for the party's interests. In Rajasthan, Ashok Gehlot and Sachin Pilot worked together.
"With sheer grit and determination, against all odds, defying state coercion and intimidation, Rahul Gandhi has scripted an amazing turnaround for the Congress in a short span of one year," Congress leader Manish Tewari told PTI.
Several Congress leaders from the Hindi heartland such as Sachin Pilot, Ashok Gehlot and Bhupesh Baghel credited Rahul's dynamic campaign as the reason for party's good showing. "Our leader (Rahul Gandhi) has led the team well through the campaign, and results are coming accordingly. We did things right and Rahul Gandhi is the 'man of the match' and the 'man of the series'," Congress leader and Punjab minister Navjot Singh Sidhu said.
 From Pappu to Param Pujya
Rahul has been mocked as "Pappu" (colloquial Hindi word for dumb kid), especially in the last one year. The moniker gained popularity last December, when a BJP leader and then Chhattisgarh cabinet minister Brijmohan referred to him as "Pappu", adding that the Congress leader would take time to be upgraded.
In June 2017, Gandhi's own party's district president of Meerut, Vinay Pradhan, was sacked from all posts for addressing him, then the party's vice-president as "Pappu" on a party's local WhatsApp group.
Rahul himself acknowledged that he was called "Pappu" when he hugged Modi during the no-confidence motion debate in the parliament in July. "You may call me Pappu, but I don't hate you," Gandhi had said , looking directly at Modi.
Maharashtra Navnirman Sena (MNS) chief Raj Thackeray on Tuesday said that Rahul who was referred to as 'Pappu' by his opponents has now become 'Param Pujya' (most revered). "Rahul Gandhi was alone in Gujarat, even in Karnataka and now too. Now Pappu has become Param Pujya. Will his leadership be accepted at the national level, you are seeing it," he said.
Rahul's leadership in elections before he was appointed president left a lot to be desired. The Congress lost ground in state after state since Rahul became the Congress vice-president in 2013. But Rahul seems to have scripted a turnaround.
Elections to the five states were seen as a semi-final before the mega parliamentary polls next year. The victory of Congress in three crucial states makes the upcoming election a tougher proposition for the BJP. These wins will also help the party take a central role in the "mahagathbandhan" (grand alliance) of Opposition parties to take on the Modi-led NDA in 2019.
Firstpost is now on WhatsApp. For the latest analysis, commentary and news updates, sign up for our WhatsApp services. Just go to Firstpost.com/Whatsapp and hit the Subscribe button.
Updated Date: Dec 13, 2018 08:01:17 IST