Rahul Gandhi calls KCR 'Khao Commission Rao', promises development in Telangana if Congress-led coalition comes to power
Claiming that over 4,500 farmers committed suicide during the KCR regime in Telangana, Rahul Gandhi pledged to cancel farm loans to the tune of Rs 2 lakh each.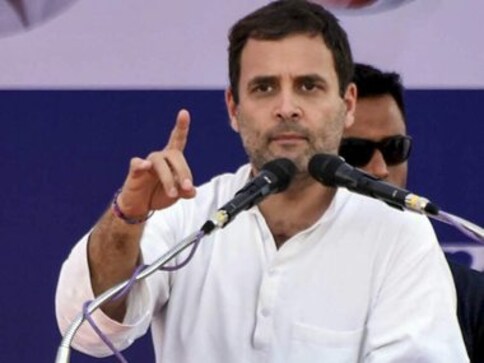 Bhupalpally/Nizamabad (Telangana): Calling Chief Minister K Chandrasekhar Rao "Khao Commission Rao", Congress President Rahul Gandhi on Thursday lambasted him for enriching his family at the cost of Telangana, and promised all-round development if the Congress-led Peoples Front won the Assembly elections.
Addressing successive rallies, Gandhi simultaneously targeted Prime Minister Narendra Modi and KCR for crony capitalism and denying rights and protection to tribals and farmers.
He asserted the Congress-led coalition will first dethrone the ruling Telangana Rashtra Samithi (TRS) in the state and then the Modi regime in Delhi.
"KCR's only job has been to rename old Congress projects only by enhancing their costs, and getting commission for himself and his family. KCR stands for Khao Commission Rao," said Gandhi addressing a rally in Nizamabad.
Pointing at how "KCR supported and endorsed all moves" of Modi and the BJP-RSS, including demonetisation, Gandhi said the TRS party should rename itself to "T-RSS" to reflect "its bond with the RSS".
"KCR's only aim is to ensure his family rules in Telangana and Modi rules in Delhi. But time is up for both," asserted Gandhi.
Addressing another rally in Bhupalpally of Jayashankar Bhupalpally district, Gandhi said: "Modi at the Centre and KCR in the state diluted laws meant to protect tribal lands. The result is tribal land is being snatched away for industrialists without proper compensation. Despite having so much land and forest, tribals here have no protection and their rights are consistently being trampled upon."
Accusing KCR of plunging Telangana into debts, Gandhi said: "When he became the chief minister, Telangana was at a surplus of Rs 17,000 crore but today it is reeling under debts of over Rs 2.5 lakh crore."
"On one hand KCR is burdening every family with debts, on the other hand his son's income has grown by over 400 percent," said Gandhi, referring to KT Rama Rao's annual income that has increased from Rs 29 lakh in 2014 to around Rs 74 lakh in 2018.
Claiming that over 4,500 farmers committed suicide during the KCR regime, Gandhi pledged to cancel farm loans to the tune of Rs 2 lakh each and also promising minimum support price (MSP) for 17 crops, including Rs 2,000 for paddy, Rs 7,000 for cotton and Rs 10,000 for chillies.
He also promised setting up of 30-bed hospitals in every subdivision and giving Rs 5 lakh to eligible families to build houses. He assured the setting up of a tribal university in the state and preventing the privatisation of the Singareni coal mines.
Besides doubling old-age pension to Rs 2,000, he also promised providing Rs 3,000 as unemployment allowance and jobs to one lakh youth.
Ridiculing KCR for not fulfilling the promise of building 22 lakh houses, Gandhi said it was time for the TRS chief to take rest in his "Rs 300 crore" house and let the Congress-led coalition work for the state.
Besides the Congress and Telegu Desam Party (TDP), the Communist Party of India (CPI) and Telangana Jana Samithi (TJS) are constituents of the People's Front.
Elections to the 119-member Assembly are scheduled for 7 December.
India
Environment Minister Bhupender Yadav, however, has rejected the charge, saying the new rules 'do not dilute or infringe on' the provisions of the Forest Rights Act, 2006
Politics
Congress leader Rahul Gandhi, who is on a visit to Karnataka, is expected to attend the birthday celebrations of former chief minister of Karnataka Siddaramaiah
Politics
Senior leaders and members of the Congress Working Committee (CWC) have been carrying out 'PM House ghero' in protest, while party MPs are holding a 'Chalo Rashtrapati Bhavan' from Parliament