Rahul Gandhi attacks BJP, Modi in Congress plenary: Priyanka Vadra the secret behind successful session
While Rahul Gandhi might have come out looking a likely challenger for the PM's post, Priyanka Vadra was the mastermind behind the Congress plenary session.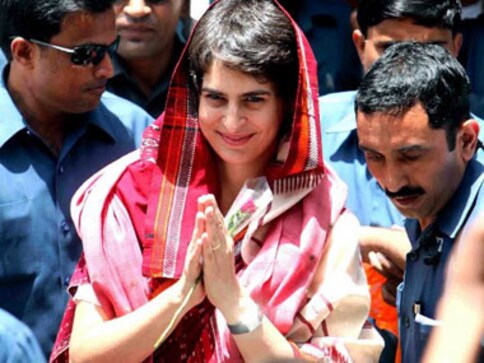 Delivering the concluding remarks in the Congress party's 84th plenary session, a combative Rahul Gandhi took the attack to the BJP and specifically to Prime Minister Narendra Modi. He questioned the Centre on the issue of corruption, promised to break walls in the party between workers and leaders to revitalise it, and compared BJP to Kauravas and his party to Pandavas for the 2019 Lok Sabha poll battle.
The entire plenary right from remarks by former prime minister Manmohan Singh to attacks by P Chidambaram was done with clear planning. And while Rahul might have come out looking a likely challenger for the PM's post, News18 reported that Priyanka Vadra was the mastermind behind the entire session. From choosing the venue to the look, the feel and even managing the mosquito problem, Priyanka Vadra was hands-on at the two-day mega show. A top party source said, "She pulled us up for some of the empty chairs and she ordered us to get more people for the second day."
The Asian Age reported that the replacement of the traditional look of Congress leaders sitting on the floor of the dais leaning on white bolsters with a single podium was Vadra's idea too.
Further she also decided which speakers would have the floor and when. She also insisted that Rahul be the sole speaker on stage and the only the Congress logo be visible behind him.
She even oversaw the smallest of preparations as she was present well before Saturday's session in order to finalise the arrangements, reported Amar Ujala.
Vadra has always denied having any political ambitions and has always portrayed Rahul as the face of the party, said News18. However her role in the party is far from hidden. She pushed for the alliance with the Samajwadi Party in the Uttar Pradesh elections and monitored the Gujarat Assembly election campaign as well.
Congress leaders have however avoided openly mentioning her role as only Navjot Singh Sidhu has openly voiced his appreciation for her work in the party when he said that he had met her once and decided to join the Congress.
As the 2019 Lok Sabha polls approach however, it is expected that Vadra's role will cease to remain hidden.
Politics
Former Congress president Rahul Gandhi said that 'truth cannot be barricaded' and that his party will continue to protest against the Centre's action
Photos
Donned in black clothes, the Congress party started a protest in the Parliament on Friday against price rise and GST hike. Priyanka Gandhi was seen crossing a barricade before she was detained by the police along with Rahul Gandhi and other Congress leaders
Politics
Tejashwi Yadav, the 33-year-old younger son of the charismatic Lalu Prasad, has finally come back to centre stage as the kingmaker. He has demonstrated an ability to read the situation he finds himself in and make the best of it