Rahul Gandhi as Ram, Narendra Modi Raavan: FIR filed against Congress leader Rama Shankar Shukla over poster
Police lodged an FIR against Congress leader Rama Shankar Shukla in relation to a poster depicting Rahul Gandhi as Ram and Narendra Modi as Raavana
Uttar Pradesh Police on Tuesday lodged an FIR against Congress leader Rama Shankar Shukla in relation to a poster depicting Congress president Rahul Gandhi as Ram and Prime Minister Narendra Modi as Raavan, according to media reports. The poster, which created a flutter of sorts in Amethi, appeared ahead of Rahul's two-day visit to the district.
The FIR was lodged by Bharatiya Janata Party leader Surya Prakash Tiwari, ANI reported.
In the poster, Rahul can be seen carrying a bow and an arrow, pointing towards Modi. The inscription mentions that Rahul is an incarnation of Lord Ram who will bring Ram Rajya by winning the general elections in 2019, defeating Modi, a Zee News report said.
On Monday, Rahul visited his parliamentary constituency of Amethi for the first time as Congress president, one month after he took over from his mother Sonia Gandhi.
Reacting to the visit, Chief Minister Yogi Adityanath advised the Congress chief to shun "negative politics", and instead focus on development. "See the plight of his Lok Sabha constituency Amethi nursed by four generations of Nehru-Gandhi family," he said, "My advise to Rahul is that he should focus more on politics of development."
Rahul is scheduled to hold a roadshow and a padyatra from Musafirkhana on Tuesday in an effort to reach out to the people of his constituency, News18 reported. Thereafter, he will move towards Gauriganj, Jagdishpur and Mohanganj before finally going back to Lucknow.
With inputs from PTI
India
Gandhi urged the party leaders to work unitedly for the 2023 assembly polls and not speak out publicly on leadership and internal matters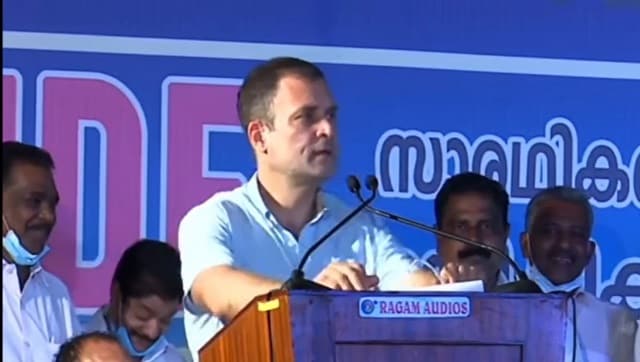 India
The meeting is likely to discuss preparations for the Assembly polls in Karnataka likely before May next year, and also the organisational matters. Gandhi will also attend former Chief Minister Siddaramaiah's 75th birthday bash
Politics
The BJP's 'Har Ghar Tiranga' programme to celebrate 75 years of Independence is a super hit. Now, while Congress is trying to malign the initiative even as its Punjab unit launches a version of the 'Tiranga Yatra', Delhi's Arvind Kejriwal has plans of his own