Q: In the 2016 Assembly polls, who's afraid of Nota? A: All of the above
Those caught in neck-and-neck fights in the ongoing Assembly polls in four states and one Union Territory must contend with this faceless enemy called Nota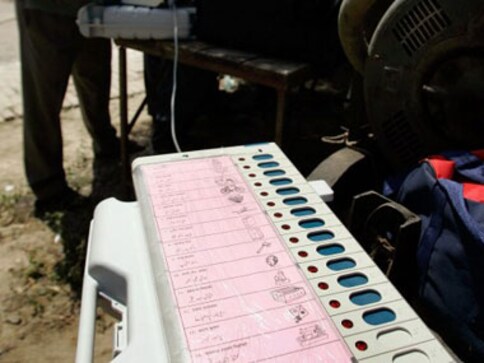 Say Nota, and candidates in closely-fought constituencies fly into a tizzy. Those caught in neck-and-neck fights in the ongoing Assembly elections in four states and one Union Territory — West Bengal, Assam, Kerala, Tamil Nadu and Puducherry — must contend with this faceless enemy called Nota. It's like a candidate itself with a symbol: A ballot paper with a black cross across it.
Short for 'None of the above', Nota is an option which allows voters to cast their votes — but for none of the candidates. Those dissatisfied with 'all' the candidates can stay at home and enjoy the election holiday, but some take the trouble of going to the polling stations to press the Nota button and register their frustration.
The Election Commission (EC) introduced it in the 2014 Lok Sabha polls, as directed by the Supreme Court the year before. The Nota votes are considered "invalid votes" and, however big their number is, the candidate who gets the most number of valid votes still walks away with the seat. But if cast in significant numbers, Nota can alter the result in close fights.
Take a look at what happened in Kannur Lok Sabha seat in Kerala in the 2014 Lok Sabha elections. CPM's PK Sreemathy polled 4,27,622 votes and won. The local Congress strongman K Sudhakaran, who had won the seat in the previous election, lost it by 6,566 votes. The number of Nota votes cast there: 7,026.
Similarly, in the Vadakara Lok Sabha seat adjoining Kannur in the same 2014 election, it was the CPM candidate who lost the seat to the sitting Congress member by 3,306 votes. The number of Nota votes in this case: 6,107. It's clear that if the Nota voters had backed the Congress candidate in Kannur or the CPM man in Vadakara, they would have been winners.
Across India, 59,97,054 voters, amounting to 1.1 per cent of the total votes polled, punched the Nota button in the 2014 election.
And in the October-November 2015 Bihar Assembly polls, when Nota began to have a symbol of its own, its role as a potential game-changer became evident. The Nota count exceeded victory margins in as many as 21 Assembly constituencies in the state, according to factly.in. In all, 9,47,276 voters — or 2.5 percent of the total voters — went for Nota in the state. In the 2014 Lok Sabha election in the state, this proportion was only 1.6 per cent.
KN Harilal, professor at the Centre for Development Studies (CDS) at Thiruvananthapuram, considers the proportion of voters who made this choice in Kerala (1.2 per cent) in 2014 to be "high" enough to cause concern to politicians.
He told Firstpost that in Kerala, where literacy and voter turn-outs are high, even the use of Nota was a reflection of the voters' high level of involvement in the election process. This was a clear vote against existing parties, and voters saw no other alternative, he said. "Politicians must take note of it," he warned.
"We have indeed taken a serious note of it," Kerala's Rural Development Minister KC Joseph said. Joseph is the Congress candidate contesting from Irikkur, that is part of the Kannur Lok Sabha seat, where Nota became a spoiler for his party's candidate in the 2014 parliamentary poll. The minister won from Irikkur in the 2009 Assembly election.
"We are carrying out an intensive campaign to persuade voters not to press the Nota button," Joseph said. According to him, some are resorting to it to air their frustration, but it is not an answer to their grievances. "The voting right is democracy's greatest strength and is too precious to be wasted in this manner," he said.
Psephologist and BJP leader GVL Narasimha Rao, however, dismisses all talk about it as "much ado about nothing."  He told Firstpost that many activists and organisations had campaigned for an option to reject all candidates on the grounds that a "lot of people" were sceptical about parties and candidates.
But Rao said, only a "minuscule proportion" of voters used it after its introduction and, on the other hand, voter turnout had only been increasing, which only showed that voters were enthused by elections.
Even before 2014, voters could choose not to vote for any candidate under Section 49(O) of the Conduct of Election Rules 1961. But they had to fill a form and sign it at the polling stations, and that only meant the exercise was no secret and it made them vulnerable to reprisals by candidates. But Nota ensures both ease and secrecy.
"In a democracy, voters must be able to reject all candidates but, at the same, they must try to pick the best of the available lot," asserted MH Jawahirullah, President of the Manithaneya Makkal Katchi party, which is contesting four Assembly seats in Tamil Nadu as part of the DMK alliance.
But how worried are the parties about it? "Not overly worried," said Bhabani Kumar Baruah, the Sivasagar district President of Asom Gana Parishad (AGP) in Assam. He said that besides its potential to upset the result in neck-and-neck contests, the Nota button on the voting machine might also confuse a lot of voters.
Does AGP tell voters not to use the reject-all option? "We should, but we don't," Baruah said. And for AGP's Guwahati city unit secretary Girin Talukdar, it "makes no sense" why anybody should press this button.
But it does seem to make plenty of sense to plenty of people across India. Many have already announced their intentions to reject all candidates.
Before the second phase of polling on 11 April in Assam, an organisation representing thousands of goldsmiths said that they would go the Nota way to protest the Centre's move to levy one per cent excise duty on ornaments. In Tamil Nadu, supporters of Jallikattu have decided to do the same thing to vent their anger over the ban against the bull-taming sport.
In West Bengal, the Durbar Mahila Samanwaya Committee, which claims to represent 1.5 lakh sex workers in the state, made it clear a few days before the first phase of polling began that they would reject all the candidates through Nota to protest the unfulfilled promises of parties. Some women activists in Kerala have unleashed an online campaign, telling voters to "vote for Nota" wherever parties have not fielded women. Their grouse: very few women have got party tickets to contest elections.
These groups may make little or no difference in their constituencies. But, as Harilal of CDS points out, Nota's popularity may be on the rise and the political class needs to watch out.
The author tweets @sprasadindia
Politics
Results of elections in four major states indicate the BJP needs its arch rival to succeed — it feeds off the failures of the Congress.
Politics
Thursday's television analysis repeated four fatal errors of election analysis that I have seen (and sometimes participated in, I'm ashamed to say) over the past two decades
Politics
The Modi pull may have played only a marginal role in 2016, but in a national election the logic will work the other way.