Pyari Mohan Mohapatra dead: 'Rajguru' has left a void in Odisha politics that can never be filled
A Left-leaning leader in his student days, Pyari Mohan Mohapatra spent considerable time and energy building the BJD as a cadre-based party. By the time he was shown the door, the party boasted 27 lakh cadres in Odisha
The last time 111, Sahid Nagar, once the second most important address in Bhubaneswar after Naveen Nivas (Odisha Chief Minister Naveen Patnaik's residence) had seen a crowd of this magnitude was on 29 May, 2012.
On Monday, as the body of Pyari Mohan Mohapatra, 'Rajguru' to Naveen for well over a decade, arrived at his one-time residence, people from all walks of life made a beeline for one last glimpse of the man who was the fulcrum of Odisha politics for years.
In the period between that fateful day in the summer of 2012 and today, 111, Sahid Nagar had remained much like its once illustrious occupant — forlorn, desolate and uncared for.
Before that one day which effectively marked the end of his career in politics, Pyari Babu as he was known to friends and foes alike, enjoyed the kind of influence and clout in both the ruling Biju Janata Dal (BJD) and the government that no one has enjoyed before or after — with the exception of Naveen Patnaik himself — and that too without being a minister or party president.
And every bit of that power was earned the hard way, through remarkable work in building the fledgling BJD, brick by solid brick, into the formidable force that it is today. At the height of his power, senior bureaucrats, including secretaries of government departments, were known to rush to his residence clutching files before every major decision. His word was almost always the last word in any contentious matter.
For nearly 12 years, Naveen Patnaik, who has never really had the appetite for the nitty-gritties of administration, was more than happy to delegate all powers to the man he used to call "uncle". He was the perfect foil to the BJD supremo, doing everything — selecting party candidates, finalising election strategies (even for minor zilla parishad and municipality elections), neutralising any potential threat to Naveen, and even choosing ministers on behalf of his "ward", even as the latter charmed his way into the heart of the electorate.
His memory and understanding of issues and political equations were legendary. BJD insiders say he used to know even block-level leaders of the party by name and maintained a complete database of all party members. A Left-leaning leader in his student days, Pyari Babu spent considerable time and energy building the BJD as a cadre-based party. By the time he was shown the door by Naveen, the ruling party boasted of an incredible 27 lakh cadres, something that has stood the BJD in good stead long after he was thrown out.
Of the numerous decisions he took working behind the scenes, three stand out. The first of these was the decision to advance Assembly polls, due in 2005, by a year and hold it simultaneously with the Lok Sabha elections in 2004, something that made sure that the BJD-BJP alliance government in the state romped home with a thumping majority, even as the Vajpayee government at the Centre fell by the wayside.
The second was the Re 1 a kg rice scheme for BPL launched in 2008, a decision widely believed to have helped the BJD win two successive elections — in 2009 and 2014.
The third was the momentous decision to severe 11-year long ties with BJP on the eve of the 2009 elections. Most political pundits, and many even in the party, thought BJD had committed hara-kiri, but Pyari Babu was supremely confident that it would pay rich dividends and fetch over 100 seats for the BJD. The party ended up with 103 seats and the Doubting Thomases were left with egg on their faces. It was after this masterstroke that the sobriquet 'Chankya' was coined for him — something that stuck to him till he was with the BJD.
Pyari Babu's long career as a bureaucrat — he was principal secretary to Bjiu Patnaik when the latter was chief minister from 1990 to 1995 — gave him intimate, first-hand knowledge of the way the wheels of government run, which in turn, helped him run the party and the government in perfect synchronisation. If his political acumen was legendary, his administrative efficiency was unparalleled. The void that he left is yet to be filled up, even five years after he was expelled from BJD.
After his departure, Naveen leaned on former minister and Rajya Sabha member Kalpataru Das till he died and has since banked on his trusted private secretary Kathikeyan Pandian, who is rumoured to be enjoying the kind of clout in the BJD and the government that Pyari Babu once did. But, as results of the zilla parishad elections showed recently, no one has really been able to step into Pyari Babu's large shoes.
While he did so much for BJD and the government, any discussion on Pyari Babu is incomplete without reference to the events of 29 May, 2012. The fact of the case is that some 35-40 BJD MLAs, many of them handpicked by Pyari Babu, had assembled; first at his residence and then at a luxury hotel in Bhubaneswar. But what exactly happened that fateful day would perhaps remain a mystery forever. While Naveen dubbed him beimaan and accused him of plotting a coup while he was away in UK on his first overseas tour, Pyari Babu maintained till his last that he never planned anything of the sort. "Someone poisoned his (Naveen) mind against him," the erstwhile mentor to Naveen said repeatedly, but very few believed him.
The truth would perhaps have come out if Pyari Babu had written his memoirs. But after his death due to complications after a surgery for lung cancer at the Hinduja Hospital in Mumbai on Sunday night, the mystery would now follow him to his grave. One thing is for sure: There would never be anyone like him in Odisha politics, at least not in the foreseeable future.
India
The weather office has issued 'Red' warning, predicting heavy to very heavy and extremely heavy rains, for Sambalpur, Deogarh, Angul, Sonepur and Bargarh
India
India needs to be an equal partner on a host of other responses – not the least among them is our Co-Win software. In this situation, Britain can antagonise India at its own peril. And the ramifications of it will not be restricted to the Covid response alone.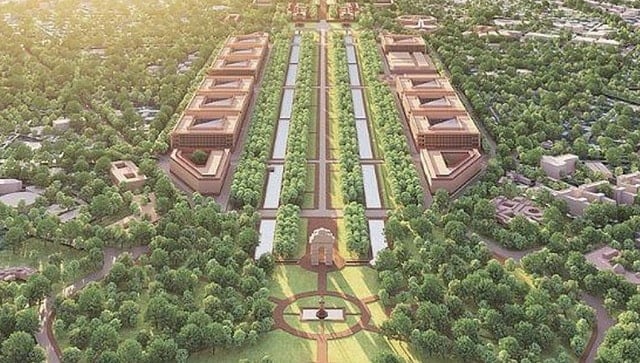 India
In this day and age where even private homes undergo renovation regularly, the Indian State continues to operate out of 90-year-old repurposed colonial homes retained after independence