Punjab polls: As Arvind Kejriwal loses the plot, Congress might just break its losing streak
The wheel of fortune has started turning for the Congress. With a few lucky rolls of the dice, the party may break its losing streak, come out of oblivion and end BJP's dream of Congress-mukt Bharat.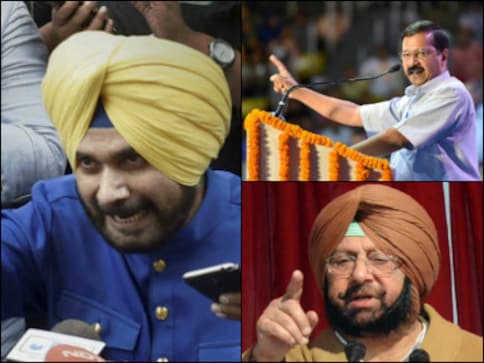 The wheel of fortune has started turning for the Congress. With a few lucky rolls of the dice, the party may break its losing streak, come out of oblivion and end BJP's dream of Congress-mukt Bharat.
Over the past few days, the Congress has suddenly become the front-runner in Punjab, edging ahead of Arvind Kejriwal in a race that looks like a replica of the hare-and-tortoise tale.
Nobody knows the exact moment when Aam Aadmi Party (AAP) started falling and Congress started ascending. Some in Punjab believe the AAP started losing it after booting out Sucha Singh Chhotepur and slamming the door on Navjot Singh Sidhu, creating the impression that its Delhi leaders were opposed to local Sikh heavyweights. Others believe Captain's consistent programme of mass contact and dialogue — Coffee with Captain, for instance — and strategy of attacking Akalis for their corruption and AAP for its immaturity and hubris have finally started resonating in Punjab.
The Indian betting market is a reliable political weathercock. And, it has been reflecting the changes on the ground in Punjab. Just a month ago, bookies were predicting a landslide win for AAP (around 70 seats) and a Congress whitewash. But, the trend has reversed over the past three weeks. The odds now favour Congress winning 50-55 seats, followed by AAP with 40 and Akalis a distant third with just around 10 seats.
Elections in Punjab are still at least three months away. A lot can change between now and polling day. But, the force is definitely with the Congress now. The change in circumstances is evident in Arvind Kejriwal's tone, tenor and strategy on two persons who can end his Punjab dream: Captain and Sidhu.
Smug in his belief that his party would pocket Punjab, Kejriwal had shut the door on Sidhu a month ago, forcing the cricketer to flirt first with the option of floating his own party, then withdrawing his fledgling unit from elections and finally knocking on the Congress doors.
After floating around in the sky like a kite, Sidhu may have found his destination. As several Punjab Congress leaders like Pratap Singh Bajwa have indicated, Sidhu may soon join the Congress and become one of its star campaigners. Even Captain, who called Sidhu a clown recently, has given up his opposition to the former cricketer, paving way for his imminent induction.
Worried about the AAP's slide and Sidhu's next move, Kejriwal reached out to the former cricketer when he told The Times of India on Monday that he may still be welcome in the AAP. "The matter pertaining to Navjot Singh Sidhu is not over and the chapter is not yet closed. I have greatest respect for Sidhu ji, and wherever he goes, I will wish well for him," Kejriwal said.
It is quite likely that Kejriwal will rue his decision of keeping Sidhu out of AAP when election results are announced. Two months ago, when Sidhu resigned from the Rajya Sabha, it was widely believed that he would lead the AAP campaign. But, like a batsman running out his partner after calling him for a run, Kejriwal left him stranded.
"The AAP has lots of good people and volunteers. But, it lacks a credible leader. That's one reason for the decline in its fortune. The Congress, on the other hand, has gained primarily because in Captain it had a rallying point," says Chandigarh-based senior journalist Sandeep Sinha.
For the Congress, the trend in Punjab could be the first bit of good news since 2013, when it started losing elections one by one. If results in Punjab live up to party's expectations, it would enter the poll fray in Gujarat, Rajasthan, Madhya Pradesh, Chhattisgarh and Uttarakhand with renewed vigour and optimism.
A setback for Kejriwal in Punjab would immediately thwart his expansion plans and position the Congress as the BJP's principal adversary in states where elections are due next.
Even in Uttar Pradesh, the party is trying to redraw its strategy by focussing next on Dalit votes. Soon after Diwali, its leaders would roll out a ten-week programme for reaching out to every Dalit-majority village in the state.
Party sources say its leaders will personally reach out to 1.25 crore Dalits out of the 4 crore in the state. Its message: "Shiksha, Suraksha, Swabhimaan-Congress ke saath Daliton ka Uthaan".
Though the party publicly talks about forming the next government in Uttar Pradesh on its own, the real idea behind the Dalit outreach campaign is to dent the BSP's base and to garner enough support to either strike an alliance with the BSP or SP (both Akhilesh and Mulayam Singh Yadav are believed to have sent feelers) or become the king-maker in a hung Assembly.
Politics
Badal joined the party at the BJP headquarters in the presence of several leaders, including Union Minister Piyush Goyal. Recently, his absence from the Punjab chapter of the Congress' Bharat Jodo Yatra had been noticed by state unit leaders
India
Senior leaders, including Modi and BJP president JP Nadda, have asked other state units to take a leaf out of the party's campaign in the western state
India
The decision was taken at the National Executive Meeting of the BJP here in the national capital