The Aam Aadmi Party (AAP) on Thursday released the first list of candidates that are going to be in the fray in the 2017 Punjab Assembly election. Senior lawyers HS Phoolka and Himmat Singh Shergill figure in the list of 19 candidates.
Former Bahujan Samaj Party (BSP) MP Mohan Singh, a Dalit face, who had joined the AAP in June, will contest from Ferozepur rural.
Poolkha, who had unsuccessfully contested Lok Sabha polls from Ludhiana on an AAP ticket, will be a party candidate from Dakha. The senior lawyer had led a campaign to get justice for the 1984 anti-Sikh riots victims and could be a strong contender for being projected as the party's chief ministerial face.
Shergill will contest from SAS Nagar Mohali. He had also unsuccessfully contested on AAP ticket from Anandpur Sahib Lok Sabha constituency.
Below is the list tweeted by the party's official Twitter handle: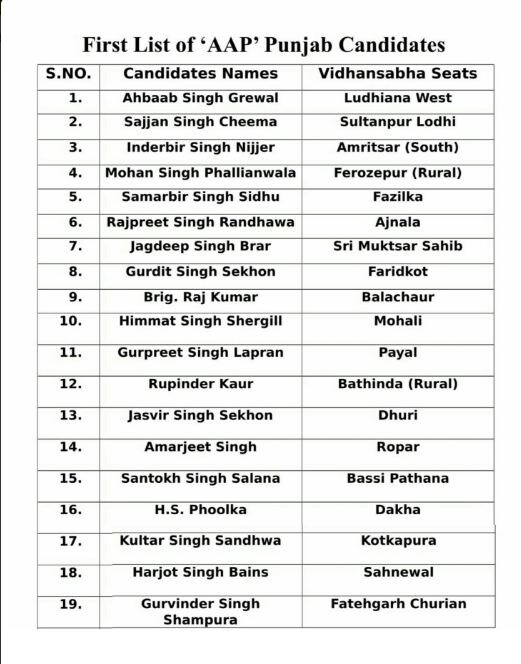 Interestingly, the list was announced in the absence of Kejriwal, who is on a vipassana sojourn. AAP's Punjab co-convenor Durgesh Pathak is also away, attending a vipassana course.
The party intends to replicate the Delhi story in Punjab.
When it contested its maiden election in the national capital in 2013, AAP had declared candidates way before the polling schedules were announced. According to a party leader, this gives the party an edge over others in terms of campaigning.
AAP Punjab Candidates

1) Ahbaab Singh Grewal, GS AAP Farmer & Labour Wing, to contest from Ludhiana West pic.twitter.com/LomscNwhN3

— AAP Punjab (@AAPPunjab2017) August 4, 2016
AAP Punjab Candidates

2) Sajjan Singh Cheema, former Capt. Indian Basketball Team, to contest from Sultanpur Lodhi pic.twitter.com/wekOzoY7Yc

— AAP Punjab (@AAPPunjab2017) August 4, 2016
AAP Punjab Candidates

3) Inderbir Singh Nijjer, M.B.B.S., M.D, Environmentalist to contest from Amritsar (South) pic.twitter.com/GSfNGXlmQJ

— AAP Punjab (@AAPPunjab2017) August 4, 2016
AAP Punjab Candidates

4) Mohan Singh Phallianwala, ex MP from Ferozepur, to contest from Ferozepur (Rural) pic.twitter.com/24KAlVKKWp

— AAP Punjab (@AAPPunjab2017) August 4, 2016
AAP Punjab Candidates

5.) Samarbir Singh Sidhu, Farmer, VP AAP Youth Wing, to contest from Fazilka pic.twitter.com/NRkynjsOT1

— AAP Punjab (@AAPPunjab2017) August 4, 2016
AAP Punjab Candidates

6) Rajpreet Singh Randhawa, Ex President Municipal Corporation Ramdas, to contest from Ajnala pic.twitter.com/TN5dhi0IXL

— AAP Punjab (@AAPPunjab2017) August 4, 2016
AAP Punjab Candidates

7) Jagdeep Singh Brar, Agriculturist, to contest from Sri Muktsar Sahib pic.twitter.com/zmOdgd5Pc7

— AAP Punjab (@AAPPunjab2017) August 4, 2016
AAP Punjab Candidates

8) Gurdit Singh Sekhon, Activist, National level Basketball Player, to contest from Faridkot pic.twitter.com/c39MSd0CGC

— AAP Punjab (@AAPPunjab2017) August 4, 2016
AAP Punjab Candidates

9) Brig. Raj Kumar, Rtd. Lt. IPKF-Srilanka, to contest from Balachaur pic.twitter.com/SlLaDfEucg

— AAP Punjab (@AAPPunjab2017) August 4, 2016
AAP Punjab Candidates

10) Himmat Singh Shergill
- Bar-at-Law (UK)
- Chief, Legal Wing, AAP
to contest from Mohali pic.twitter.com/wvHrlt5wZ1

— AAP Punjab (@AAPPunjab2017) August 4, 2016
AAP Punjab Candidates

11) Gurpreet Singh Lapran, Small Scale Trader, to contest from Payal pic.twitter.com/ZRnnF9qreO

— AAP Punjab (@AAPPunjab2017) August 4, 2016
AAP Punjab Candidates

12) Rupinder Kaur
-B.A., L.L.B, L.L.M
-Pursuing P.hd in Law
to contest from Bathinda (Rural) pic.twitter.com/6taSYupYlQ

— AAP Punjab (@AAPPunjab2017) August 4, 2016
AAP Punjab Candidates

13) Jasvir Singh Sekhon, Sangrur Zone In-Charge, AAP, to contest from Dhuri pic.twitter.com/7ulBHy5Hum

— AAP Punjab (@AAPPunjab2017) August 4, 2016
AAP Punjab Candidates

14) Amarjeet Singh, Small Scale Transporter, to contest from Ropar pic.twitter.com/2E3FHkOjFZ

— AAP Punjab (@AAPPunjab2017) August 4, 2016
AAP Punjab Candidates

15)Santokh Singh Salana, Activist, Ex Member Kanshi Ram Front, to contest from Bassi Pathana pic.twitter.com/9dtR4ddHir

— AAP Punjab (@AAPPunjab2017) August 4, 2016
AAP Punjab Candidates

16) HS Phoolka, Adv Punjab & Haryana High Court & Supreme Court, to contest from Dakha pic.twitter.com/Ja2iZa37s0

— AAP Punjab (@AAPPunjab2017) August 4, 2016
AAP Punjab Candidates

17) Kultar Singh Sandhwa, Sr VP NGO Bhai Ghaniya Cancer Roko Seva, to contest from Kotkapura pic.twitter.com/Fo4hih6dhF

— AAP Punjab (@AAPPunjab2017) August 4, 2016
AAP Punjab Candidates

18) Harjot Singh Bains, President AAP Youth Wing-Punjab, to contest from Sahnewal pic.twitter.com/6JxQuDnYlX

— AAP Punjab (@AAPPunjab2017) August 4, 2016
AAP Punjab Candidates

19) Gurvinder Singh Shampura, Ex SGPC Member for 16 years, to contest from Fatehgarh Churian pic.twitter.com/rpSy5S5jnA

— AAP Punjab (@AAPPunjab2017) August 4, 2016
With inputs from PTI
Updated Date: Aug 04, 2016 15:59 PM