Punjab Election 2017: Rahul Gandhi names Amarinder Singh as CM candidate, attacks Akalis, Modi
LIVE NEWS and UPDATES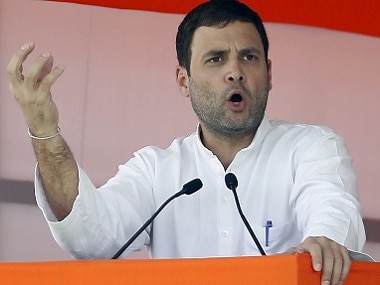 19:07 (IST)

High voter turnout in 48 polling stations as re-polling ends

14:20 (IST)

Repolling sees 65% turnout in 48 stations till 2 pm | ANI

65.2% polling recorded till 2 pm, in re-polling being held in Punjab's Sangrur #PunjabPolls2017

— ANI (@ANI_news) February 9, 2017

12:29 (IST)

Voting at 30 % till 11.15 am | Hindustan Times

Repolling in 48 stations in Punjab is going smoothly with nearly 30 per cent electorate turnout. Kaurewala village in Sardulgarh constituency saw 33 per cent voting, Majitha saw 43 percent polling and Muktsar reported 47.29 voting, a report published in the Hindustan Times said.

10:57 (IST)

Punjab govt announced holiday in five districts going repolling

The Punjab government has announced a holiday in the five districts which are undergoing repolling on Thursday. A 'paid holiday' in factories, shops and commercial establishments situated in the area of Amritsar parliamentary constituency and the assembly constituencies has also been declared.

— IANS

10:46 (IST)

Three held for 'distributing liquor, bribing voters' ahead of Majitha repoll

In case you missed, on Wednesday, three people were arrested for allegedly trying to lure voters through liquor and bribing in Majitha assembly constituency. The police named Balwinder Singh with cartons of liquor by an Election Commission observer while Mohan Singh alias Mohni and Om Prakash Gabbar were caught by the people while allegedly bribing voters. Balwinder was Senior Vice President of the Majitha Congress. Mohni was Vice President of while Gabbar was a district level senior party leader (also remained deputy mayor).

Majitha is among the five assembly constituencies where repoll at few polling stations was announced on 7 February. Meanwhile, the Shiromani Akali Dal (SAD) demanded immediate disqualification of Congress Majitha candidate Sukhjinder Singh Lalli Majithia over the issue.

— PTI

10:14 (IST)

Repolling begins in 48 stations on 9 February

Repolling in at 48 polling stations of Amritsar Lok Sabha constituency and the five assembly segments, including a seat from which SAD leader Bikram Singh Majithia is contesting began on Thursday, while the Aam Aadmi Party called for tighter security to prevent any untoward accidents in the constituencies.

It was ordered on 7 February in the wake of the malfunctioning of Voter-Verified Audit Paper Trail (VVPAT) and Electronic Voting Machines (EVMs) in these stations during the polling.

The repolling was ordered at 12 polling stations of Majitha Assembly seat, nine each of Muktsar and Sangrur, one each of Moga and Sardulgarh and 16 polling stations of Amritsar Parliamentary constituency.

— PTI

17:18 (IST)

Amarinder Singh confident of Congress' clean sweep

Punjab Congress chief Amarinder Singh on Saturday termed the Assembly polls as a "vote for stability versus communalism and radicalism" and exuded confidence of a clean sweep in the state, including the Malwa region, which poll pundits had been terming as an AAP stronghold.

The chief ministerial candidate of Congress who exercised his franchise at Government College for Women in Patiala, promised to usher in the "much-needed new dawn (navan savera)" in the state.

Terming the elections as a vote for peace, communal harmony and stability, he claimed, "The people have voted for stability versus communal and radical politics." The people of Punjab want the experience and expertise of Congress to get the state back on the rails of progress and development, Amarinder claimed.

He dismissed any threat from either SAD, which had "ripped apart the state's social, religious and economic fabric" in the last 10 years, or AAP, whose "popularity graph has declined drastically" in the last two to three years with the "exposure of their misdeeds and failures".

— PTI

17:00 (IST)

Punjab records an overall voter turnout of 66 percent till 04:00 pm

Punjab has recorded an overall voter turnout of 66% till 04:00 PM #PunjabPolls2017

— ANI (@ANI_news) February 4, 2017

16:49 (IST)

Previous performances by major parties in the state

16:30 (IST)

Won by whisker: Punjab witnessed heavyweights scrapping through in their seats in 2012 polls

In the 2012 polls, 12 out of the 34 SC reserved constituencies saw narrow margins of victories. In fact, the narrowest of the victories was witnessed in the reserved constituency of Phillaur, where Avinash Chander of the SAD won by a mere 31 votes!

Apart from these reserved constituencies, 21 other constituencies witnessed a close electoral battle. They were won by less than 4,000 votes which makes for less than three percent of the total votes polled.

Adesh Pratap Singh Kairon, a member of the Khairon political family and a minister in the SAD-BJP government, won his Patti seat by a whisker of a margin of 59 votes.

And Kairon was not the only minister who had to face a narrow victory. Janmeja Singh, the PWD minister in the outgoing cabinet won the Maur seat by 1,387 votes, while BJP's Surjit Kumar Jyani, who is the present health minister, defeated Independent candidate Jaswinder Singh aka "Rocky" by a margin of 1,692 votes.Janmeja Singh, the PWD minister in the outgoing cabinet won the Maur seat by 1,387 votes, while BJP's Surjit Kumar Jyani, who is the present health minister, defeated Independent candidate Jaswinder Singh aka "Rocky" by a margin of 1,692 votes.

"Rocky", a local don from Fazlika, was later killed by unidentified gunmen in May 2016.

Manoranjan Kalia, the industry minister between 2007 and 2012, who had also served as the Punjab BJP chief, too met with a similar fate. Kalia won his Jalandhar Central constituency by just 1,065 votes.

To read more, click here.

16:22 (IST)

SAD's Majitha candidate Bikram Majithia and Congress' Lalli Majithia involved in war of words

Majitha: Punjab minister and Shiromani Akali Dal candidate Bikram Singh Majithia and Congress nominee Sukhjinder Raj Singh Lalli Majithia today had heated exchange of words after the former raised objection over allegedly bringing vehicles inside the polling station.

The state Revenue Minister apparently asked the Congress candidate to take his vehicles out of the polling booth. "Do not break the rules," a visibly charged Majithia told his opponent.

"Take the vehicles out. Nobody will break the law here. You (Sukhjinder Raj Singh Lalli) are a candidate. You do not know the rules. How could you do that (bring the vehicles inside)? How could you influence (voters)? Take these vehicles out," he asked Lalli.

The Congress candidate retorted, "Do not try to vitiate the atmosphere." He then asked his driver to take the vehicles out.

An agitated Lalli also took a jibe at the Akali candidate. "Do not cry when you are losing (elections)," he said.

Majithia hit back by saying, "You will come to know now who is losing."

Bikram Majithia, brother-in-law of Deputy Chief Minister Sukhbir Badal, is seeking re-election for the third time from Majitha seat on development plank.

The new entrant AAP has nominated Himmat Singh Shergill from the seat. The high-stakes Punjab Assembly elections to 117 seats
began on Saturday.

— PTI

16:00 (IST)

Interest in employment has fallen in employment over the last five years

A comparison of search data collected from Google Trends between three topics — employment, drugs and the Sutlej Yamuna Link — shows that the interest level of people in Punjab (from 2012 till now) was higher in employment in 2012. But interest in employment has gradually fallen during the SAD-BJP regime over the last five years. As this graph shows, search for the terms drug and employment are at almost the same level. The Sutlej Yamuna Link canal was not much of interest in 2012, and it still isn't. However, search data shows that there is an increase in interest in Sutlej Yamuna Link if compared to the last election.

For more on how search interest varied in Punjab, click here.

15:50 (IST)

Sidhu with his family at polling booth in Amritsar

Congress candidate Navjot Singh Sidhu, along with his wife Navjot Kaur and his son, after casting their votes at a polling station in Amritsar on Saturday.

— PTI

15:44 (IST)

People showing their voter ID cards in a village near Amritsar

15:41 (IST)

Issues likely to dominate in Punjab poll

15:38 (IST)

Firing reported in Ferozepur district's Guru Har Sahai area | ANI

Bike borne men open fire near a polling booth in Ferozepur district's Guru Har Sahai area, no injuries. #PunjabPolls2017

— ANI (@ANI_news) February 4, 2017

15:30 (IST)

Besides state assembly, Amritsar to also vote for Lok Sabha seat

The Amritsar Lok Sabha seat fell vacant following the resignation of Amarinder Singh to protest the apex court verdict on Punjab's river waters. The voter strength in this seat is over 14 lakhs.

Prominent among the candidates in fray for the Lok Sabha seat are BJP leader Rajinder Mohan Singh Chhina, who is up against Congress' Gurjit Singh Aujla and Aam Aadmi Party's Upkar Singh Sandhu.

For the Amritsar Lok Sabha by-poll, 35 per cent polling has taken place so far, an election office spokesman said.

— PTI

15:23 (IST)

Despite low voter turnout, some voters brave all odds

In Amritsar, 85-year-old Mukhtar Singh is being helped by his relatives to reach to a polling station to cast his vote in a village, about 25 km from Amritsar, on Saturday.

— PTI

15:19 (IST)

Ailing women offer lesson on voting, arrives poll booth in ambulance

Two ailing women voters, Raj Rani (78) and Bimla Devi (80), came in an ambulance to exercise their right of vote in Phagwara. While one was taken on a stretcher, the other was taken on wheelchair to Booth No 158 near old Dana mandi in Phagwara.

Talking to reporters later, the women said they had arranged for ambulances themselves. They urged the Election Commission to make separate and priority arrangements for the ailing voters.

In Fazilka, state police personnel gave roses to first ten voters.

— PTI

14:56 (IST)

Expelled Congress leader Manjit Singh Mann booked for campaigning post-deadline

In Moga, the police booked Independent candidate Manjit Singh Mann under the provisions of the Representation of the People's Act and relevant sections of the Indian Penal Code (IPC), for allegedly campaigning even after the deadline for the same had ended, Moga's Returning Officer told PTI.

Mann was expelled from Congress last month.

14:40 (IST)

'People are fed up of gundagardi, I will win by heavy margin,' says AAP's Bhagwant Mann

AAP leader Bhagwant Mann said he expected to win by a "heavy" margin the Jalalabad seat where he is pitted against Deputy Chief Minister Sukhbir Singh Badal and Congress's Ravneet Bittu.

"I will win by a heavy margin... by more than 50,000 votes," he claimed after casting his vote, adding, "People are fed up of the gundagardi and mafia raj and they will wipe them out completely."

Mann also said polling was delayed by 45 minutes due to a technical snag in Mohali, where he cast his vote.

"I was assured by poll officials that polling time will be extended," he said.

— PTI

AAP is promoting terror in Punjab, says SAD's Sukhbir Singh Badal

"Aam Aadmi Party (AAP) is promoting terror in Punjab," Sukhbir Singh Badal said once again just now. Sukhbir, however, is not the only one. Former top cop KPS Gill has already expressed apprehension that the involvement of some NRIs in the election might prove to be an encouragement to radical elements among Sikhs in the state.

Shunned by the Congress and the Akalis to a large extent, they now have found a new platform in Arvind Kejriwal's party, he said.

Win or loss, Kejriwal has to be careful. He is capitalising on the huge public grievance against the Badals. This is the same grievance radical elements use for their own designs.

14:20 (IST)

Voter turnout continues to be low in Punjab

#UPDATE -- Average turnout in Punjab till 1 PM

Majha - 34.3%

Malwa - 38.5%

Doaba - 33.2%

— News18 (@CNNnews18) February 4, 2017

Will followers back Dera chief?

Is the control of Dera chiefs over their followers total? To put it another way, when a Dera chief, such as Gurmeet Singh Ram Rahim of Dera Sacha Sauda, asks his followers to vote for a particular party, do they necessarily take it as a command? In elections in the last couple of years, parties in northern India have gone all out to woo Dera heads. The BJP's stunning Lok Sabha victory in 2014, followed by a win in Haryana, were both believed to have come about because of support from such denominations. Gurmeet Singh Ram Rahim has extended his support to the Akali-BJP combine this time. Results will prove whether his followers keep politics and faith apart.

13:21 (IST)

This will be my last elections: Amarinder Singh

It's time to hang up boots. This is my last election. We are getting positive news from booths. Congress will win: Captain Amrinder Singh pic.twitter.com/WojkoS47EJ

— News18 (@CNNnews18) February 4, 2017

Low voter turnout could help ruling SAD-BJP alliance

Only 23 percent polling recorded in the first four hours, low voter turnout should have the ruling combine in Punjab interested. As pre-poll surveys would tell us the voters are sore with the Shiromani Akali Dal (SAD)-Bhartiya Janata Party (BJP) rule and the results would be a toss-up between the Indian National Congress and the Aam Aadmi Party. The latter is likely to score heavily in the Malwa region, which accounts for around 70 seats, while the Congress has an advantage in Doaba and Majha regions. If the pattern of lower voting continues then chances are that the Akalis are not doing too badly. They have a loyal core voter base in rural areas which would turn up for voting no matter what.

13:05 (IST)

Punjab registers 23% voting in first 4 hours

Chandigarh: Over 23 per cent of Punjab's 1.98 crore voters on Saturday cast their votes in the first four hours in the polls for the 117 assembly seats, election officials said here.

Long queues were seen outside many of the 22,614 polling stations across the state between 8 a.m. and 12 noon. The Fatehgarh Sahib district led in the voting percentage with over 36 per cent votes being polled till noon. This was followed by Fazilka (35 per cent), Moga (30), Muktsar (28) and Mansa (27).

— IANS

12:44 (IST)

Our door to door campaigning has been very successful: Karan Singh, Congress

Very confident of our win,did door to door campaigns got positive response about my mother&father: Karan Singh, Sidhu's son #PunjabPolls2017 pic.twitter.com/vDESL97fjk

— ANI (@ANI_news) February 4, 2017

Rahul Gandhi's terrorism speech in Lambi belies his 'secular' claims

For a leader who never fails to describe the Bharatiya Janata Party's Hindutva philosophy as divisive, it is indeed shocking, and perturbing, that Rahul Gandhi should have given a communal twist to Punjab politics 48 hours before it began to vote. This he did by raising the spectre of terrorism returning to haunt Punjab should the Congress not be voted to power.

Worse, in a display of arrant irresponsibility that has hitherto been the hallmark of BJP MLAs and MPs from Uttar Pradesh, Rahul linked the bomb blast on 31 January in Maur constituency in Bathinda district to the emergence of the Aam Aadmi Party as a contender for power in Punjab.

No evidence has yet surfaced to even speculate on the identity of those responsible for the blast. Was it the handiwork of a shadowy Khalistani militant group seeking to spread terror for subverting the democratic process? Or did the blast fall in that typical category called 'election violence'? Or was it a form of retribution, for whatever reasons, directed against the Congress candidate?

Such questions could have deterred a responsible politician from hurling wild charges or making sweeping statements. But not so Rahul, who declared on 2 February in Lambi, where Punjab chief minister Parkash Singh Badal appears hard-pressed to notch up yet another electoral victory, "The blast in Badal appears hard-pressed to notch up yet another electoral victory, "The blast in Bathinda killed six people and many got injured. It is sad that Delhi chief minister Arvind Kejriwal is helping the forces behind this blast. Such ideology will never do Punjab any good."

— writes Ajaz Ashraf. To read the full story, click here

12:13 (IST)

Captain Amarinder Singh casts his vote

Seeking my mother's blessings before casting my vote. Let this be a new dawn for Punjab!

— Capt.Amarinder Singh (@capt_amarinder) February 4, 2017

12:12 (IST)

Navjot Singh Sidhu confident of Congress' victory

Is dharm yudh mei satya ki jeet hone wali hai; Hum sure hain ki sarkar Cong ki banegi;Yahan se Cong ke jhande mei danda lagega-Navjot SSidhu pic.twitter.com/gxQBuheP9W

— ANI (@ANI_news) February 4, 2017

Vehicle ban around Golden Temple may hurt BJP-SAD

"Modi note

le litta

, Sukhbir Badal road

le litta

," complain the

people of Amritsar,

when asked why they are upset with the ruling combine. Raja Hindustani drives an e-rickshaw in and around the Golden Temple shrine, around which the ruling state government has banned vehicles around the temple. He claims to be a 'pucca' Akali, but vows to vote for Navjot Singh Sidhu this time. "If they return, they will ban us from Akalgarh," he says. "Bhaj, Badal, Bhaj.

Kursi khaali kar ke janata aati hai

," he shouts, imitating Sidhu's war cry.

Huge discounts on winter wear; no love for BJP

Huge banners and hoardings announcing heavy discounts on winter wear are a common sight in Ludhiana. In scale and magnitude,they even outdo campaigns being run by the three political parties, in the hosiery capital of India: Congress, SAD-BJP and Aam Aadmi Party.

Most of the discounts are being offered directly by manufactures, including the owners of Indra hosiery and the upcoming local brand Unfit. The reason: Retailers ran out of cash because of demonetisation and could not place new orders. To clear the stock, manufacturers are offloading them at discounts. Will they vote for the BJP, I ask them. In response, they smile, and in typical Punjabi fashion, reply, "Bhukki phank liti hai savere-savere?" (Have you taken opium husk early morning?)

11:52 (IST)

14 percent polling in Punjab

By 11.30 am, Punjab had recorded overall 14 percent polling.

11:49 (IST)

Navjot Singh Sidhu casts his vote in Amritsar

Will give Rahul Gandhi great gift with Congress' revival says Navjot S.Sidhu as he arrives to vote at booth in Amritsar,wth wife Navjot Kaur pic.twitter.com/tTmd4eXcb8

— ANI (@ANI_news) February 4, 2017

Loyalty to the royalty

​Paramjit Singh is voting for the Congress in Patiala because his family is indebted to 'Maharaja Sahab' for helping them settle down after his ancestors came to Punjab after partition. "Janma da karza hai Maharaja Sahab da saade upar," he says. Loyalty to the royalty is the theme of the elections in Patiala, home turf of Congress leader and royal family scion Captain Amarinder Singh.

11:43 (IST)

Faulty EVMs interrupt polling at two centres

Faulty EVMs have interrupted polling at two centres at Sultanpur Lodhi in Kapurthala district.

11:43 (IST)

'Roadbandi' a critical issue in Amritsar

Assembly elections in Amritsar is not just about notebandi, although it's an issue that is making the BJP a bit anxious. For many, it is also about 'roadbandi', the Akali Dal government's decision to ban vehicles in areas around the Golden Temple.

11:42 (IST)

SAD-BJP combine confident of retaining power

Deputy chief minister Sukhbir Singh Badal taunts Congress and Aam Aadmi Party. He also said Amarinder Singh is "drama".

10:19 (IST)

Faulty EVMS interrupt voting in five seats

As per Election Commission, faulty EVMs have interrupted polling in five seats — Sultanpur Lodhi, Kharar, Nihal Singh Wala, Budhlada and Patiala Rural. Technical glitches have been an issue since morning.

10:14 (IST)

Overall voting percentage in Punjab at 8 % till 9.30 am | ANI

Punjab has recorded overall polling percentage of 8% till 9 :30 am #PunjabPolls2017

— ANI (@ANI_news) February 4, 2017

10:03 (IST)

Polling interrupted in four seats due to faulty EVM: Election Commission

According to Election Commission, at the moment voting in Kapurthala, Mansa, Moga and Bhatinda has been interrupted due to faulty EVM.

People wait in queues as voting is yet to begin at booth no 35 in Majitha, due to error in EVM machine #PunjabPolls2017 pic.twitter.com/1LaYSA3yDZ

— ANI (@ANI_news) February 4, 2017
Punjab goes to polls on 4 February and this will be the final stretch of campaigning. Pulling out their big guns, the BJP, the Congress and the Aam Aadmi Party have crucial rallies on Friday. Prime Minister Narendra Modi, Congress vice-president Rahul Gandhi and Delhi Chief Minister Arvind Kejriwal will hit campaign rallies from Friday and address the Punjab populace.
Rahul will campaign for party candidates in some of the key constituencies in the poll-bound state from Friday. Congress will go on a mega offensive against the Badals and state minister Bikram Singh Majithia, with Rahul, along with the party's state unit chief Amarinder Singh and Navjot Singh Sidhu, ready to take on the Akali leaders on their home turfs, a party release had said earlier.
Rahul will arrive in Punjab on a three-day visit, the highlights of which will be joint public rallies with Amarinder and Sidhu in Majitha, Jalalabad and Lambi. On Friday, Rahul will address a rally in Amritsar and Majitha. "Rahul's tour will raise Congress' campaign pitch in Punjab, where the public mood is clearly in favour of the party," the release said.
While Amarinder is taking on Chief Minister Parkash Singh Badal in Lambi Assembly constituency, Deputy Chief Minister Sukhbir Singh Badal is contesting Jalalabad seat. Majitha is the battleground for the Badals's kin and close associate Bikram Singh Majithia.
"Rahul's campaign will scale up Congress' offensive in all these three assembly segments and will further strengthen the wave in the party's favour in the state," it said. Besides these three key assembly constituencies, Rahul will also campaign in Rampura Phul, Talwandi Sabo and Bathinda Urban, besides Majthia, on 27 January the first day of his visit, followed by Jalalabad, Budhlada and Dhuri on January 28, when he will also meet industrialists in Ludhiana.
29 January has been scheduled for his public meetings in Gidderbaha and Lambi. Other senior Congress leaders are already in Punjab to support the party's campaign in the state.
With inputs from PTI
Updated Date: Feb 09, 2017 19:07:00 IST