Punjab civic polls: 30% turnout in Jalandhar, 25% in Amritsar till 12 pm; reports of violence in Patiala
Voting for three municipal corporations of Amritsar, Jalandhar, and Patiala and 32 municipal councils and nagar panchayats in Punjab began on Sunday
Voting for three municipal corporations and 32 municipal councils and nagar panchayats in Punjab began on Sunday, officials from the State Election Commission, said in Chandigarh. The polling began at 8 am and will continue till 4 pm. The results will be declared on Sunday evening.
The contest is among the ruling Congress, main Opposition Aam Aadmi Party (AAP) and the Shiromani Akali Dal-Bharatiya Janata Party (SAD-BJP)alliance. Local issues of towns and cities and the respective wards dominated the campaigning for the municipal elections, which ended on Friday.
The voting is being held for three municipal corporations of Amritsar, Jalandhar, and Patiala, and 32 municipal councils and nagar panchayats.
Voting for #CivicPolls begins in Punjab, visuals from Amritsar. Polls being held in 3 municipal corporation - Amritsar, Jalandhar & Patiala and 32 municipal councils & Nagar Panchayats in the state. pic.twitter.com/cMCel39URF

— ANI (@ANI) December 17, 2017
As per reports, Jalandhar city recorded a total voter turnout of nearly 30 percent till 12 pm. Amritsar and Patiala, on the other hand, recorded a voter turnout of 25 percent till noon. According to Tribune, the state has recorded an overall voter turnout of 53 percent. State minister Navjot Singh Sidhu and his wife were among the leaders who voted in Amritsar. Speaking to reporters, he said that a win in the local body polls will be a gift to Congress president Rahul Gandhi. "The party will gift a victory to Rahul in Punjab civic body polls for becoming the national president of AICC," Hindustan Times quoted him as saying.
Punjab: Navjot Singh Sidhu and his wife Navjot Kaur Sidhu cast their votes at ward No 9's polling station 5 in Amritsar Civic Polls | ANI pic.twitter.com/gj1x8svAPl — News18 (@CNNnews18) December 17, 2017
According to Tribune,  there have been several reports of voter intimidation and booth capturing in Patiala, the traditional hometown of Chief Minister Amarinder Singh.
The election for the municipal corporation of Punjab's largest city, Ludhiana, was not being held as the electoral rolls were not updated.
As many as 925 candidates are in fray for the elections to the three municipal corporations. A total of 413 candidates are in the fray in 85 wards of Amritsar where 769,153 voters will exercise their franchise. In Jalandhar, 305 candidates are contesting from 80 wards. In Patiala, election will be held in 57 wards in which 260,664 voters will be exercising their franchise.
Candidates in 90 wards have won unopposed, a State Election Commission spokesman said.
There are 873 polling stations and 1,938 polling booths across the state. Several polling stations across Punjab have been termed 'sensitive' by the State Election Commission.
This would be for the first time that voters will have the 'None Of The Above' (NOTA) option in civic body polls in the state.
According to a report in The Times of India, in Amritsar, 290 of the total 366 polling stations have been placed in the 'sensitive' and 'very sensitive' bracket, whereas, in Jalandhar, 344 out of the 554 polling stations have been declared 'sensitive'.
The State Election Commission has ordered videography in all the polling stations which have been declared very sensitive.
A total of 8,000 election staff and 15,500 police personnel have been assigned for poll duty. To avoid any law and order problem, 4,000 police personnel have been deployed across Amritsar, while 2,800 policemen have been placed across Jalandhar, Hindustan Times reported.
An additional police force will be deployed once the counting is over, the report added.
The SAD-BJP and AAP had accused Congress of misusing its power in the run-up to the municipal polls.
A day before the elections, SAD accused the Congress government in the state of harassing SAD-BJP candidates.
In a statement, SAD spokesman Daljit Singh Cheema alleged that 15 party leaders in Khemkaran have been summoned by the Patti sub-divisional magistrate (SDM) to report at 9 am on Sunday even though it is a Sunday as well as the polling day.
The SDM has chosen the day to affect polling prospects of SAD candidates, he claimed.
"Similarly our candidate Gurmit Kaur from ward number 59 has been detained by the Civil Line police in Patiala in some old case," Cheema said.
"Apart from this our candidates from ward number 8, 38 and 23 from municipal corporation Patiala are being harassed and threatened by the police to stay away from the election. Similar complaints are coming from many other places," he claimed.
He urged the state election commissioner to take serious note of these incidents.
This is the first big election in the state after the Congress government, led by Amarinder, came to power after the Assembly polls in March.
The Congress won 77 out of 117 seats in the Assembly. The AAP finished second with 20 seats.
With inputs from agencies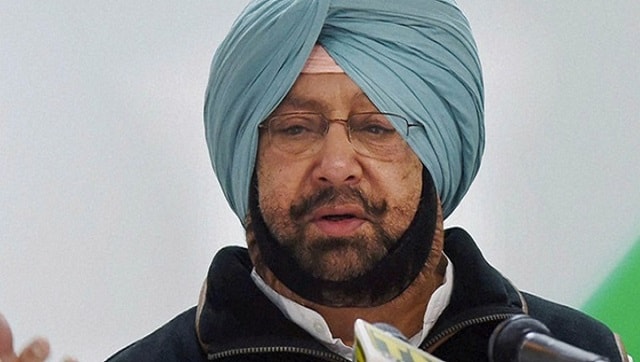 Politics
This is the second time Singh has met the panel. He had earlier met its members at the AICC headquarters, before submission of the panel report
India
Paying tribute, BJP president JP Nadda shared that Mookerjee dedicated his life to the country's integrity and unity
India
Mookerjee, who was the Minister for Industry and Supply in the cabinet of India's first Prime Minister Jawaharlal Nehru, resigned in protest against the Nehru-Liaquat Pact