Punjab election: 'Can't get a better result' claims Amarinder Singh, Navjot Sidhu says 'third victory in captain's turban'
Amarinder Singh said that Congress' victory in Punjab was a 'clear vindication of the government's policies' and a 'defeat for the Opposition's propaganda'
Congress claimed a sweeping victory in the Punjab civic polls on Sunday, clinching a majority of seats in the Amritsar, Jalandhar and Patiala municipal corporations.
The margin of victory prompted Punjab chief minister Captain Amarinder Singh to say that this win was a "clear vindication of the government's policies" and a "defeat for the Opposition's propaganda."
He tweeted:
My heartfelt thanks to people of Punjab for turning out in huge numbers to support the Congress in MC, Nagar Panchayat & Council elections. The sweeping victory for @INCPunjab is a clear vindication of our policies and a defeat of the Opposition's false propaganda.

— Capt.Amarinder Singh (@capt_amarinder) December 17, 2017
"Election results have been very good, we are very pleased. You can't get a better result than this. Out of three corporations, we have swept polls and won all of them," Singh told ANI. Congress leader Navjot Singh Sidhu also celebrated the results, calling it " the third victory in our captain's turban." "This is the first victory that Rahul Gandhi has tasted as Congress president," Sidhu said to ANI.
#PunjabCivicPolls Congress workers celebrate as the party leads in Amritsar Municipal Corporation election, Navjot Singh Sidhu says "this is the first victory that Rahul Gandhi has tasted as Congress President, third victory in our Captain's turban" pic.twitter.com/fHEBKF2WXd — ANI (@ANI) December 17, 2017
Polling was also held in 29 municipal councils and nagar panchayats on Sunday, amid tight security. The civic polls were contested by the Congress, the SAD-BJP and the AAP.
While the polls in the state remained largely peaceful, the Opposition SAD-BJP cried foul, accusing the ruling party of misusing official machinery in its favour.
SAD president Sukhbir Singh Badal accused Congress of conducting "organised booth capturing" during polling, ANI reported.
Our candidates & polling agents were thrown out of booths, media persons were beaten & booth was captured at every place. For the 1st time, state EC & govt became one & captured EVMs. We are going to High Court against this criminal conspiracy: SAD President Sukhbir Singh Badal pic.twitter.com/B8monP2UgD
— ANI (@ANI) December 17, 2017
"It was organised booth capturing. We told Election Commission that they are not letting our candidates file nominations. 20 percent candidates weren't able to file nominations, some nominations were rejected and some candidates were arrested but state EC did nothing." Badal said, according to the ANI report.  Badal said that he will approach the high court demanding a countermand of the Patiala corporation elections. A SAD-BJP delegation also submitted a memorandum to State Election Commissioner Jagpal Singh Sandhu in Chandigarh to protest against booth capturing.
Former chief minister Parkash Singh Badal called the civic poll process "utterly uncivilised" and called it a "huge blow to democracy in Punjab." "This day will be remembered as a black Sunday for democracy in Punjab," Badal said in a statement.
The AAP also alleged misuse of government machinery by the ruling Congress. In response, Punjab Congress president Sunil Jakhar said the Aam Aadmi Party had lost its ground completely in Punjab, as in the rest of the country.
With inputs from agencies
India
AAP's Punjab co-incharge Raghav Chadha took to Twitter to make the clarification, tagging a report on a possible tie-up between the two parties ahead of the Punjab Assembly polls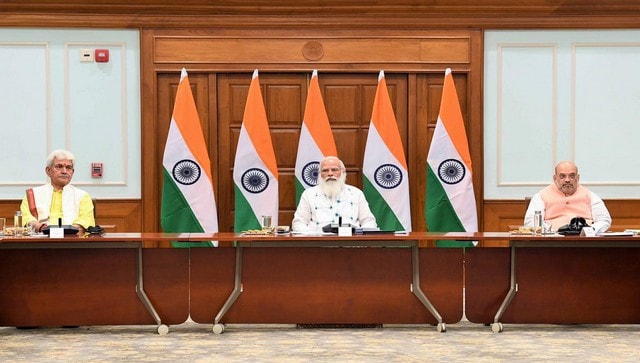 Politics
Let us look at a few smaller equations and solve the larger riddle where Opposition politics stands now
Politics
In an apparent bid to bury the differences with the chief minister, Sidhu had separately requested Singh to come for the installation ceremony and said he had "no personal agenda".