Punjab Cabinet reshuffle: Amid feud with Amarinder Singh, Navjot Singh Sidhu divested of local govt department, given charge of power portfolio
Navjot Singh Sidhu, who is at loggerheads with Chief Minister Amarinder Singh, was Thursday divested of the Local Government department and was given the Power and New and Renewable Energy portfolio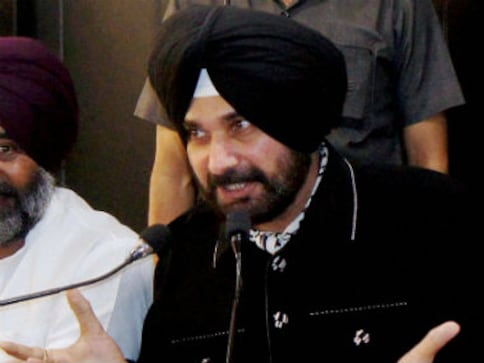 Navjot Singh Sidhu was divested of the Local Government department and was given the Power and New and Renewable Energy portfolio

Sidhu is currently at loggerheads with Chief Minister Amarinder Singh for being blamed for Congress' poor show in Punjab

The portfolio rejig took place hours after the first state Cabinet meeting following the Lok Sabha elections
Chandigarh: Punjab minister Navjot Singh Sidhu, who is at loggerheads with Chief Minister Amarinder Singh, was Thursday divested of the Local Government department and was given the Power and New and Renewable Energy portfolio in a cabinet reshuffle.
The portfolio rejig took place hours after the first state Cabinet meeting following the Lok Sabha elections.
Singh on Thursday evening rejigged the portfolios of most of his ministers. Sidhu's tourism and cultural affairs portfolio was also taken away, as per an official statement.
Barring four ministers, there are some changes in the portfolios of all the others as a result of the reallocation. The chief minister said this will help further streamline the government and bring more transparency and efficiency.
The war between Punjab chief minister Captain Amarinder Singh and his cabinet minister Navjot Singh Sidhu spilt out in the open when the Local Bodies minister skipped a crucial post-election Cabinet meeting which was chaired by Amarinder.
In an open rebellion against what appears to be most of the Congress' Punjab unit, Sidhu declared to the media that him skipping the meet was a mark of his protest against being unfairly blamed for the Congress' poor show.
Find latest and upcoming tech gadgets online on Tech2 Gadgets. Get technology news, gadgets reviews & ratings. Popular gadgets including laptop, tablet and mobile specifications, features, prices, comparison.
India
The night curfew will remain in force from 11 pm to 5 am and during the period, movement of individuals for all non-essential activities shall remain prohibited, the govt said
India
Raids have exposed a massive liquor racket extending across several districts, with several dhabas at Shambhu, Banur and Patiala having been sealed
India
A manhunt has been launched for Ludhiana-based paint business owner Rajesh Joshi, who had initially allegedly supplied the three drums of spurious liquor that had triggered the wave of deaths